As book lovers, we're no strangers to ink, and that love sometimes connects to our love of tattoos. Recently I have considered getting a new tattoo inspired by my love of books and my passion for writing, but it's hard to figure out where to get started! My struggle has inspired me to compile some tips and guidelines for anyone who is struggling to decide what kind of bookish tattoo they want to pursue.
Get Wordy with It
If you're ready to get wordy with it, start writing down some of your favorite book quotes! Quotation tattoos can be one-liners, dialogue, or entire pages. Designing a quote-based tattoo is pretty simple just pick a book that you love or holds significant meaning for you. Don't feel like you have to choose a quote from some profound classic novel, I've always found my favorite quotes in fantasy novels.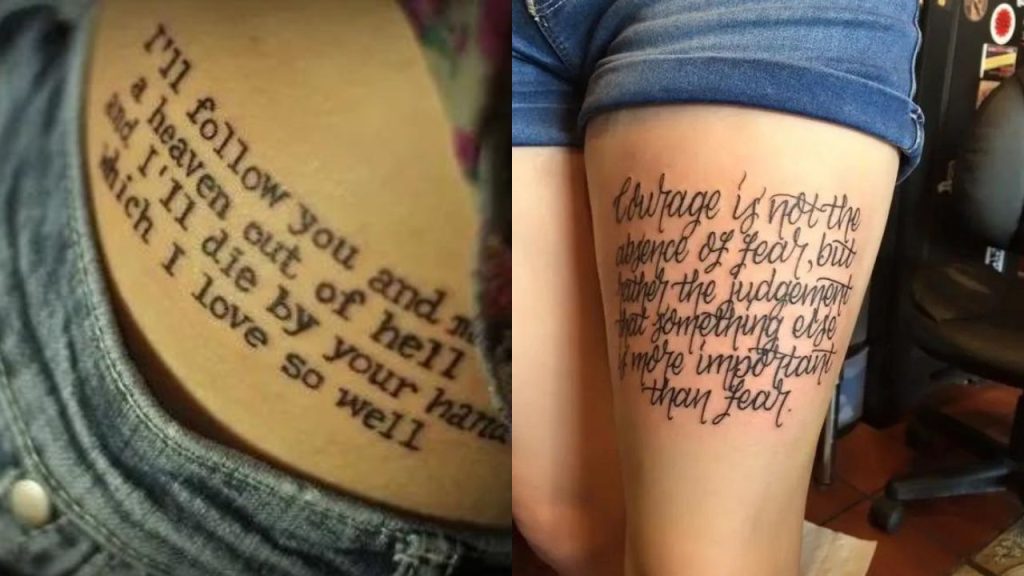 If you're not willing to commit to just one book, don't sweat it! The quote you choose doesn't need to come directly from a book. You can pick a bookish saying that describes your love of reading.
Picture This
If you're not wanting a tattoo with too many syllables involved, choose an image instead! The easiest way to represent your love of reading may be obvious, but get the picture of a book tattooed! You can keep it generic by having an untitled book or personalize it by adding the title of your favorite book.
There are more images to choose from beyond a book as most fandoms possess symbols unique to their story. For example, The Mockingjay Pin from The Hunger Games or The Deathly Hallows symbol from Harry Potter. The emblem represents your love for reading as well as one of your favorite books.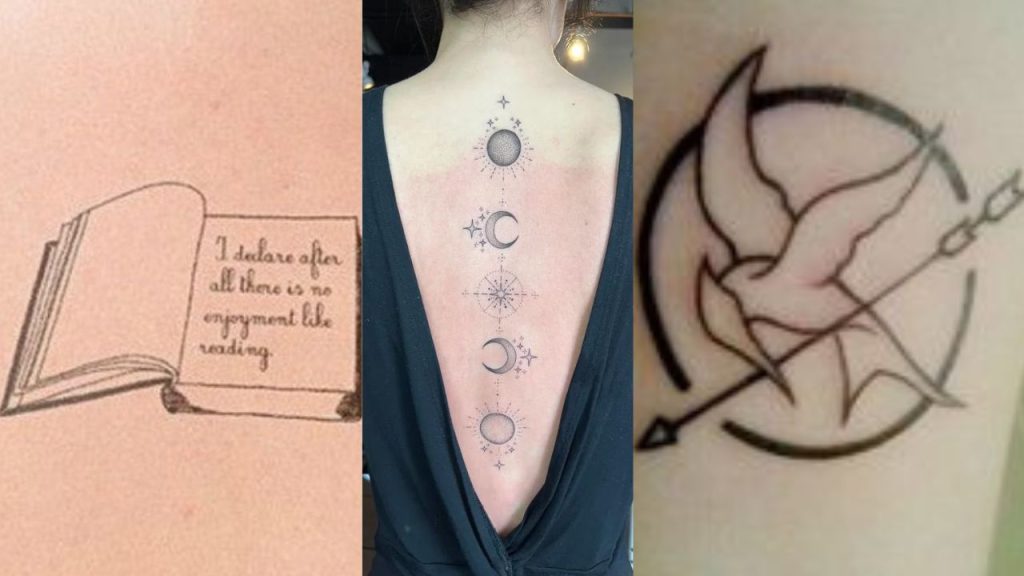 You can take your love for the fandom a step further by choosing to do a portrait tattoo of your favorite character. This could be a silhouette, a full body image, or just the character's face.
Another way to express love for a fandom is to get a tattoo that matches one that a character has. For example, in A Court of Thorns and Roses, Feyre's famous back tattoo is a popular choice for those who love Sarah J. Maas. You can twin with your favorite character and express your love for that series all in one go!
Symbols for Wordsmiths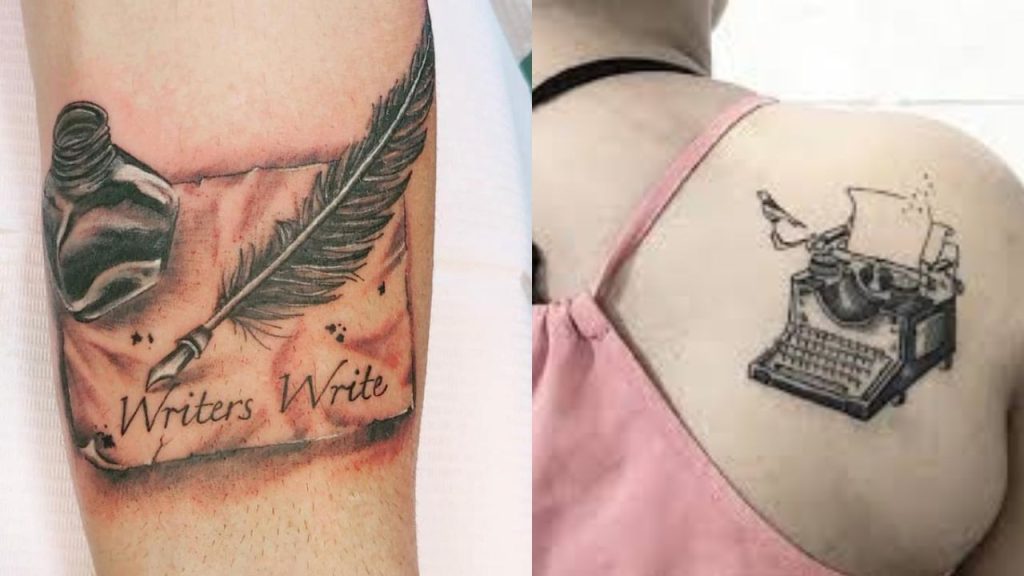 It's a tattoo for writers, so of course, symbolism is involved. If you're a reader and a writer, it's easy to incorporate your passion for writing. Quills, typewriters, pens, and other writing utensils are great symbols that look amazing in ink. You could accompany them with an ink pot, a piece of paper, or writing symbols like quotation marks. I recommend combining one of these symbols with a bookish image to tie your love of reading and writing together.
Combining Ideas
Who says you have to choose only one element? Your tattoo can be a culmination of a few different aspects. You can combine different fandoms to make up your tattoo or focus on your favorite author's books. For example, if you're a Leigh Bardugo fan you could get a tattoo that brings in elements from her different series.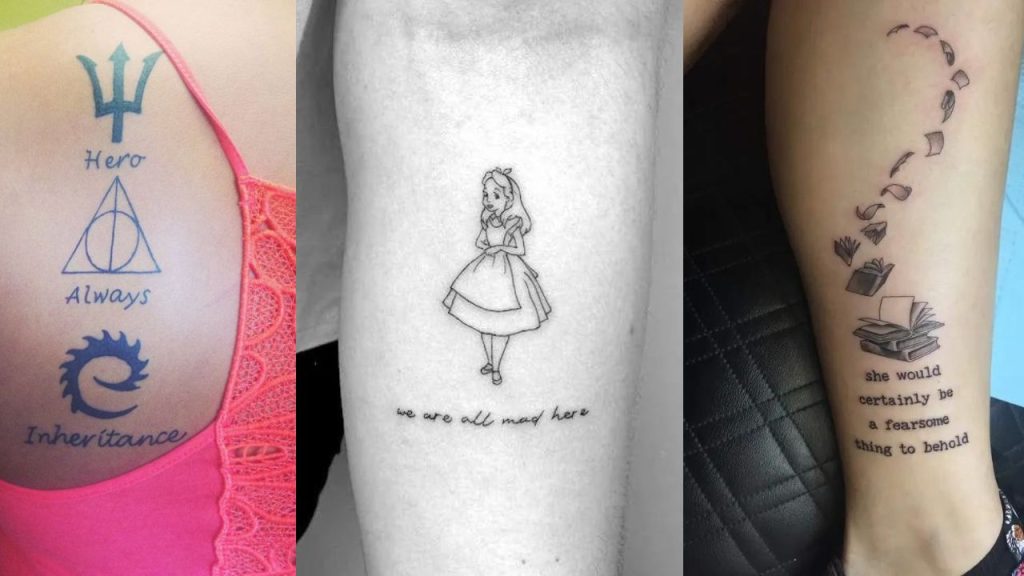 Another way to combine different elements in a tattoo is to put words and pictures together. You could place a quote with a character's portrait, or you could put a quote with a picture of a book. Keep it simple by combining the picture of a book with a symbol from your favorite book. For example, you could tattoo a Percy Jackson book lying open with a trident sitting near it. You don't need to limit yourself to choosing just one idea when you can combine some of your favorite ideas.
An Extra Touch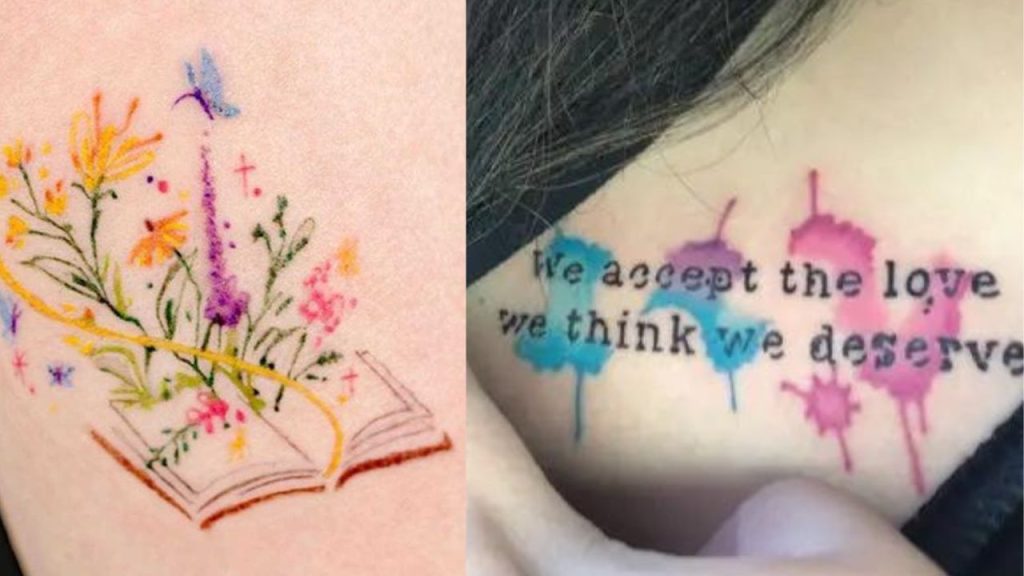 Don't feel like you need to limit yourself to strictly bookish picks. You can add in plants, shapes, splashes of color, etc., to strengthen the aesthetic of your tattoo. If you want to do a book-based tattoo, you may want to add some plants to jazz the image up. You can pick a quotation tattoo and then add splashes of color to brighten it up. These features are sometimes the final touch that your tattoo needs.
Minimalist Approach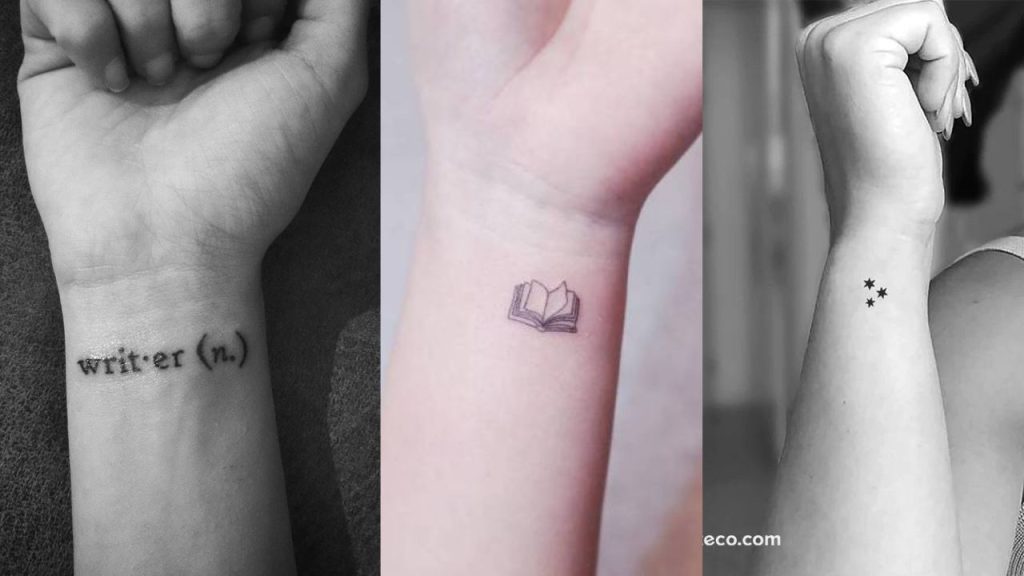 If you're not a fan of big tattoos, don't worry. A small tattoo can speak rather loudly. Take a minimalist approach by incorporating a small book or one-word quote. You can also approach the design by shrinking a bookish symbol to the ideal size. These tattoos are perfect for small places on the body, like your wrist or ankle.
A Tattoo Between Friends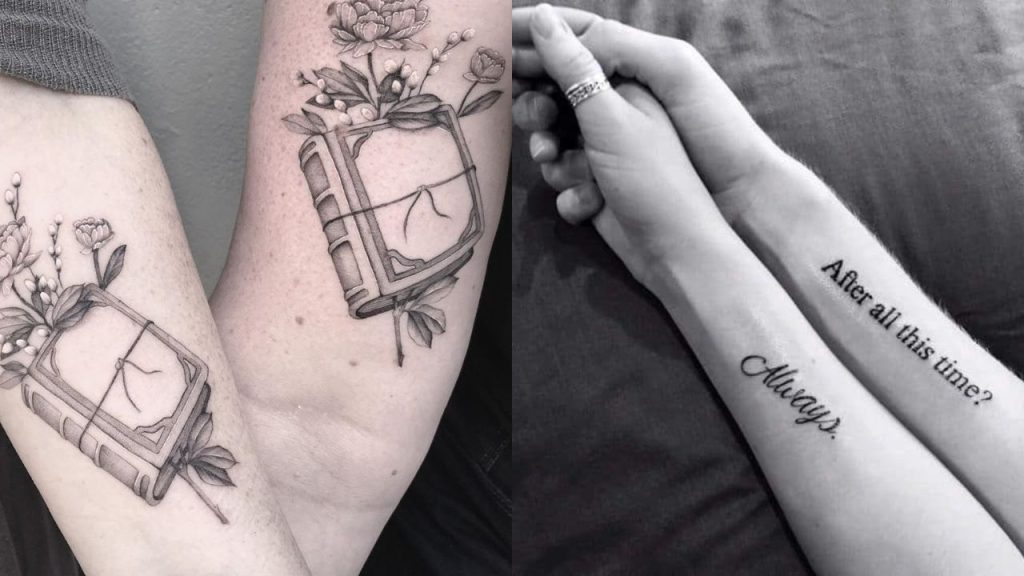 This journey doesn't need to be yours alone! Celebrate your bookish friendships by getting a matching tattoo. You can both get identical tattoos or choose two different tattoos that go together. This could be two quotes that complete each other or books that pair together. I assure you will both have a blast designing the tattoo together.
I hope that you leave this article feeling inspired and ready to choose a tattoo that is perfect for you!
---
Read about editorial intern Sydney's Tattoo Experience here.
If you're interested in more bookish content click here and here
FEATURE IMAGE VIA BOOKSANDBAO AND TATTRIXTATTOOS