It's celebration time people! Grab your feathered pens and take a seat, because today we're going to take a look at how to make the best bookish party!
Books have had a long history of being ignored, banned, and worse, burned. Today, reading books has become a little more popular and successful than in past years. From niche genres such as Elf Punk and Amish Romance, to hugely accomplished series of novels like The Harry Potter Series and the new rising industry of graphic novels. Books have come a long way in reaching out to just about every person willing to crack open a cover. That's plenty to celebrate!
Thus, here are the top 3 tips for your next wild and crazy Book Lovers Party! We even threw in some original DIY ideas for you to try out.
Have A No-Phone Policy
The whole point is to focus on your love of books and share with the people who love them too. So have a case to keep, or even lock all the phones away. There are empty book-shaped boxes you can even use to stash away everyone's phones.
Image via Pinterest
You can even plan a ten minute break for selfie taking, if people are really itching to update their Instagram. Nothing like capturing memories with photos after all.
Keep Your Guests Busy
While bringing a group of book nerds together will surely result in an endless flow of conversations about all the different fandoms they have in common, that's not the only activity that should happen at a book party. Keep everyone at the party busy with activities and games that are bookishly fun and engaging.
Try out these games below:
Extreme Makeover

Bring a classic literary character into the modern age and invent a new life for them.

Example:

Lydia Bennett (Pride & Prejudice) considers Cosmo great literature and Sex & the City serious drama. She hits the clubs, wears designer knock-offs and has Big Hair. Her eyes are always peeled for Mr. Big.

The overdramatic sighs of Miss Lydia Bennet. | Image via Giphy
Call my bluff: Dictionary version

For the word nerds of your party. Take turns picking a word from the dictionary, write out its definition, and then add two more definitions of your own. Share the three possible definitions out loud to the group

⁠—

or get your neighbor to do so if you have a bad poker face. The others must each guess which is the true definition. One point for anyone who spots the real one, and two points for you if one of your fake ones is voted the winner.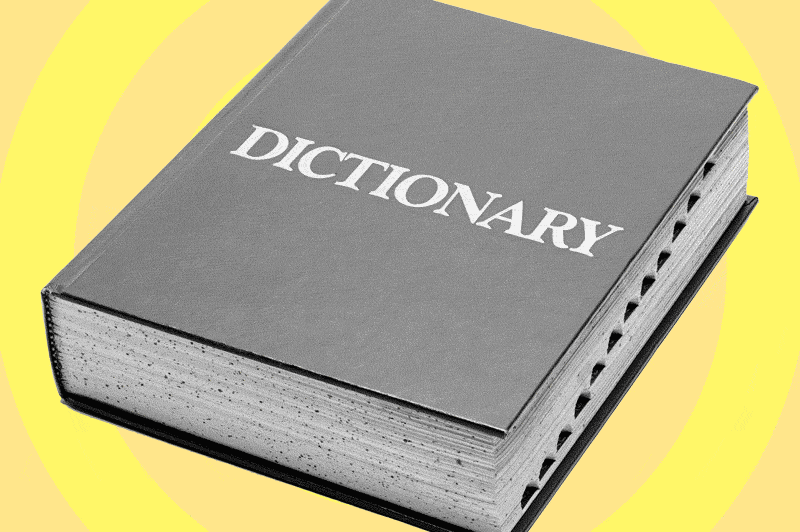 Image via Slate
Name in the hat game: Literary version

Test your knowledge of fictional characters and authors with this quick-paced guessing game. Everyone in the group writes the names four or five literary characters or authors

⁠—

whatever mix you would like

⁠—

on small pieces of paper, and throws them into a hat. Split into teams of four to five and let the game begin! With only one minute to spare each turn, one person in a team grabs a slip of paper from the hat and, using as many words as they can to describe the person, hints to their team what the paper says. Try and reveal as many slips as you can for your team until the minute is up. Depending on how confident you're feeling, you might decide to only allow one pass per round…
The team gets one point per correct guess in each round. When the minute is up, it's the next team's go. This keeps going until all the slips from the bag have been read out.
Round Two: put all the names back in the hat. This time, you're only allowed one word to describe the person on the piece of paper.
Round Three: names back in again. This time: all acting, no words.
The winning team is the one with the most points across all three rounds.
Image via the come back
Bring Books!
What kind of a Book Lovers Party would it be if there weren't any books? Bring one of your favorites and share it with your friends.
Here are a couple of inspiring ideas for your party of what you can do with your books.
Blind Date With A Book

Nothing like the classic blind date to find the perfect one for you. Ask all your party goers if they would like to donate books to the cause. When you have the books, wrap them up in brown paper, or whatever you have to wrap with that isn't at all see-through. Decorate however you like, maybe even based on the book, but the important details are a few words on what it is about.
Image via Pinterest
Book Swap And Chat

Similar to blind date with a book, the swap and chat introduces everyone to a new book they may like. The main difference here is that everything is in the open, and the aim is to encourage socializing between readers.
All the books will have a designated space with the donor's name and the genres of the book written on a sticky note, but please be gentle with them. Everyone interested in finding a new read crowds around the books and picks one that speaks most to them. You can choose to flip through the book and see if you might like it, but the purpose of this activity is to find the person who held the book and talk to them about it. This can be a great conversation starter and, at the end of the day, everyone may end up with a new cherished book.
Don't forget food and drinks, maybe even throw a little literary ambiance to piece everything together for the best book lovers party.
For anyone interested in making the book-decorated cupcakes in the featured image, you can find the edible books and purchase them on Etsy, or try making it yourself using fondant.
Featured Image via Imgur