Do you know a bookworm who needs a bit of appreciation in their life? Well, what better way to show gratitude than through giving gifts especially if it is your love language! September 21st is World Gratitude Day, a special day to express our thanks and appreciation to the people in our lives. So here are some ideas of bookish gifts to help you celebrate and show gratitude towards book lovers.
1. Books
This seems a bit obvious, but you can never go wrong with gifting a book. If you know a book that's been on their wanted list or their TBR for the longest time, it's a perfect gift. Many books also have special editions so gifting a special edition of their favorite book is memorable and unforgettable.
Another type of book to surprise them with is a book you personally think they would like whether from a specific author or a different genre they've never read before. But if you are still unsure what book to buy, Bookstr has lots of amazing books recommended so check them out here!
2. Bookmarks
Another gift you can't go wrong with is a bookmark. Every bookworm uses some form of a bookmark to keep its place in the book they're currently reading. And there are so many different types of bookmarks: ribbons, clips, book corners, paper, metal with a tassel on the end, and so much more.
They can be DIYed, so you can handmake one for them or you can buy one that matches their aesthetic. The amazing thing about bookmarks is how personal and customizable they can be to the person you're gifting them to. A store to check out is Page Petal. They sell handmade pressed flower bookmarks named after literary characters, so your bookworm can have a pretty bookmark based on their favorite fictional character.
Many book collectors like to put their names on all the books they own. An amazing gift would be a book embosser or book stamp. A book embosser is a handheld metal press used to create a raised image or design on paper. While a book stamp is a piece of wood or rubber with a design on it that you use with ink before pressing it onto the book's page.
There are a variety of stores that sell different designs but they all have the same purpose. It will typically say "THIS BOOK BELONGS TO _____" or "FROM THE LIBRARY OF ______". It's a simple and pretty method of putting their names onto books and it's customizable where they can have their name on it.
4. Tote Bag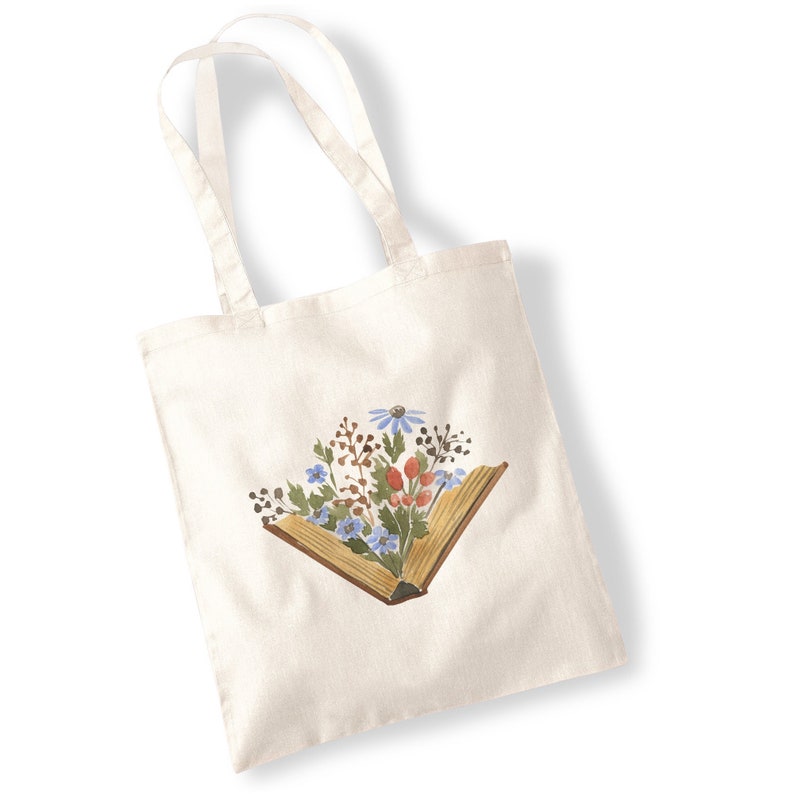 Tote bags for bookworms are a must! It's not only big enough to carry everything you need, but it can also carry the most important thing, a book. It's the perfect bag and accessory to carry your current read or to carry your haul at the bookstore. With tote bags, you can buy a blank one at a craft store and then design it yourself or even have them design it too.
But also, businesses on Etsy have tote bags for sale in many different sizes and with all kinds of designs to pick from. One shop I recommend is WellOiledPrintShop which has so many pretty designs available. My favorite of theirs is the Floral Books Watercolour ones, they are so cute.
5. Book Sleeves
To a book lover, a book is the most precious thing and needs to be handled carefully sometimes, especially when you're going somewhere. Book sleeves are a great gift because they're a cute accessory to protect your book from possible water damage or even wear and tear. They also help to keep them looking pristine and in the best condition possible. It's also a great gift to pair with tote bags. They come in so many fun and pretty patterns too. Etsy is a great shopping destination for book sleeves, but they are DIY-friendly as well.
Honorable Mentions
Some other gifts can be stationery such as sticky notes or sticky tabs if they like to annotate in their books. They come in an assortment of sizes and colors. Book lights are a great gift too especially if they like reading at night. Page holders are also great gifts that help hold the book and make reading easier.
These bookish gifts will make book lovers happy, warm their hearts, and feel appreciated, especially for World Gratitude Day! Even if you're a bookworm looking to show some gratitude towards yourself, show yourself some self-love with a little shopping trip.
For more bookish gift ideas or looking to treat yourself, check out these Bookstr articles here and here.
FEATURED IMAGE VIA PEXELS