Welcome back to the American Tour! This week's destination is the Rocky Mountains, which includes the states of Colorado, Utah, Wyoming, Idaho, and Montana. Some author names you may have heard of from this region include Ally Condie, Brandon Mull, and Vauhini Vara. If you want to find out more about these authors and other writers from the Rocky Mountains, then pack your hiking gear and find the trailhead!
Missed last week's article? Click here for book recommendations from the Southwest!
A gripping and highly relevant historical piece, Little Souls is about the 1918 Spanish Flu outbreak in America. The novel follows two sisters, Helen and Lutie, who travel from their home in Denver, Colorado, to the state of Ohio after their parents die of the Spanish Flu. The sisters buy a house and rent out the apartment in the basement to a woman and her daughter. After the woman dies from the flu, Helen and Lutie are left to care for little Dorothy and protect her from disease and violence.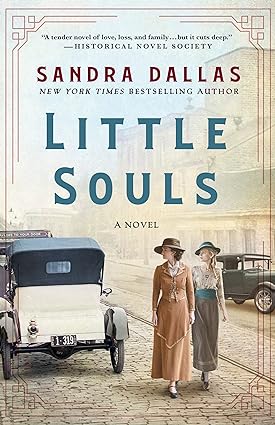 Author Sandra Dallas graduated from the journalism school at the University of Denver. She then became a reporter for 25 years and covered nearly every topic imaginable in the Rocky Mountain region. During her journalism career, she wrote her first non-fiction book. Dallas started her fiction career in 1990 at the age of 51 and has written over twenty books from different genres.
A 2023 Pulitzer Prize finalist, Vara's The Immortal King Rao depicts an alternate history in which a man born from a family of coconut farmers in India becomes the CEO of a major technology company and then puts himself in charge of the new global and corporate-led government.
King Rao's daughter, Athena, faces the terrible effects of climate change along with the rest of the world. Since she has been given some of the most extraordinary gifts of all, King Rao's memories and true life story, Athena decides to communicate her father's history to the world's Shareholders so that they can all work together to save the planet.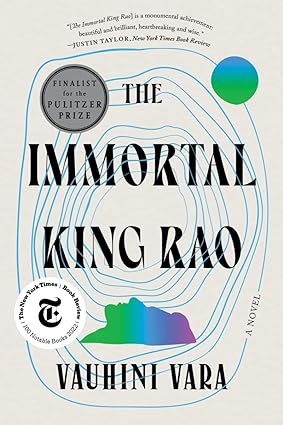 Vauhini Vara was born in Canada to immigrants from India. She spent her childhood in Canada, Oklahoma, and the suburbs of Seattle. Vara now lives in Fort Collins, Colorado, with her husband and their son. Her writing career began as a technology reporter at the Wall Street Journal, and she later became the creator and editor for the business section of The New Yorker. The Immortal King Rao is her first novel.
3. Matched by Ally Condie
The YA trilogy Matched takes place in an alternate world where the Society rules all. Its Officials decide who you will marry, what career you will pursue, and when you will die. Cassia previously had complete faith in the Society, but everything changes when two different boys appear on her Matched screen, and she is suddenly faced with an impossible choice.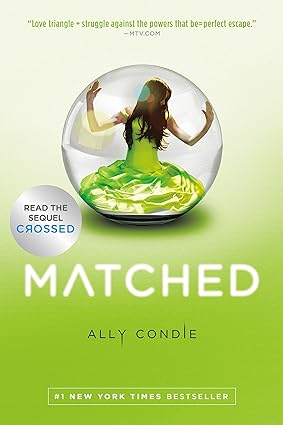 Writer Ally Condie was born in Cedar City, Utah. She attended Brigham Young University, which is a college owned and run by the Church of Jesus Christ of Latter-day Saints. Condie and numerous other Mormon authors went to BYU and have now become well-known throughout the YA literary world.
Fablehaven was one of the first fantasy series that I read as a kid, and I have many fond memories of Mull's books!
In this series, fantastic creatures of all kinds have taken refuge in Fablehaven for centuries. The current caretaker is the grandfather of Kendra and Seth, who don't know anything about their grandfather's occupation or the hidden world of Fablehaven. When the land's rules are broken, and an ancient evil is unleashed upon Fablehaven, it's up to Kendra and Seth to save their family and all of Fablehaven.
Author Brandon Mull is also a native of Utah and attended Brigham Young University. He has written three other fantasy series that you should definitely check out if you're a Fablehaven fan: Beyonders, Five Kingdoms, and Dragonwatch.
Winner of the Pulitzer Prize and National Book Award in 1994, Proulx's The Shipping News follows Quoyle, a newspaperman whose unfaithful wife recently died in a car accident. Following this tragedy, Quoyle decides that he's had enough of New York and takes his daughters to Newfoundland, where the family is from. Quoyle and his daughters are joined by his aunt, and the three generations attempt to carve out a new life for themselves in the gorgeous landscape of Newfoundland.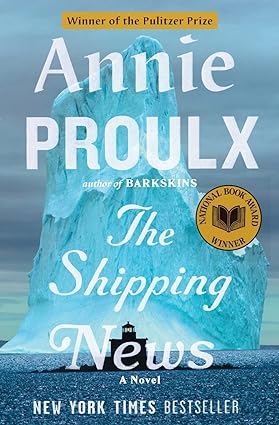 Edna Ann Proulx (pen name Annie Proulx) was born in Connecticut and now lives in New Hampshire, but she lived in Wyoming for a while. Proulx wrote a collection of short stories inspired by Wyoming that appeared in The New Yorker in 1997. The most well-known of these stories became the inspiration for Brokeback Mountain, a 2005 film that won multiple Academy Awards and stars Jake Gyllenhaal and Heath Ledger.
The first novel in the series, Open Season, introduces game warden Joe Pickett to both readers and the small town of Twelve Sleep, Wyoming. Joe is an honest game warden and refuses to accept bribes from hunters. After Joe finds a dead body in his woodpile, he must become a detective in addition to a game warden in order to protect a newly endangered species from Interwest, a gas company intent on building an oil pipeline through Twelve Sleep.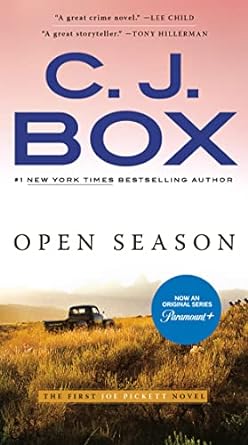 As of now, the Joe Pickett series has 23 books, with a 24th expected next year in 2024. The series has also been adapted for the screen, which you can watch on Paramount Plus.
Author Charles James Box Jr. (known more commonly as C.J. Box) is a Wyoming native, and much of his work has been inspired by the scenery and history of his home state.
YA Fantasy novel The Boneless Mercies is about a team of female mercenaries. One member, Frey, wants to give up her life as a killer and follow in the footsteps of her community's heroic sagas. When a monster arrives to terrorize a nearby town, Frey takes this opportunity to get her and her friends out of the mercenary business and even change the lives of women in their world.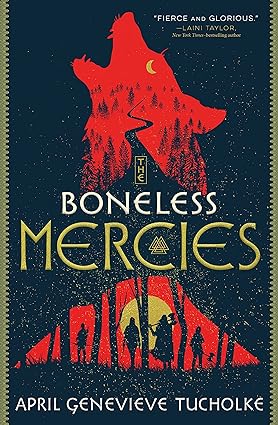 April Genevieve Tucholke grew up in Idaho and has lived all over the world. She currently lives in the American state of Georgia.
8. Half Life by Lillian Clark
Overachieving high schooler Lucille wants more to her life than just preparing for her perfect future. When she sees an ad from a company searching for beta testers for their new clone project, Lucille signs up immediately. Her clone, Lucy, gives Lucille the opportunity to both study for tests and hang out with friends. Lucy also provides Lucille with an unexpected question: how much of Lucille's life before Lucy was truly her own?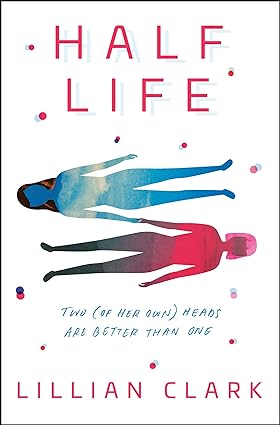 Author Lillian Clark is from Idaho, and she went on all sorts of adventures when she was growing up there, such as riding horses and climbing trees. Now she lives in Teton Valley, Idaho, with her husband, son, and two dogs.
A historical novel that takes place in nineteenth-century Montana, God's Thunderbolt: The Vigilantes of Montana follows lawyer and abolitionist Daniel Stark as he tries to live long enough to take his gold home to New York.
When one of Dan's friends is murdered, he prosecutes the suspect, who happens to have five Confederate lawyers on his side. The trial reveals a deeper criminal scheme, and Dan teams up with both the Union and Confederates to establish justice and order in a lawless land. This novel is the first of four in The Montana Vigilante Series.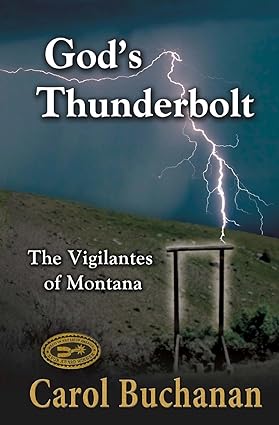 Author Carol Buchanan was born and raised in Montana. Her first writing job was at a local newspaper when she was a teenager, and after that, she wrote for numerous papers and magazines about history and horses. She published her first novel, God's Thunderbolt, in 2009.
The Path of Fate trilogy is a YA Fantasy series that follows Riesil, who has no interest in becoming a servant to her Lady. However, Riesil's decision has unintended consequences for the entire kingdom of Kodu Riik.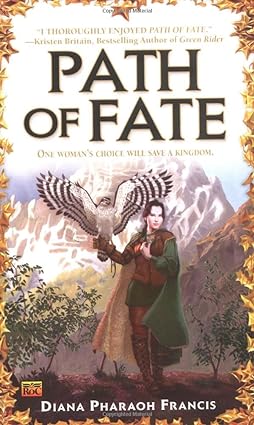 Diana Pharaoh Francis grew up in Northern California and has a doctorate in Victorian literature. She now teaches English and writing at the University of Montana-Western. Francis lives in Montana with her husband, son, and dog.
---
Want to learn about other regions from the American Tour? Click here!
FEATURED IMAGE VIA BOOKSTR / ELLIE DAVIS