I truly think this bookstore, The Ripped Bodice, is one of my dreams come to life. I had been seeing the one in California all over my TikTok, and it feels like a sign that it opened a location in NYC the week I moved back! I am so excited to share with other passionate romance readers about my journey to this unique boutique bookstore.
If you don't live on either coast, I am deeply sorry that you don't have this store within your radius. I am going to use all of my creative abilities to take you there mentally.
My Treck to Brooklyn
My new apartment is quite far uptown, so I had to take two trains to get to Brooklyn, and of course, I had to dress the part. I mean, I'm going to a romance bookstore, and I am about to run into a ton of book girlies! I wanted to feel and look the part of a romance-loving book addict. Once I got off the boiling hot subway, I had a quaint five-minute walk through Park Slope to the bookstore adorned in my lacey dress, cowboy boots, and canvas tote.
As I was walking, I could sense there were other girls and their friends behind me on the same mission I was. When we spotted the store's big "BOOKS" sign, it was quite an experience of girlhood as much of this experience was. We all stopped for pictures of the front of the store, bubbling with excitement. Strangers taking pictures of strangers united in a feeling of joy. I offered to take a picture of two girls who said, "Might as well; it was a long trip here"; I totally get you, ladies.
My First Look
I had seen pictures and videos of what the store looked like, but I was still on pins and needles to see it for myself, and it didn't disappoint. You walk in, and your eyes are immediately drawn to the walls and ceilings that are decorated with open books. It felt like something out of Harry Potter! They were stuck all over the corners, suspended from the ceiling by clear wires, and surrounded by vines as if the books had sprouted from the wall.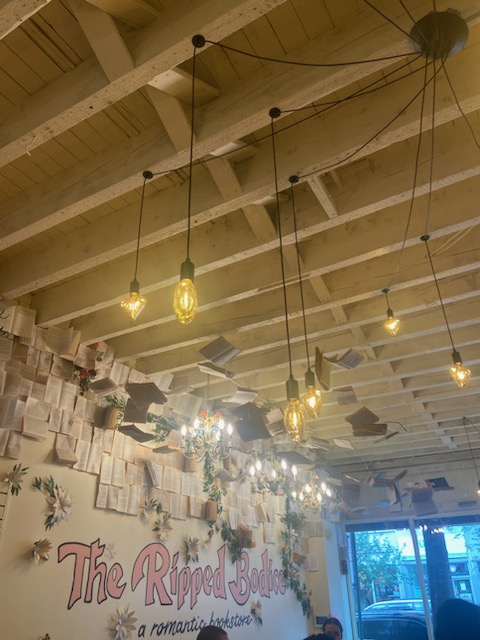 It was a book lover's dream to see such a beautifully decorated space. I was in awe and so impressed by the work that went into this shop. I felt that every detail was for us; us romance readers. I think the two sisters that started these shops, Leah and Bea Koch, knew what we wanted out of a store of this specific niche. By the front door, amongst books laid flat on a wall, was a short description of their business and what it stands for. It is pictured in the image below but I want to highlight one section.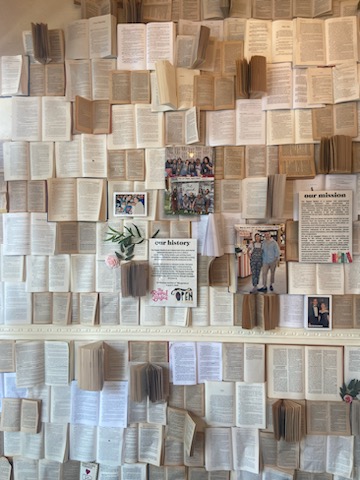 "Devoted exclusively to romance novels, the store proudly celebrates the genre while promoting inclusivity and diversity. With a vast and diverse selection of romance fiction, The Ripped Bodice has become a beloved destination for readers seeking empowerment, joy, and connection through the pages of romance."
What more can we ask from a bookstore? Their mission statement embodies exactly why many people read romance novels and find comfort in their pages. I am very happy to share that they have gone above and beyond and achieved exactly what they say they do.
My Out-Of-Body Experience
I feel everything very intensely, so it was no surprise that I was overstimulated with joy as I walked through the store. Let me set the scene; I walked into the store to the cadence of You Belong With Me by Taylor Swift playing, and it was mostly women also dressed the part, roaming the shelves laughing and smiling; I chase this kind of shared-female experience. To be surrounded by other like-minded people, all giddy about the same thing you are, is such a beautiful thing.
I walked aimlessly around the store, completely enamored by everything. I couldn't focus on one specific thing. I was drawn to all of the labeled shelves based on the genre of romance, stickers, and trinkets. I tried to take my time at each section of the store, but it was bursting with such energy and life that I kept leaving the area and returning when I made another loop.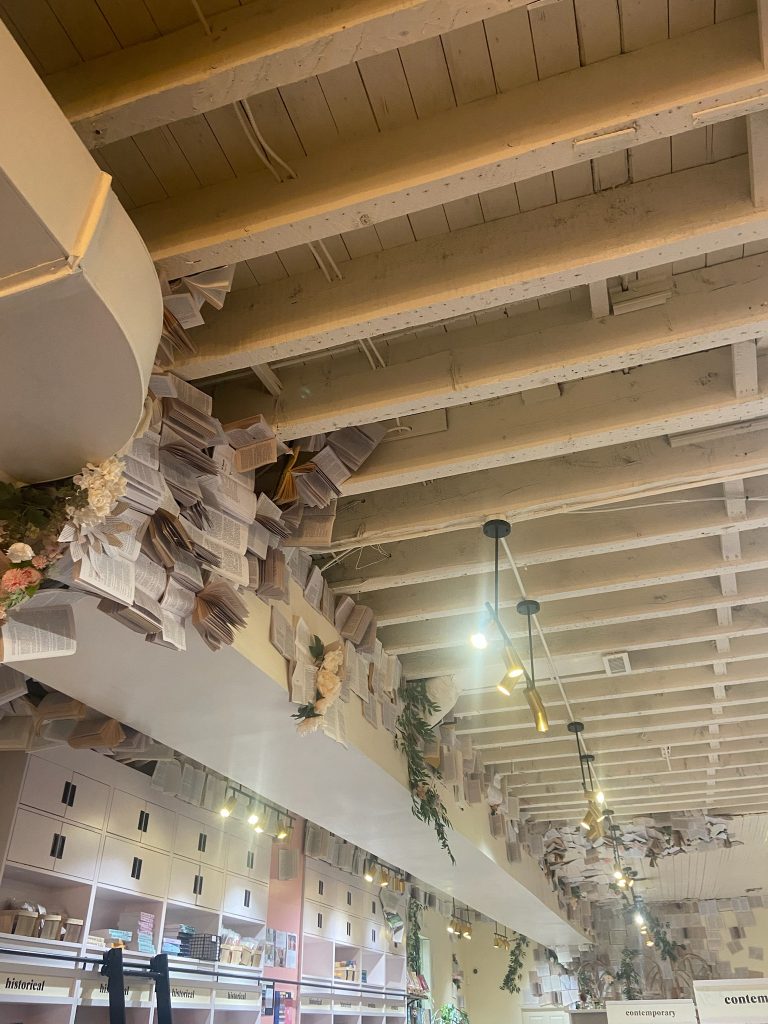 They have a small selection of their own merch, but they also have bookmarks, candles, journals, and stickers created by other bookish businesses; I love seeing the small business support! The staff wore wood book name tags and were all dressed beautifully. Everyone was kind, and I could sense, just happy to be there, like I was. It was truly a shared experience amongst everyone.
I managed to claim a spot in the "erotic" book section for some time. I looked over their selection and gave advice to readers who picked up series I had read and enjoyed. It felt like a big book club, with people ready to talk about all their favorites. I liked that the store had a range of romance books from classics to contemporary. They also had a non-fiction section that focused on the sexual experience, women, and communities of unrepresented peoples. There was something for everybody to latch onto.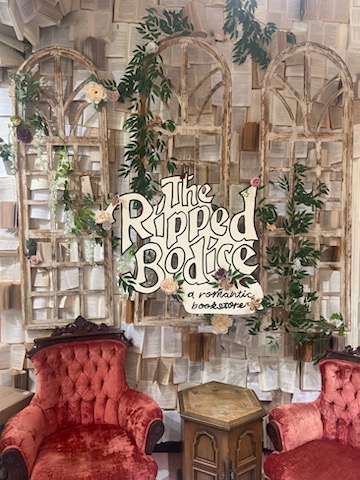 I want to briefly go back to the kind of people that were in the store. As I mentioned, it was mostly women, but the men that were there did not disrupt the sacred space. Many men were there with their partners wandering around the store. I was attuned to a funny conversation between two men that were browsing the non-fiction beside me. They were very interested in the selection and thought the store was fascinating. I overheard one say to the other, "Should we go to a cafe and let the girls take their time in here?" That question made my heart bloom. I wanted to turn around and say thank you for being so considerate of their experience, but instead, I took the moment and pocketed it for when I needed to be reminded good men do, in fact, exist.
I walked out of the store with Hooked by Emily McIntire, a free bookmark, and newfound joy. I have not stopped raving about the store since I visited, and I am already planning another trip just to feel that sense of community and girlhood again.
---
You might be thinking, "Olivia, while you were there did you ask about any open positions?" Why, reader, yes, I did. I even emailed them about any openings prior to going! I was fangirling so hard because the two sisters who started the stores were right there when I asked. I started off by saying that I knew they must have been asked about employment 20 times a day. Sadly, they are fully staffed and won't be looking for any new staff for about 6 months. But let's keep that in mind, NYC romance readers; 6 months from now is marked on my calendar!
If you can make it to one of The Ripped Bodice locations, I just know you will have a fantastic time. It is such a welcoming, homey environment for lovers of all things romance.
Click here to view their website! Click here for more romance articles!
FEATURED IMAGE VIA BOOKSTR / OLIVIA SALAMONE