Bookstagram is a great place for book lovers to connect and share their current reads, book hauls, and TBRs. Even better, bookstagrammers have the ability to give their page aesthetics based on their personality and what they like to read. This makes Bookstagram a fun place for bookish people to express their creativity. It's even offered some bookstagrammers a certain level of social media fame.
This week we're featuring up-and-coming bookstagrammer @librarybyemily, whose vibrant, colorful page matches her stunning personality and makes her the perfect bookstagrammer to check out this summer. I reached out to her with several questions (hi, how can I be more like you?), and she gave us insightful answers and beautiful images for us to share. Let's dive in.
Get To Know @librarybyemily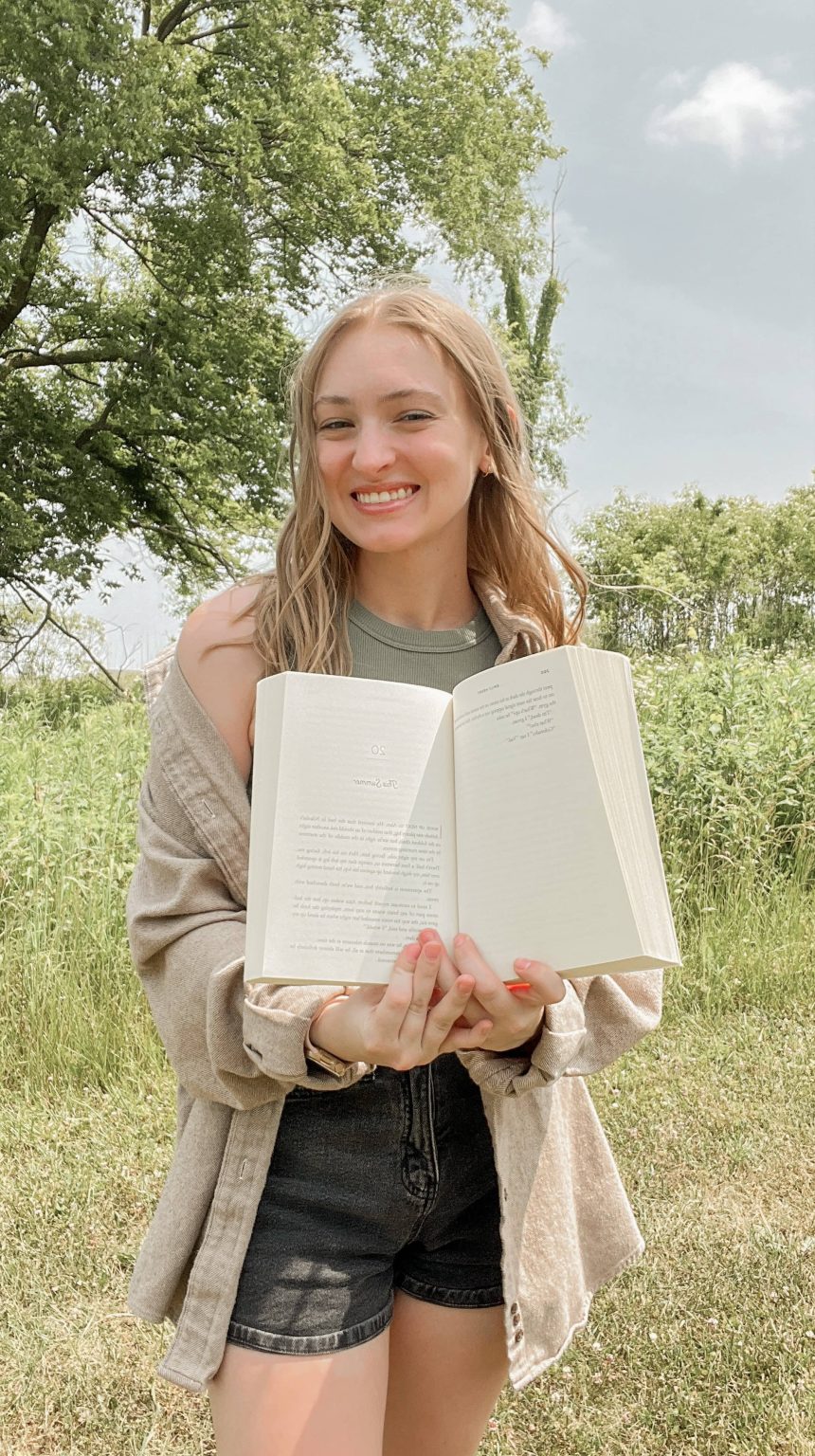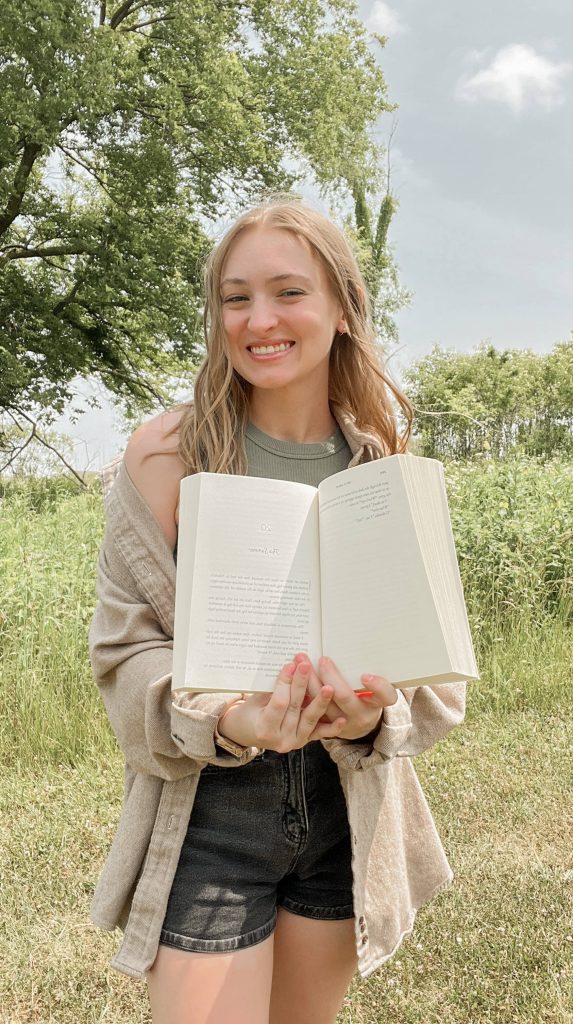 Where are you from?
I'm from the Chicagoland area in Illinois, USA!
What's a fun fact about you?
While in high school, I memorized the Prologue to The Canterbury Tales in Old English. I can recite it from memory to this day.
What's your favorite bookstore?
My favorite bookstore is Bookhunters New and Used Books! The owner is incredibly kind, and the store is always stocked with discounted best-sellers and new releases.
All Things Bookstagram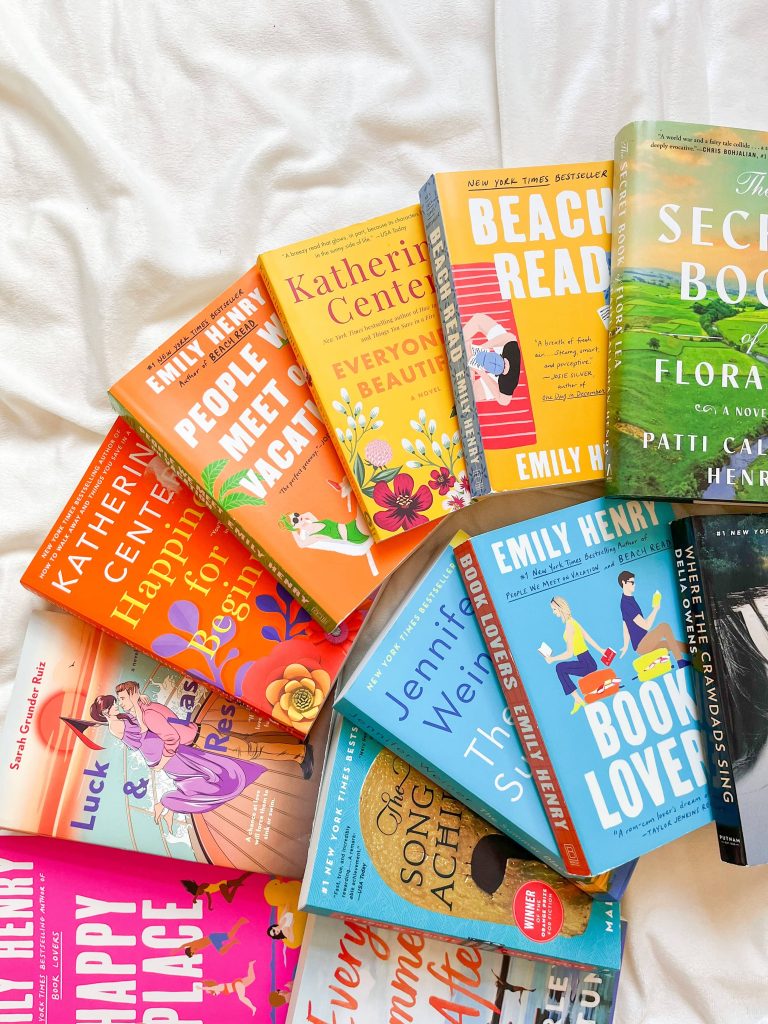 Why did you start your bookstagram?
For one of my birthdays, I received Emily Henry's Beach Read and Ali Hazelwood's The Love Hypothesis, which inevitably pulled me down into the bookstagram rabbit hole. After relentlessly scrolling through hours' worth of book recommendations and aesthetic bookish posts, I was obsessed and quickly created my own account. I made content with the five or six books I owned at the time, and things (happily) snowballed from there!
How often do you post?
I try to post two-to-three times a week because I love participating in trends like "Messy Monday," "On Wednesdays We Read Pink," and "Flatly Friday." I don't keep a strict schedule, though, so I don't get in a creative rut.
What's your aesthetic/Instagram theme?
My aesthetic is bright, maximalist, vivid, warm, and colorful! My content mainly focuses on flatlys, romance reads, and indie author recommendations.
What's your special approach to content?
My content usually depends on what I'm reading. If I've just finished an Indie book, I'll review it! If I've just finished an author's backlist, I'll rank them! If I'm in a reading slump, I'll just throw a ton of books on my bed and call it a Messy Monday!
What do you want your Instagram to bring to the world?
I want my Instagram to be a positive example of how social media impacts our lives and can be used to make us better, more empathetic, and kind human beings. Since joining the booksta community, I have experienced nothing but generosity and compassion. With my account, I want to contribute to that welcoming community by pursuing genuine and kind interactions with readers across the globe. I'd like to think that the connections I make online remind people (myself included) how important it is to connect with their community offline too.
What does your bookstagram mean to you?
My booksta has been such a blessing. I have never been surrounded by so many amazing friends who encourage me to be the best version of myself, and that share my passion and love for reading. My account also provides me with a low-pressure, creative outlet that has helped me learn so many valuable skills that might be useful post-graduation.
When did you know you had made it as a bookstagrammer?
When Bookstagram became fun. Once I stopped caring about other people's opinions and obsessing over my follower count, I started creating content that I loved, and that made me excited about creating more. When I did that, I found myself surrounded by a growing community of people who also loved the content that I was making, and that is incredibly rewarding.
Who are your favorite bookstagrammers?
When I first started Bookstagram, I was obsessed with @booksonpromenade and @laurenreadswhat; two very different styles, but equally gorgeous accounts. I love Natalie's (@booksonpromenade) moody but colorful aesthetic and Lauren's (@laurenreadswhat) artistic and naturally vibrant posts! To pick a favorite now, however, would be an incredibly difficult task because of how many wonderfully talented, kind-hearted, and creative bookstagrammers there are in the community.
Let's Talk Books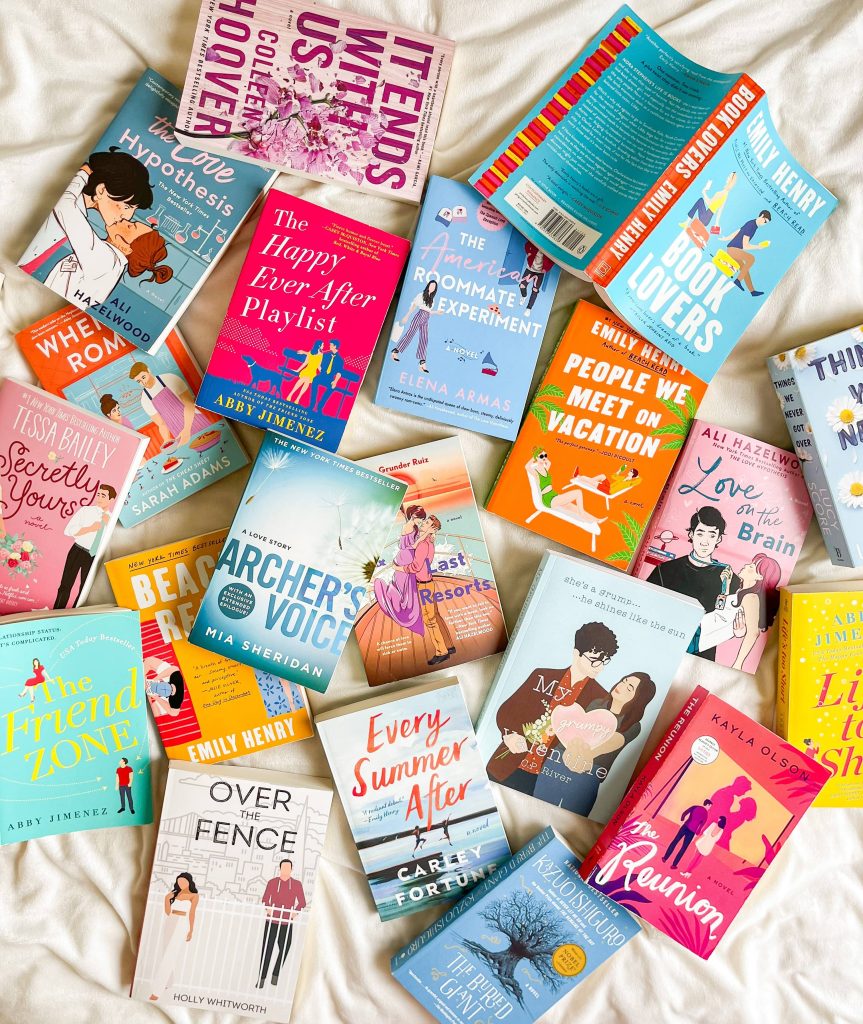 What are your favorite books, and who are your favorite authors?
Ah, a reader's worst nightmare: picking favorites. This question is especially difficult for me because, as a Literature student, most of my favorite books and authors don't coincide with my bookstagram content. I love, for example, Dracula, Atonement, Grendel, Things Fall Apart, and anything by James Baldwin. But I also adore Baggage Claim, Things You Save in a Fire, The Spanish Love Deception, The Shining, and literally anything by Abby Jimenez. (Oh, and I could never forget Harry Potter)
What's on your TBR?
I am a mood reader, which means that despite my massive TBR and buddy read commitments, I will always reach for the book I want to read rather than the book I should read. That said, I think I'll be reading The Nightingale by Kristin Hannah next.
Now the important question: who is your fictional crush?
Ah, another difficult question! While I love swooning over men like Rhysand and Aaron Blackford, I think Noah Calhoun (The Notebook) will always have a special place in my heart for showing me the depths of true love.
What's your favorite book cover?
Probably Baggage Claim by Juliana Smith but the paperback version of The Marriage Portrait by Maggie O' Farrell is also beautiful.
Bring on the Fun Questions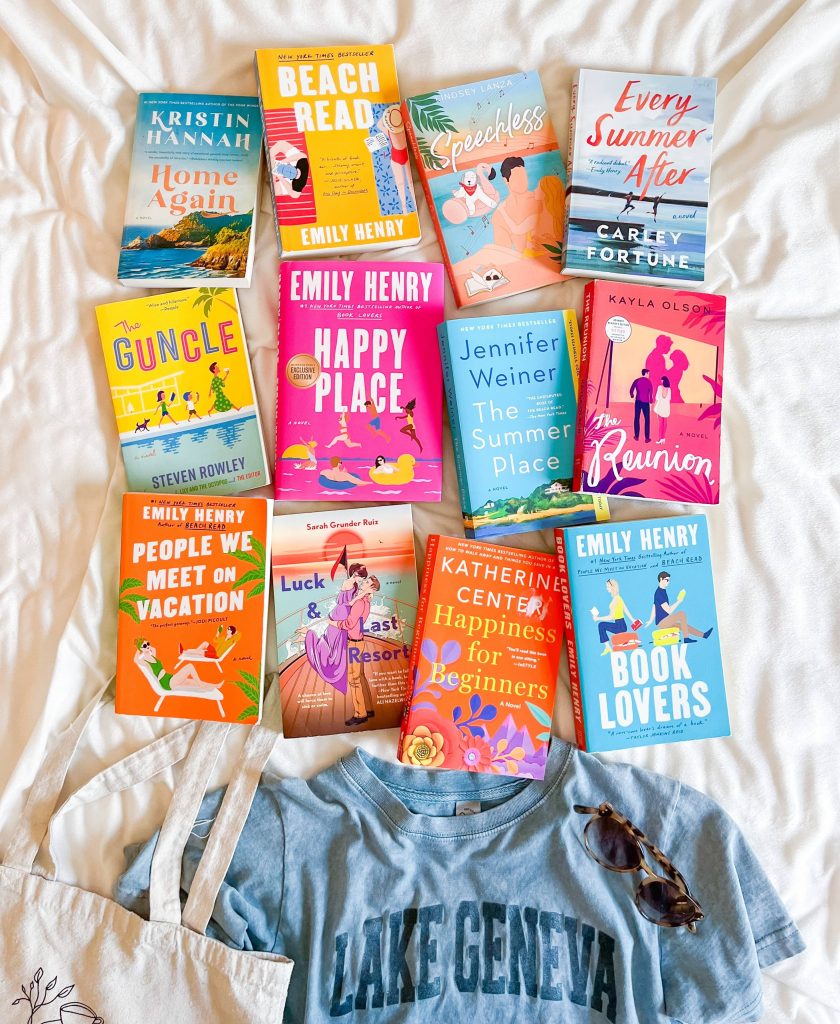 Who would you have supply you with a lifetime of books?
Either Abby Jimenez or Katherine Center. Both authors infuse their books with the perfect amount of wisdom, romance, and laughs!
Who is an author you'd like to take a selfie with?
I think I would pass out if I took a selfie with Stephen King!
What are your favorite fandoms?
The ACOTAR fandom! Everyone is very kind, and it's generally a fun series to read with a group of people.
What's a book you claimed to have read but didn't?
The Hunger Games! Unlike my peers, I was not allowed to read the series in middle school, so I definitely fudged my way through conversations until I read the series in high school. Whoops!
Advice From Emily to Leave You With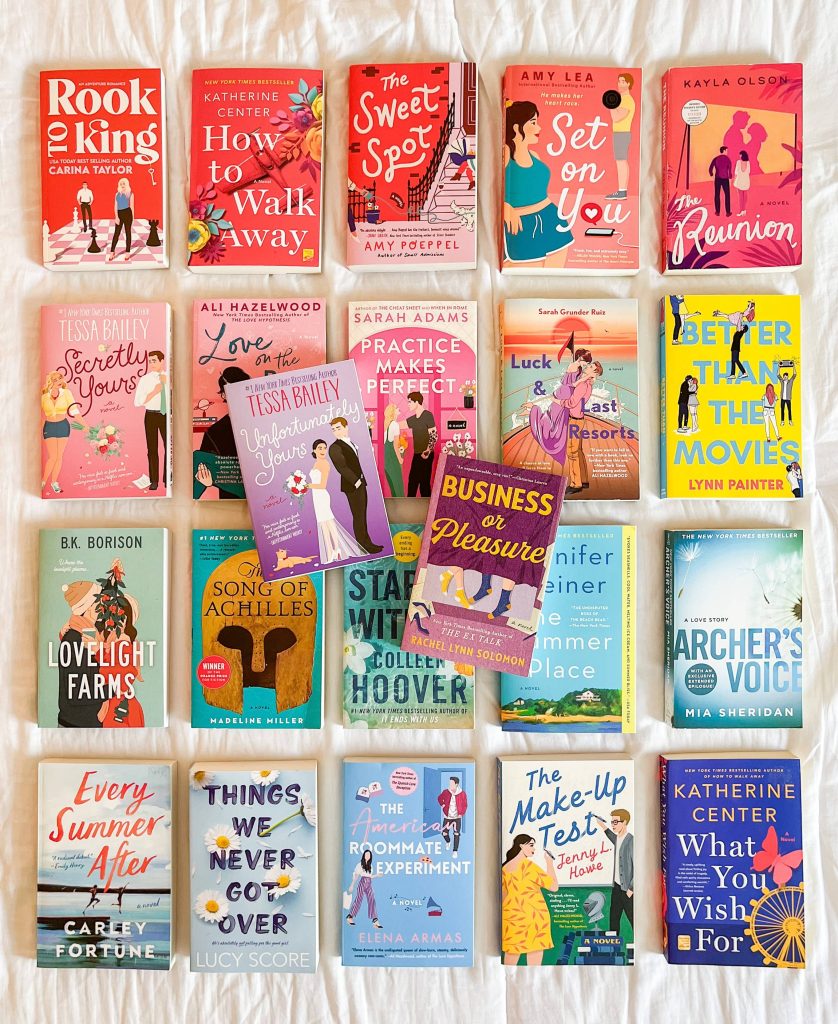 What advice do you have for aspiring bookstagrammers?
Bookstagram isn't the place for perfection, just creative fun. Make content that you love! Read what you love! And most importantly, don't be afraid to make friends!
---
A special thank you to Emily (@librarybyemily) for allowing us to feature you! It's been a pleasure! That's a wrap for this feature of an up-and-coming bookstagrammer. While you're here, why not follow us on Instagram?
Check out another featured bookstagrammer here.
FEATURED IMAGE VIA BOOKSTR / KARLY KOLEHOUSE