It's time for school to start back up soon. From preschoolers to Doctorate programs, classrooms will be filled with students ready for their minds to be filled with new and everlasting knowledge. That means it's a great time to pick up school supplies that are on sale. They're not just for those attending classrooms. Let's take a look at some amazing school supplies that are fantastic finds for the bookish community!
Notebooks
I'm pretty sure every bookish person has a stack of unused notebooks on a shelve or in a drawer. They probably have adorable sturdy covers, are the perfect rule, or they're your favorite book merch that you just had to have! But just because you have yet to utilize them, that doesn't mean you can't buy more!
While notebooks are always available, they're actually cheaper to purchase in the months of July and August than at any other time of the year. If you're anything like me, you preferred the Five Star, college-ruled notebooks with the harder covers. That brand really does do school notebooks, right, which is why they're a bit spendy. But yay for back-to-school season because they're usually 15-50% off!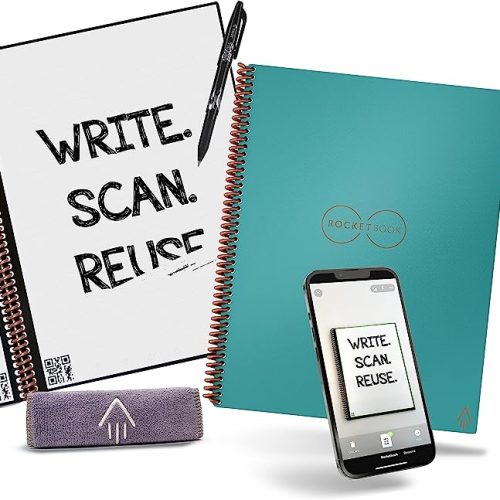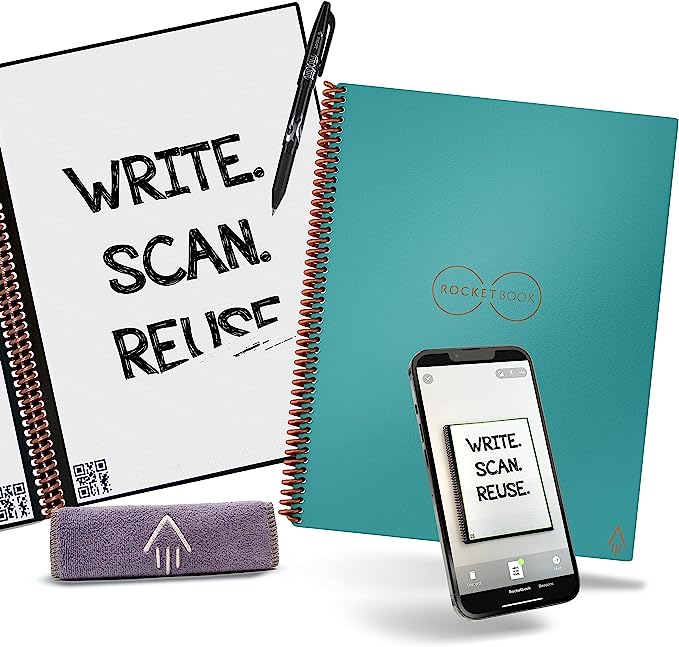 If you're feeling a bit more eco-friendly in your notebook purchase, Amazon currently has a special on Rocketbook, the reusable Smart Notebook.
Pens
I will admit, this is probably the best reason to head to the store and shop among the throngs of harried parents gathering supplies for their munchkins to go back to school. I love pens! I have a bit of an obsession. So when back-to-school happens, so do several other things. One, new pen varieties, styles, and brands drop. Yes, please; let me be the new pen tester-outer (yep, I'm keeping that in here!) And two, they're cheaper and usually available in bulk sizes. I'm a lover of writing with pen and paper still — I still proudly use a paper planner — so when there's a pen I love, I tend to use it a lot and need to have many on hand.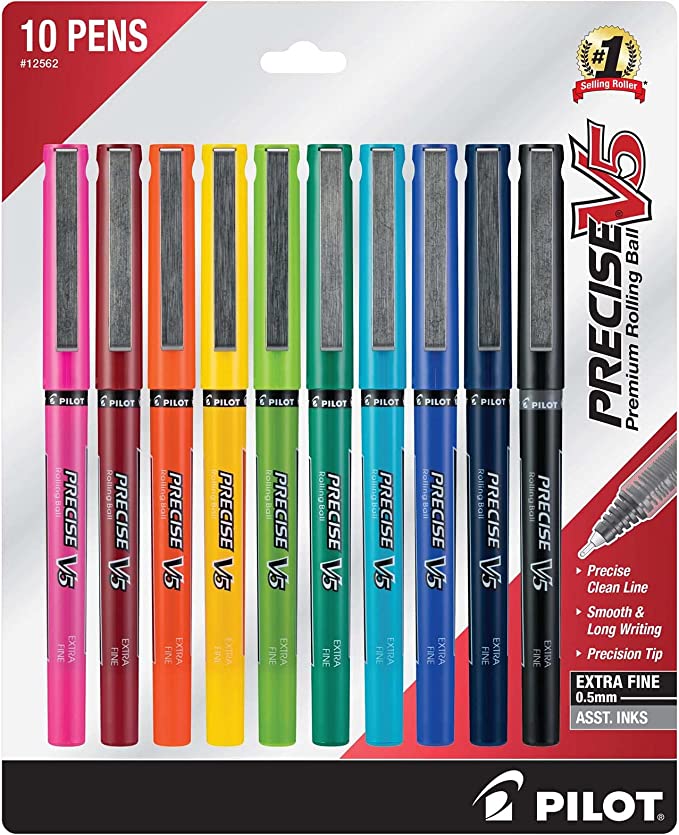 Some of my favorites are the Pilot Precise V5 with the 0.5mm extra fine tip. They're so smooth, and they dry quickly. This multi-colored 10-pack is my go-to planner pen for color-coordinating my crazy busy family and work life. Bonus, it's on sale; save 41% right now! Pentel Energel 0.7mm ballpoint gel pen is another go-to. Also available in a variety of colors and dries fairly quickly.
Highlighters
For all my annotation-loving bookish people, we all know that a highlighter can make or break the game. Some are too saturated and cause the pages to crinkle, some fry too quickly, and some are either too bright or not bright enough. Basic school highlighters can stay with the kiddies in their classroom; they're not my fave to use in my books as I notate all that interests me.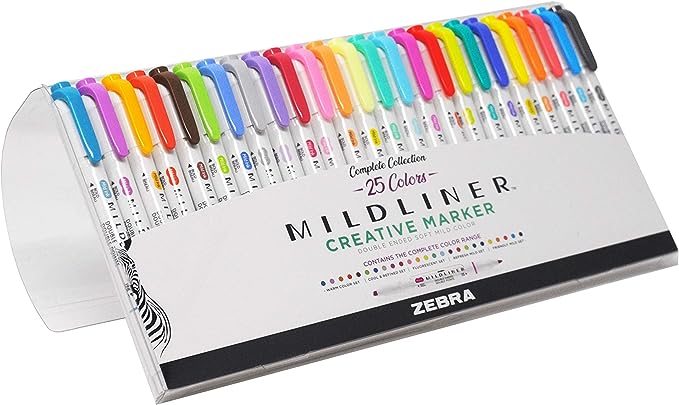 My go-to is Zebra Mildliners, the double-ended highlighter. On one side is a bold traditional highlighter tip, and on the other is a fine point, so you're not limited in width or usage. Zabra has 25 colors but comes in a variety of styles and pen counts; so you can either get the entire collection or buy them by the color scheme you prefer. Oh, and did I mention they're water-resistant?
Planners
Planners are everywhere, both paper and digital. But a good planner is hard to find. A perfect planner with everything you might want… that's a unicorn, and I'm still looking. (Yes, like any planner person, I've contemplated creating my own and selling them, but well, I like to write more.) However, there are quite a few planners that I switch between every time it's time to get a new one. This just so happens to always coincide with back-to-school because I have kids, and it's easier — in my mind — for everyone if I use the July-June format.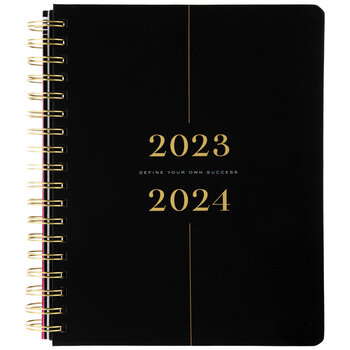 Happy Planners are the cheapest, by far, that are really, really good. I prefer the spiral-bound version, but if you like the disc system, that's an option too. You can find these at Hobby Lobby, where they're usually on sale either using their 40% off coupon or a running special. This includes their awesome sticker packs! For a more personalized experience with many options, Erin Condren and Paper Source are great planners, but the additional options do stack up, and for some planners, they only go up to 8 months due to thickness. You can join both of their mailing lists for emails on sales and new products.
Backpacks
Backpacks are not just for kids. I use one all the time. They are convenient for so many things, but especially for keeping your hands free while lugging your TBR pile along with you. Or, you know, whatever else you need to carry. They can get expensive, though, especially good quality ones that will stand up to a heavy load and frequent usage. However, they're usually on sale this time of year, so make sure to snag one, and you can add the other suggestions above to it!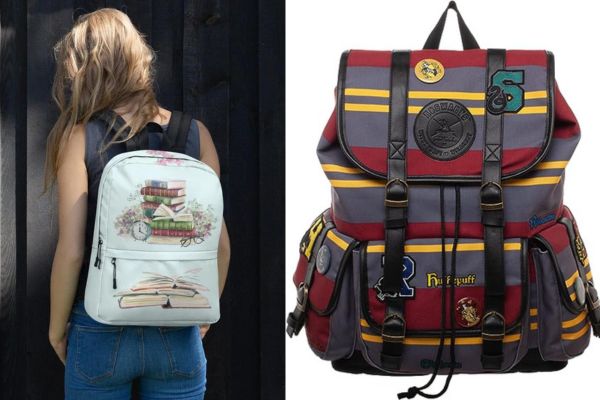 Try out this Harry Potter officially licensed, heavy putty canvas backpack from Bioworld. It's 15% off on Amazon right now! Or, better still, head over to Etsy for some amazing bookish options!
---
Are you just as excited about the school supplies you could pick up this back-to-school season too? Let us know!
Want some recs on book to beat the back-to-school blues? Click here!
FEATURED IMAGE VIA CANVA