Welcome back to Bookstagrammer of the Week with Bookstr! This week we're talking with bookstagrammer James of @fantasyphile about all things fantasy fiction! If you haven't checked out his page yet, run, don't walk over to Instagram, and give him a follow. James is an expert on fantasy books. Even better, though, are the beautiful books featured on his Instagram that fantasy readers can swoon over. Let's dive in!
Getting to Know James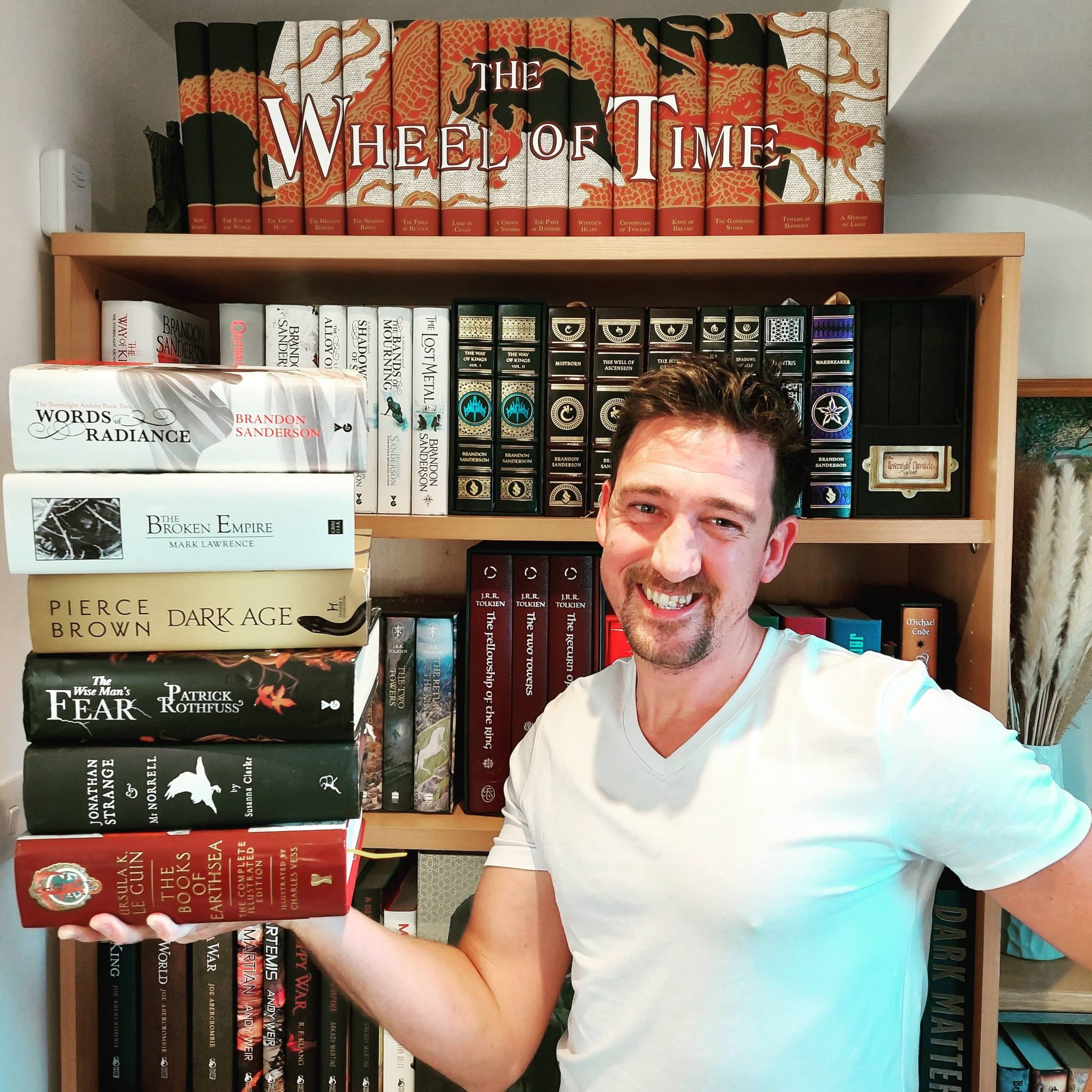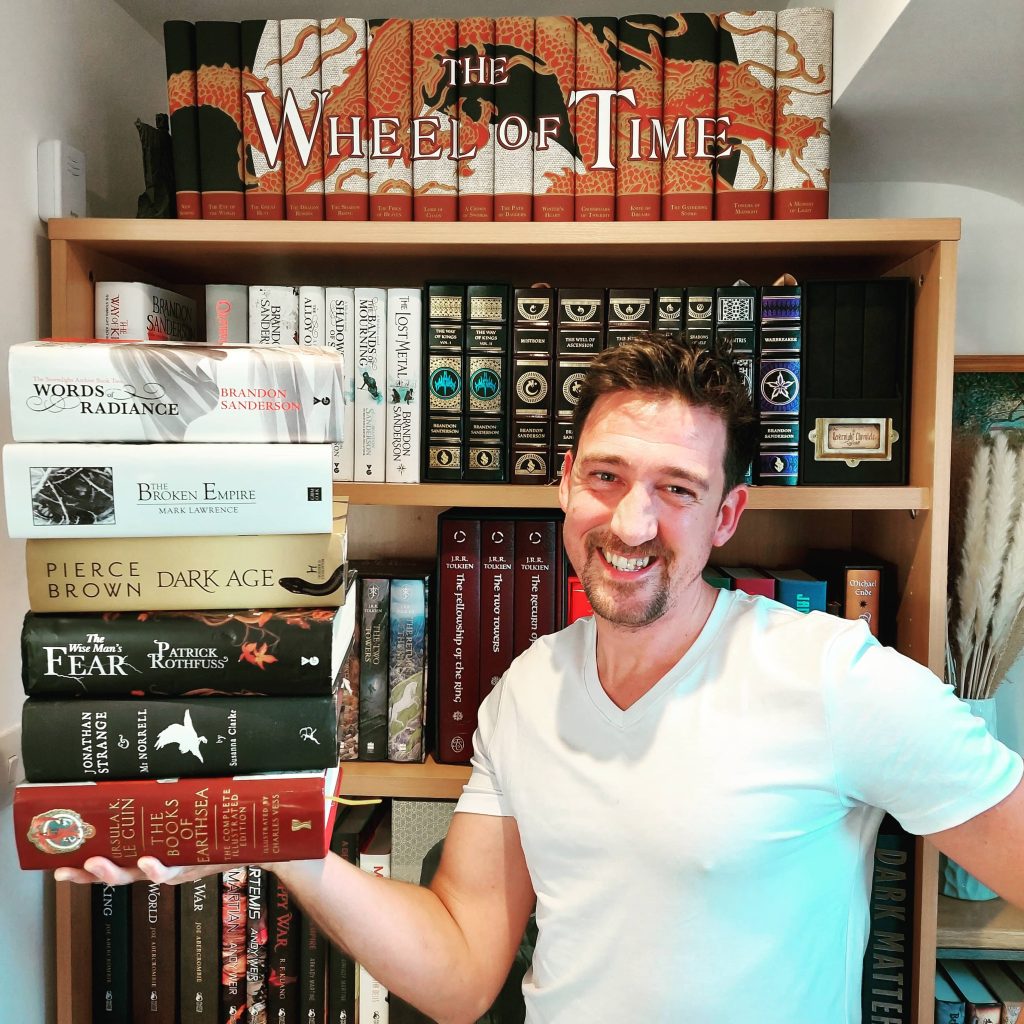 First, where are you from?
I'm from the UK, but I lived in India for seven years and moved back home with my wife and two kids during the pandemic.
What's a fun fact about you?
I've met a few A-list celebs who came to my old place of work. My biggest claim to fame is asking Angelina Jolie to be quiet while I was giving the safety briefing. Other than that, I used to be a teacher for 10 years, but now I'm training to be a helicopter pilot and had to sell a whole bunch of my books last year to fund a stretch of training. I've still got another year to go, but hopefully, I won't need to do anything so drastic again… hopefully.
What are some books that are on your TBR list?
Oh, this is even longer than my favorite books list. I need to finish Red Rising, Poppy War, Licanius, Daevabad, Chorus of Dragons and many, many more.
Getting Started on Bookstagram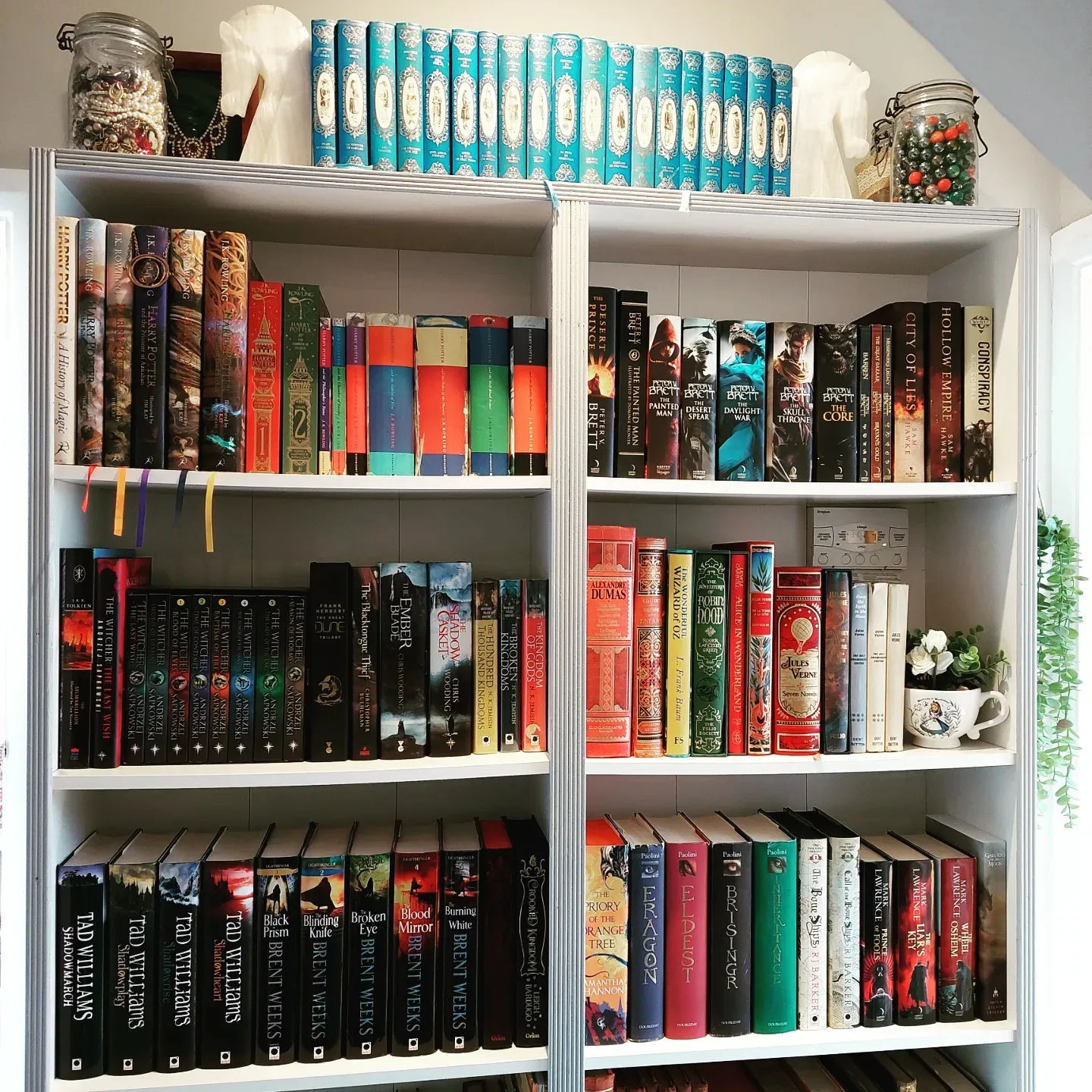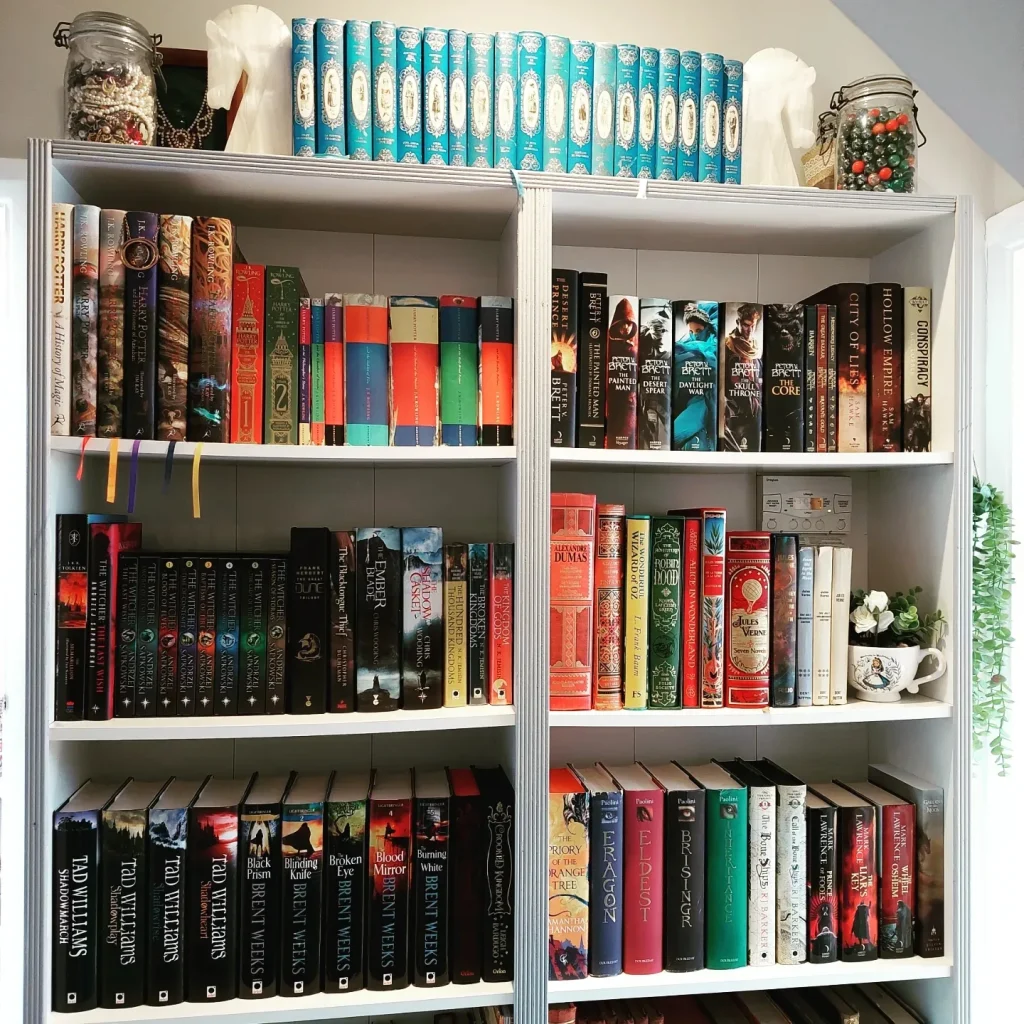 Why did you start your bookstagram?
I started bookstagram because I wanted to keep up to date with new special editions and share my collection with other book lovers.
How often do you post?
I would post almost every day without fail during the first year or so. I have now slowed down, so it's about four times a week now on average.
When did you realize you had made it on Bookstagram?
When Folio Society finally gave in to all my badgering, and we did a giveaway together! I got to keep a copy of the book too, and that was always like.. a big end goal that I thought would never happen.. to get a free Folio Society book?! No way! That was a really big deal for me, and I am always grateful to the wonderful team at Folio Society, who are always up for chatting about beautiful books.
All the Fun of Bookstagram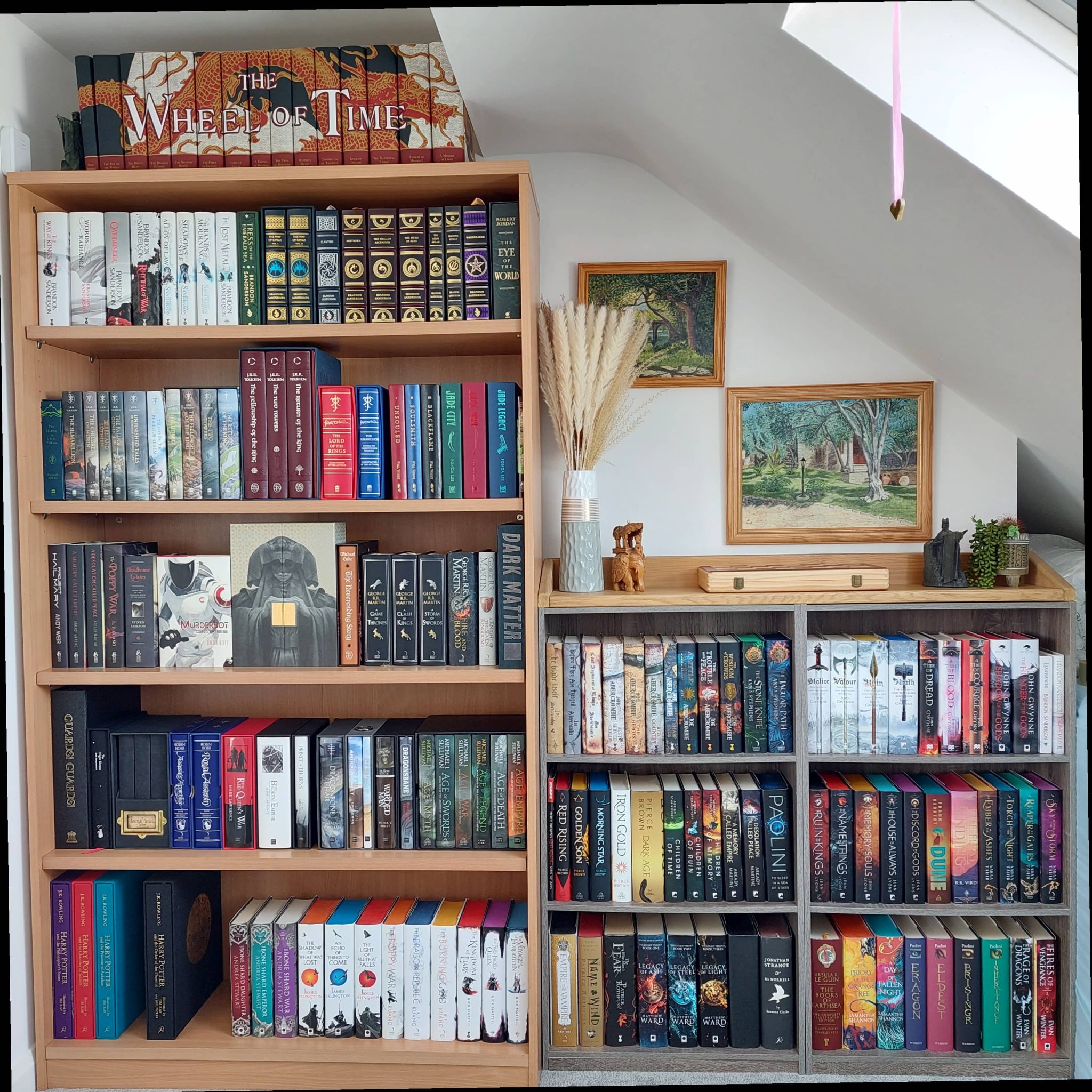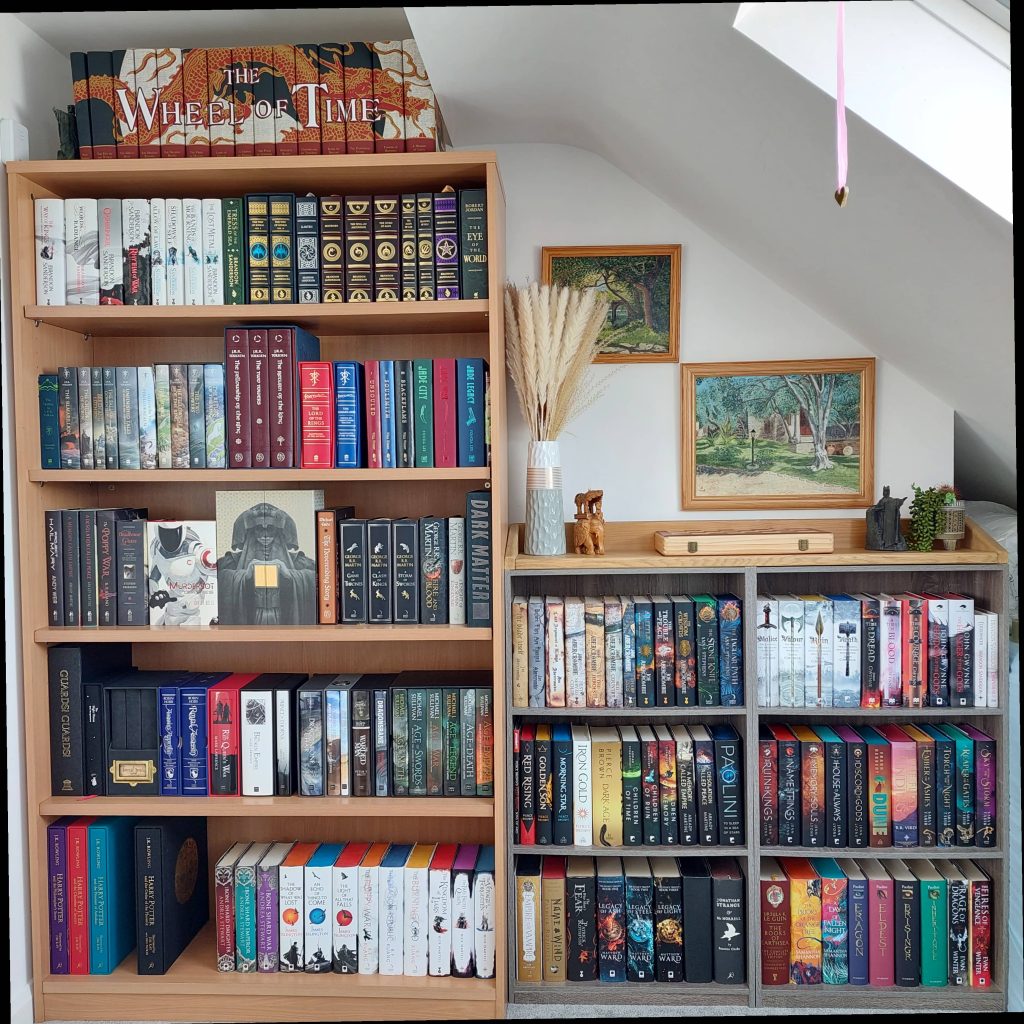 What does Bookstagram mean to you?
The community is the best thing about Bookstagram. I would have quit it ages ago if it wasn't for all the amazing people I have gotten to meet through it. From authors and publishers to other people who just love books as much as I do, it's incredible.
What's your aesthetic, and why did you choose it?
I have a really cool wallpaper with a giant map on it. I've had so many comments over the years about it that I saved the link to it to have it handy when people inevitably ask about it! So individual books or stacks go in front of that with a few basic props. I always admired other Bookstagrammers that could do these awesome flatlays and have loads of props.. but I could just never seem to make it look good and stuck to very simple photos overall.
What's your special approach to creating content?
I try to focus entirely on the book. I didn't show my face or even my hands for the first two years! My shelfies have always seemed to be the most popular posts. Just solid shelves of books stuffed full of hardcovers!
Who are some of your favorite bookstagrammers?
@Bookish_mai was a big inspiration in the beginning. @libraryofaviking has been a good friend, and we've met in person. We did an interview about my collection for his YT channel. @Veldonreads / @affleckreads / @allomantic_reader & @arnold.collects are all amazing pages too.
All About Books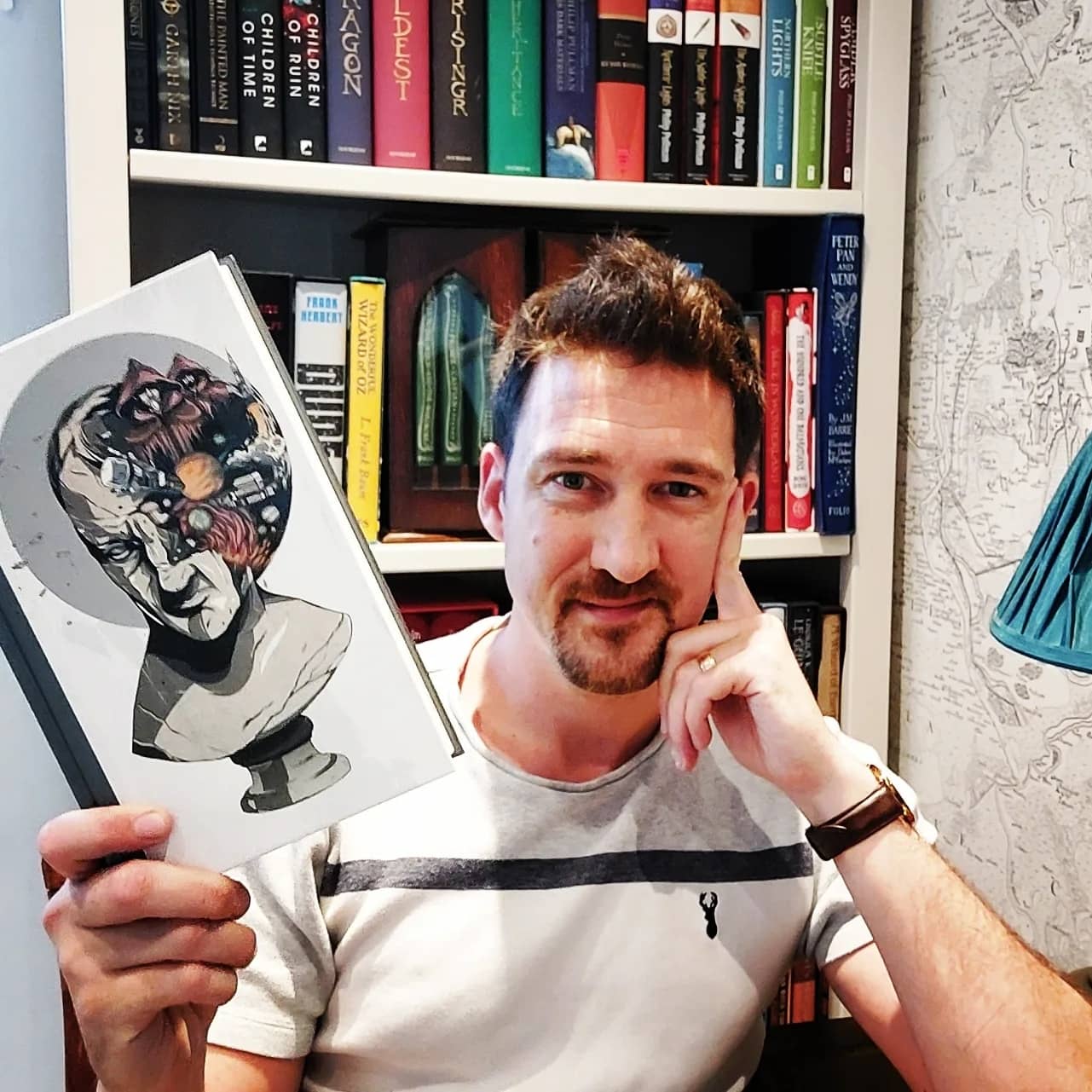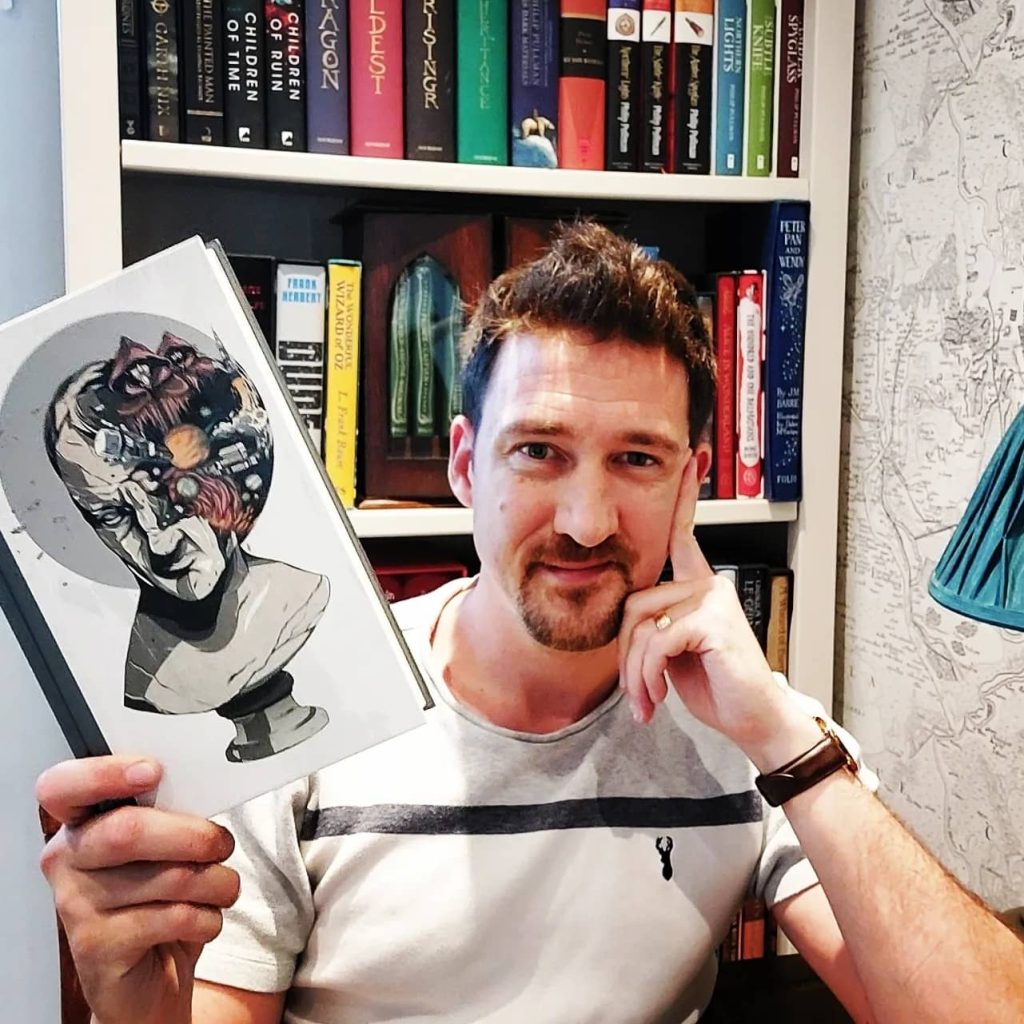 Time for the big question, what are your favorite books, and who are your favorite authors?
Oh gosh, this could go on… but I'll keep it brief. The biggest series that influenced me… had to be His Dark Materials by Philip Pullman. It is a beautiful, powerful coming-of-age story, showing the loss of innocence and the beauty of first love. I read it at the pivotal point of adolescence, and it had a profound impact on me. It is always the first book I recommend. I owe my love of reading to Harry Potter. I was 10 when I read the first book, and The Chamber of Secrets came out shortly after. I literally grew up with Harry as each book was released. Potter Mania had a magic of its own, and I feel very blessed to have gotten to experience it the way I did.
Other influences are Chronicles of Narnia, which instilled my love of fantasy even further. I then discovered Brandon Sanderson and, through him, the Wheel of Time. Then, the Lord of the Rings movies came out when I was 13, and well… that was it. I was totally hooked on fantasy from then on, and I've lived 100s of lives ever since. G.R.R. Martin, Patrick Rothfuss (can you tell why I grouped these two together first?) Joe Abercrombie, Brent Weeks, P.V Brett, Mark Lawrence, Robin Hobb, Trudi Canavan, Naomi Novik, Robbin Hobb, and John Gwynne, just to name a few.
Do you have a favorite bookstore?
Charity shops and Ebay for sure! That's where you find all the old hardcovers that aren't in print anymore!
Another big question, who's your fictional crush?
It's been a long time since I had a crush, as I've been happily married to an incredible woman for 10 years. But I think Lyra from His Dark Materials will always hold a special place in my young heart. Her strength and courage have always set her apart from any other young female MC I've read about since.
Bookish Talks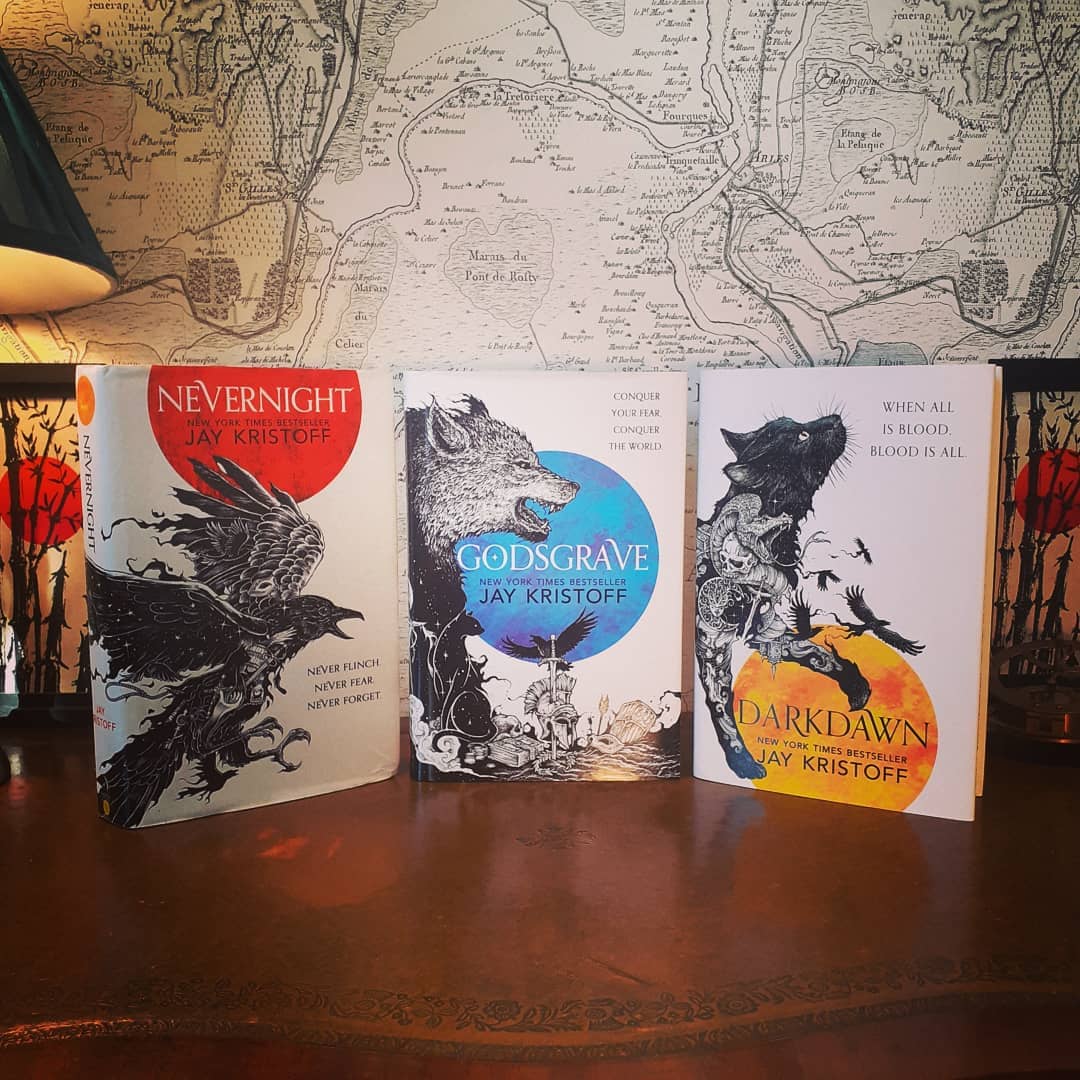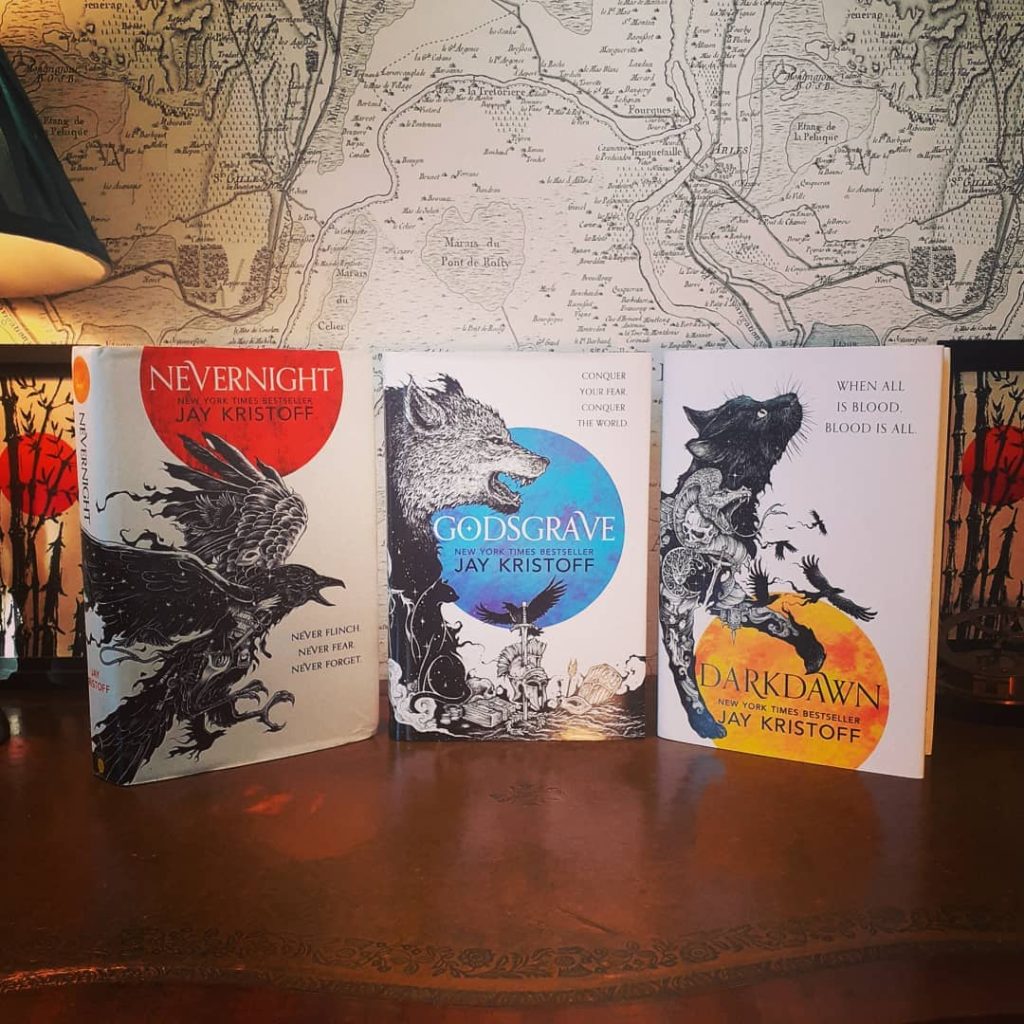 What's your favorite book cover?
I really love the Murderbot Diaries cover that Tommy Arnold did for Subterranean Press. I always try to have that facing out when I organize my shelves. Dune also has some great covers, and I have quite a few editions of that, the Folio Society limited edition being the crown jewel of my shelves.
What's a book you've claimed to have read but didn't?
Unlike most, I have, in fact, read 1984! I hadn't read any Jay Kristoff when all the hype around EotV came out. To much furor. I went ahead and bought, like, four different special editions of it before finally getting around to reading it! I really liked Nevernight as well.
Additional Bookishness
I got really into audiobooks when my commute got a bit longer. Getting an extra two hours of "reading" in each day has been great. It makes traffic jams a lot less stressful because you get to listen to more!
Let's get on to the fun questions!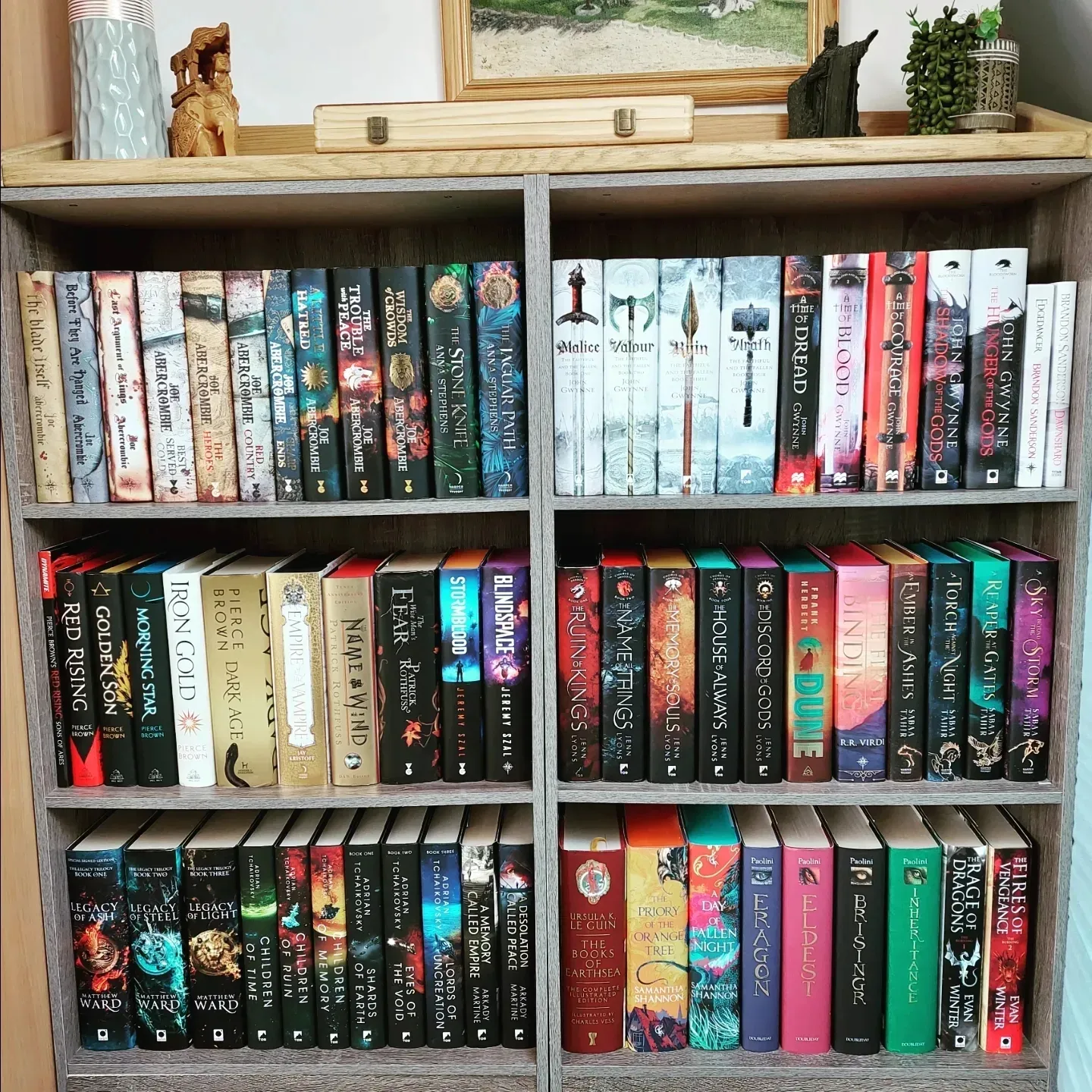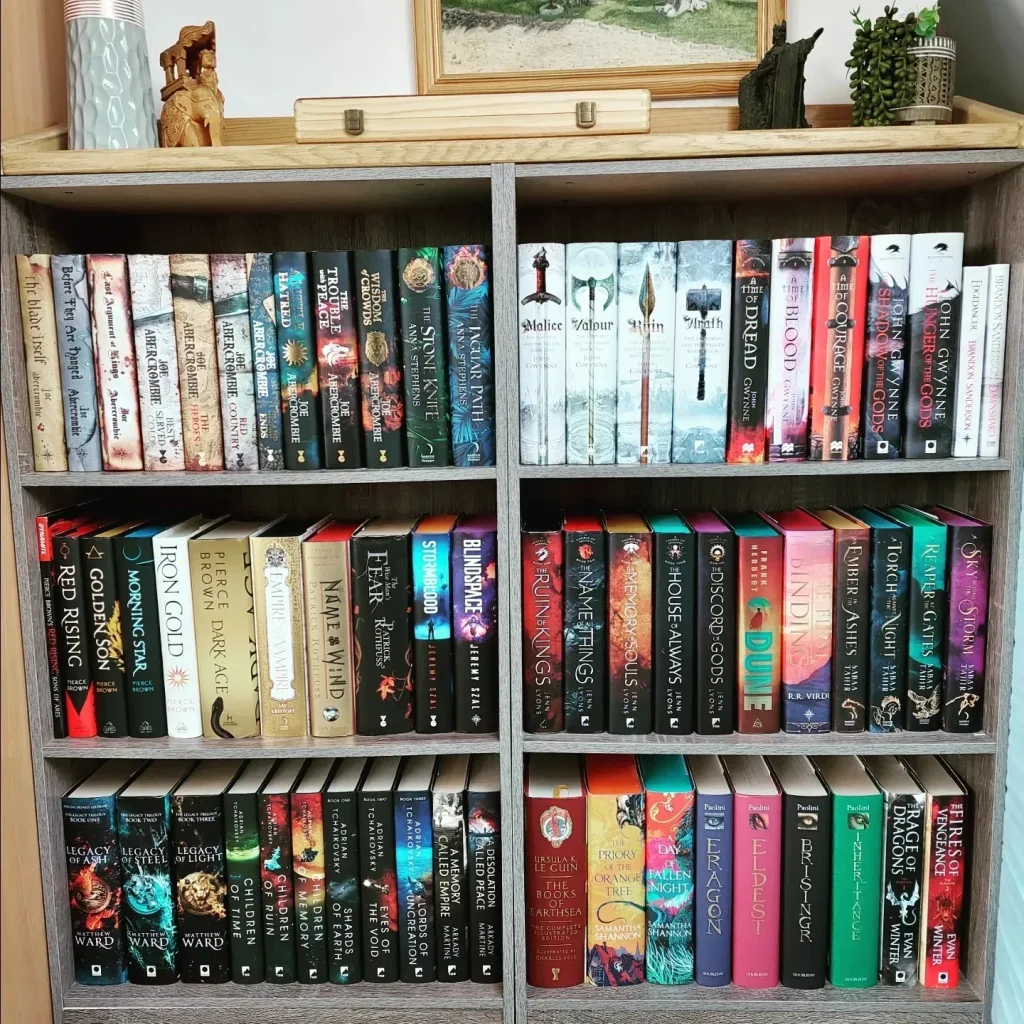 Who would you want to supply you with a lifetime of books?
That's a great question… probably one of the small presses like Subterranean Press, Grim Oak Press, or Curious King Books. It would save me so much money!
Who's an author you'd like to take a selfie with?
I feel like a Viking-themed photo shoot with John Gwynne would be epic! Or to visit Brandon Sanderson's writing room would be a real treat.
What are your favorite fandoms?
I really like the Sanderson fandom. I'm on all the subreddits, and all of the lore discussion and copper mind / Words of Sanderson pages are just incredible. That goes for pretty much most of Bookstagram as a whole, really, too. I've only ever met really cool people on here.
What to Leave You With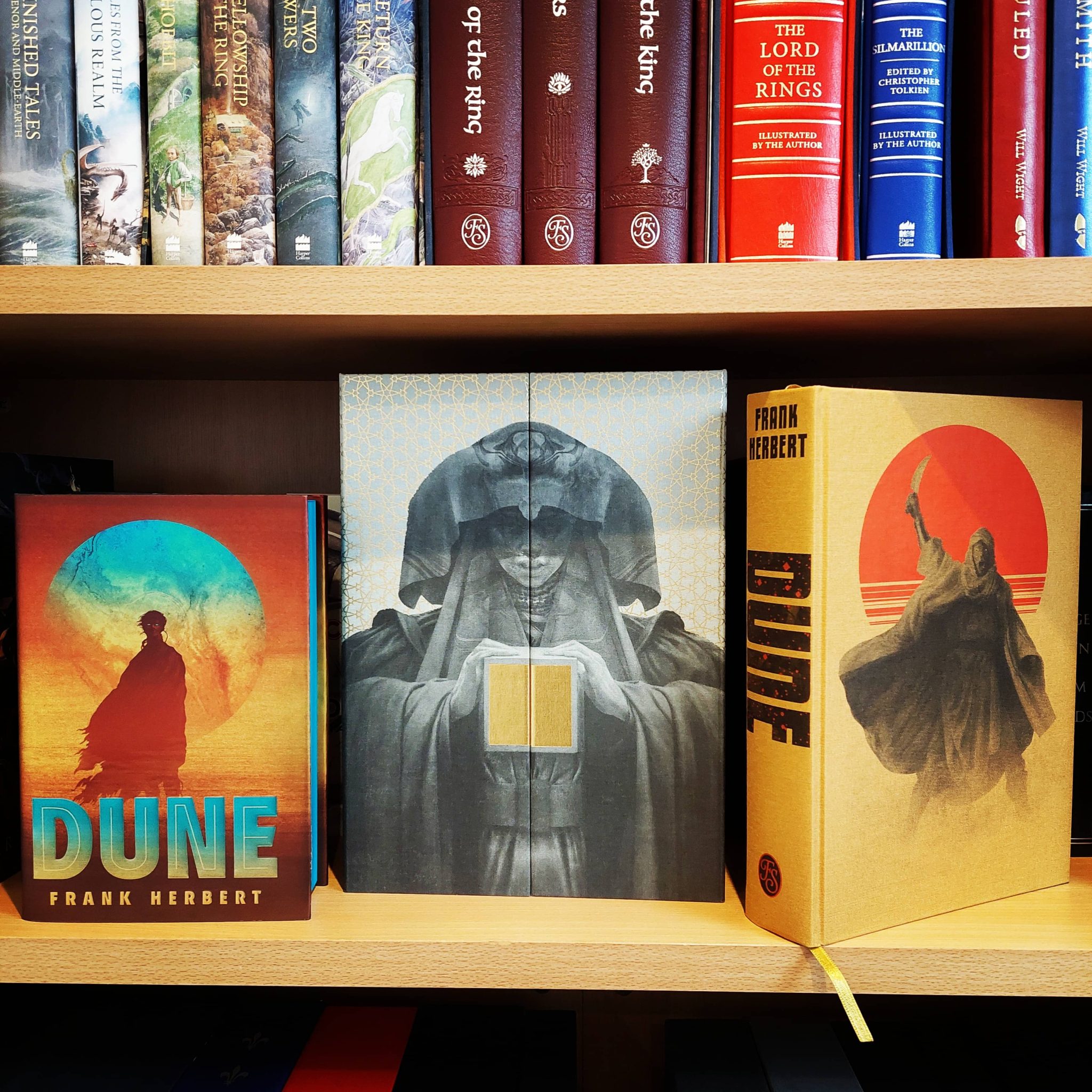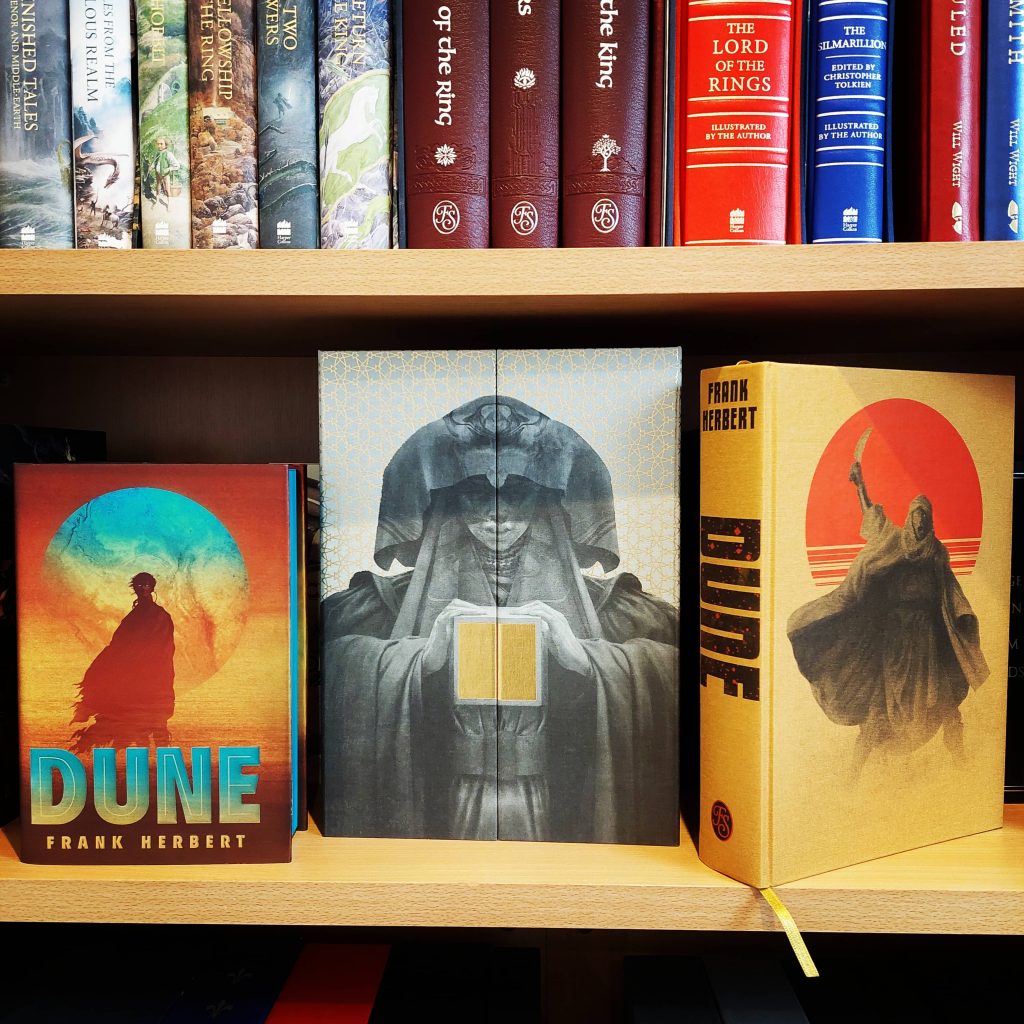 What do you want your Instagram to bring to the world?
An appreciation for books as an art form in themselves. The stories within are, of course, integral to what a book is, but you can get that in an e-reader or paperback. The best special editions take elements from the stories and bring them to life and elevate the whole experience of holding and reading a story.
Do you have any advice for aspiring bookstagrammers?
Be consistent, don't worry about nailing your aesthetic straight away, and explore what you enjoy doing. I joined a load of follow trains at the beginning to find lots of similar accounts to follow and fill my feed with books! This gave me so much inspiration, and while it was annoying when people would unfollow you after, it was worth doing it just to get over that initial hump and being invisible.
The algorithm is unpredictable, and you'll need to get lucky a few times. I had one reel get me from 3k to 5k in a month or so; that was a big turning point for me. I haven't been able to replicate that since, but it was a breakthrough. Above all, enjoy it and make connections with other like-minded people… because, at the end of the day, if you get too caught up in the numbers, it stops being fun.
---
A very special thank you to James of @fantasyphile for taking the time to talk with us and for sharing your love of books! It's been a pleasure.
While you're here, why not follow us on Instagram? To check out another bookstagrammer of the week, check out our article here!
FEATURED IMAGE VIA BOOKSTR / KARLY KOLEHOUSE