Independent booksellers are the backbone of the literary world. Readers love a well-stocked bookstore, but they love a place that has ambiance, soul, and a deep connection to the reading community. The below six bookstores are owned by members of the Latin community. They're rich in culture and inclusion and have some of the most beautiful brick-and-mortars around.
Owned by Ximena Diego, an Argentine mom and journalist, this bookstore is dedicated to seeing children become bilingual and culturally aware. From original books to translated material from overseas, this children's books store is sure to wow and educate while entertaining your little reader.
Chau Luna hosts a variety of events, from festivals to readings, so make sure to visit in person. Unable to make it to Brooklyn? That's OK; you can always shop online or donate to their programs.
This independent bookstore in Gainsville is owned by Latina Heather Hakak. It specializes in promoting books and authors from small independent presses as they believe in the power of uplifting marginalized artists. Third House Books is a safe and welcoming establishment that has been a cheerleader to the LGBTQ community.
Third House Books offers a variety of events, from author signings to live readings, and release parties, so make sure to check their IG often!
The staff at Libelula Books and Co. are a mix of Chicanx and Indigenous peoples who breathe life into their community through their bookstore. They're dedicated to forming a welcoming community that celebrates individuality and acceptance.
Libelula's mission is not only about getting underrepresented books into the hands of readers, but they are a proponent of education. Within their stacks, you'll find grassroots artists and bilingual texts. Within their building, you can be sure to find book clubs, an adorable kitten, and the warm welcome you've always waited for.
Chawa Magaña, the daughter of Mexican immigrants, owns Palabras Bilingual Bookstore. Her mission is to provide a safe and inclusive space where BIPOC voices are heard, valued, and encouraged. Representation of historically marginalized BIPOC artists is seen through the sales of books, community involvement, and numerous artistic events.
Palabras is more than a bookstore; it is a community refuge! You'll find a cafe, an event space, a garden, and so much more! Make sure to follow them on IG to see what special events they're hosting.
For 25 years, Casa Camino Real has concentrated on archiving and preserving the history of Hispanic life in New Mexico. They are a veritable museum of knowledge. The bookstore is located in a historic home with the look and feel of walking onto Abuella's, especially when you ask for a café de la olla (Mexican coffee).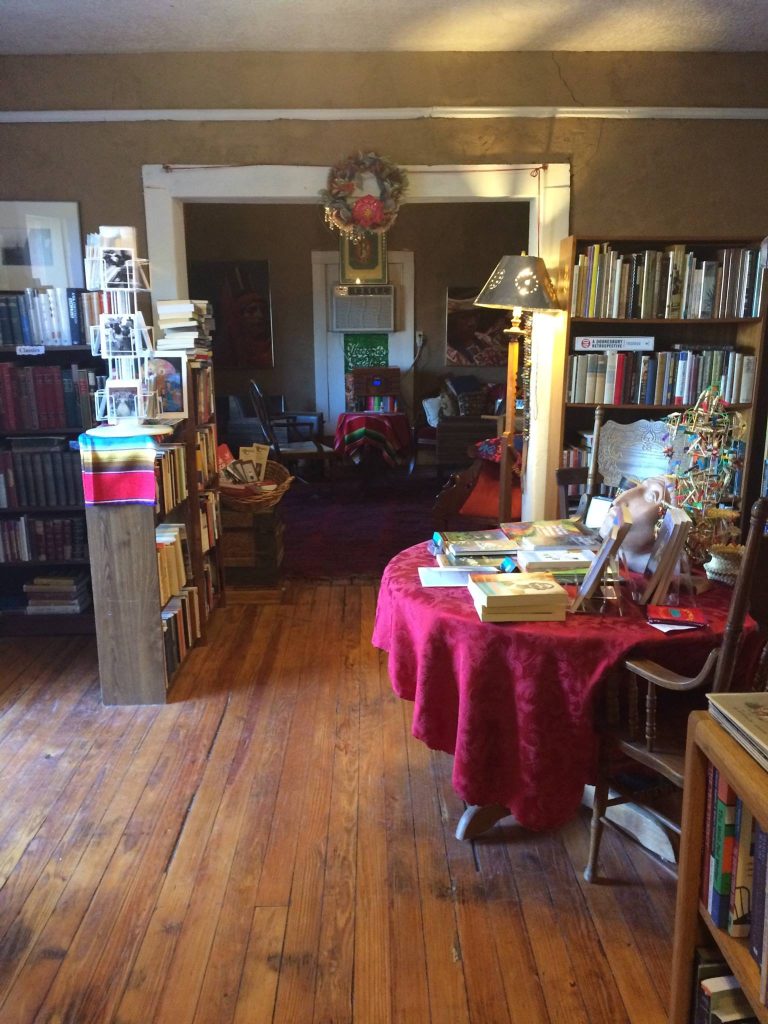 Casa Camino Real hosts a variety of events, including book fairs, art shows, and book clubs. They welcome all people, no matter their ethnicity or gender; their mission is to educate, preserve, and accept. If you'd like to help in the continuation of the bookstore's historical records by purchasing a book, you can do so here.
Known as the Official Bookstore/Bar of the Bronx, The Lit Bar is owned by African American and Puerto Rican Noëlle Santos. Not only is this an independently owned bookstore, but it's also a wine bar and community center focused on diversity and inclusion.
The Lit Bar has been known to host events with big names, Kerry Washington, Mary J. Blige, and even J. Lo. have graced the stacks. Make sure to head on over if you live in the area and even if you're on vacation nearby. The building is beautiful, and the graffiti art is sure to please the eye. Don't forget to grab a glass of wine with your book haul!
---
Want some Hispanic book recs? Try this week's Three to Read!
FEATURED IMAGE VIA BOOKSTR / KRISTI ESKEW