The last time Nathan Haskell Dole's 1902 edition of Famous Composer's Vol. 2 (historical reproduction link) had been checked out was most likely in 1919. Now, after more than a century, it has been returned to the Saint Paul Public Library in Minnesota. According to the library's X posts, the book had been discovered by a patron in Hennepin County while sorting through their mother's belongings. Fortunately, the book is now back where it belongs, albeit 100 years older and rather fragile, yet still intact.
"Now, over a century later, her child has returned it to the Saint Paul Public Library through another library system in the state."

City Library Director Maureen Hartman, interview with CNN
About the Book
While more information has yet to be determined, the book itself, as the title suggests, contains explorative details about famous composers from the Baroque and Romantic periods, such as Beethoven, Mozart, and Chopin. However, what can be deduced is the short-lived time in which the book dwelled on the library's shelves, as determined by a web librarian who pieced together some of its journey through dated stamps and the pocket card. Going by the check-out slip, the book had been taken out several times until 1919, the last time it had been seen again. As stated by the library,
"The first indication of this book's journey are two stamps on the back page. One reads June 4, 1914, and the other reads January 17, 1916, which tell us this book was probably entered into the Library's catalog twice."

Saint Paul Public Library, X post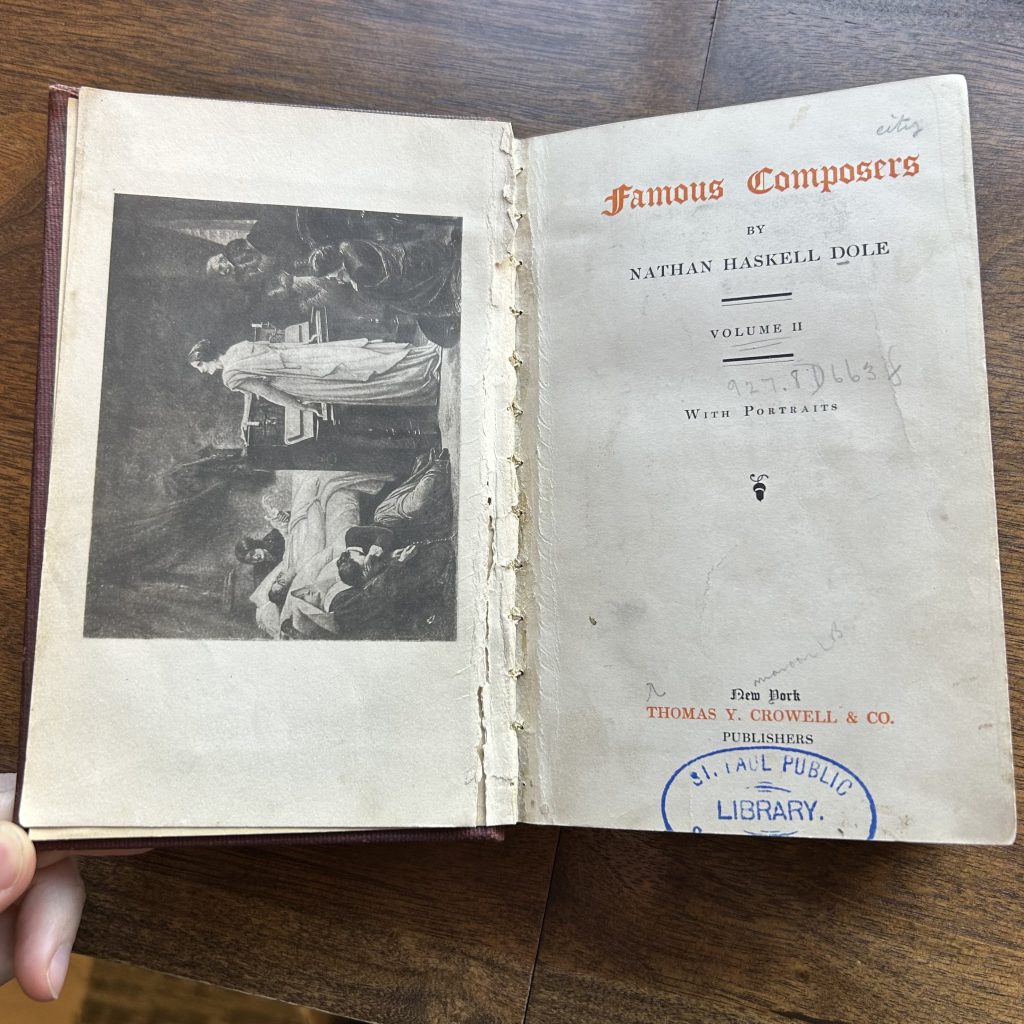 Escaping a Tragic Fate
The book was first housed in Old Market Hall in 1914 while the Central Library was still in its construction phase. But in 1915, in a tragic turn of events, Old Market Hall caught fire, taking with it 160,000 volumes. In a true miracle of sorts, some 34,000 titles, presumably in the hands of patrons at the time, escaped the flames. Dole's Famous Composers Vol. 2 happened to be among the fortunate ones.
"This book was probably one of the lucky few that survived! It was most likely re-added to the collection in 1916 ahead of the 1917 opening of the Central Library building."

Saint Paul Public Library, X post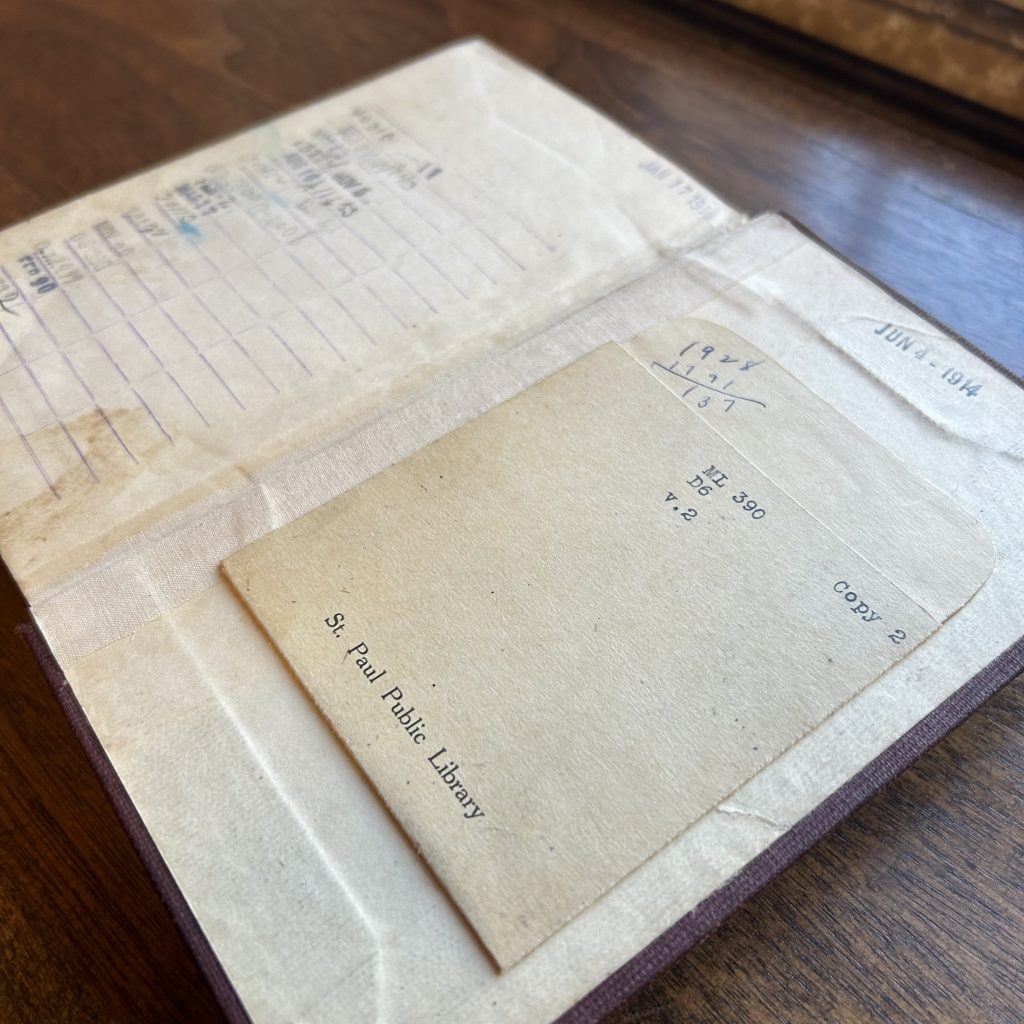 Held together by its original binding, the hardcover book seems to be in good condition, with some weathering and stains to show its age. Other markings include scattered pencil writings, the original library stamps, and a math equation marked on the card pocket on the inside of the book. Still, due to the book's fragile nature, it will no longer be in circulation. Instead, it will more than likely be put under a glass display for patrons to view and added to the Saint Paul Collection, where the city documents parts of its history.
A Penny A Day…
A true relic of the past, the long-overdue book first caught the attention of the city's mayor, Melvin Carter, who posted a joke on X,
"Our @stpaullibrary just received a book that was returned… wait for it… 100 years overdue!

At the 1919 rate of a penny per day, that would have been a $36k fine… but #SaintPaul is a #FineFreeLibrary system so no charge!"

St. Paul Mayor Melvin Carter, X post
No charge indeed, though the century's old rate would have accrued a little over $38,000 by the checkout date's rate of a penny a day. For Dole's book of famous composers, however, this artifact is priceless.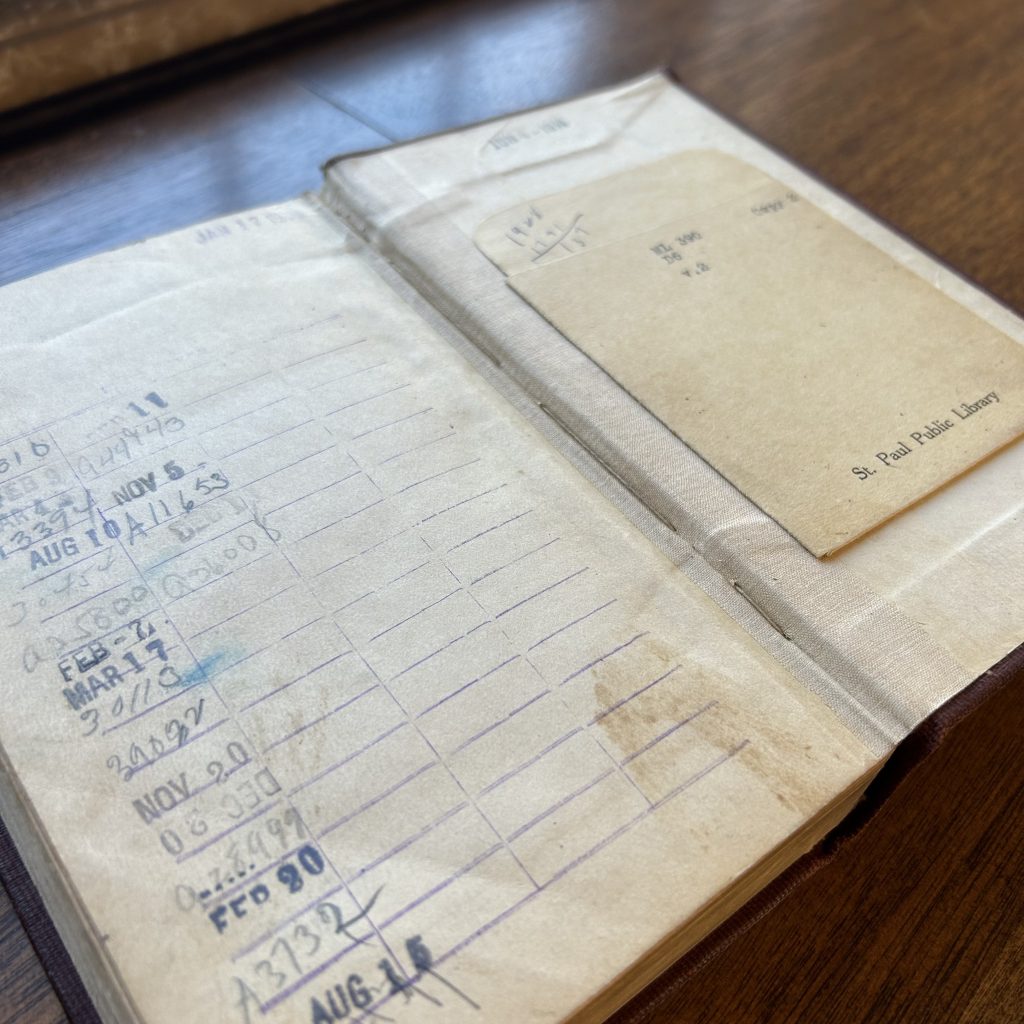 Not every day you come across a discovery such as this. With libraries in dire need of our support, this is a great opportunity to spotlight this unusually fascinating hop through time's lost and found. To Hartman, this book gives us the chance to discuss not only this book but libraries and their immeasurable value.
"This has been such a wonderful opportunity to talk about this specific book… But also, just about libraries and the value of libraries in general… This has proven again to us that libraries are as interesting and beloved now just as much as they were 100 years ago."

City Library Director Maureen Hartman, interview with CNN
---
Want more book news? Click here. For more information about the book and the Saint Paul Library, click here and here.
Be sure to check out our wide range of bookshelves here.
FEATURED IMAGE VIA SAINT PAUL LIBRARY