Vampires get all the attention, but not today! Iconic werewolf stories are all well and good to pick up every fall, but there are so many Lycan stories out there that just don't get the attention they deserve. We're presenting two novels from four different genres that are underappreciated gems. For books for you or your little reader, here are some howlers for your October TBR.
Howlers for Middle Readers
These are just the books needed to get the littles into the supernatural genre without scaring them too badly.
While on vacation, siblings Liam and Boo are frightened by the monster lurking in the woods around their cabin. Unfortunately, none of the adults believe the kids are seeing anything other than the natural creatures that inhabit the woods around them. Follow along as Liam, his sister, and a few friends try to solve the mystery of what's out there.
Book two of The Supernatural Society series finds Will and his friends after another supernatural creature. This time they're not trying to solve a case of a pet-napping vampire, but to save Will from remaining a werewolf forever.
YA Werewolf Books
I might be in my thirties with teenage children, but I'm not too old — or too ashamed — to enjoy some YA fiction alongside them.
This swoon-worthy queer paranormal YA gothic romance is intensely raw and refreshing.
Marquis Emile runs off and poses as a servant when he's told he must marry and provide an heir. In the service of a Count, he finds the family with an odd ailment that requires sedation during the full moon. Soon a body is found mangled, and things aren't adding up. As he becomes more and more entrenched in the family, he begins to fall for the local doctor and the Count's son.
Welcome to the esoteric town of Hemlock Groves, where nothing and no one works as they should. The supernatural and monsters are real, and the secret society that resides in the town keeps them from escaping out into the world beyond the forest where they're lurking. Winnie wants nothing more than to become a Luminary hunter, but she has to prove she's nothing like her father and pass the trials to be accepted.
Werewolf Horror
If you enjoy some gore and murder in your werewolf books, these two are just the picks you want!
Creature by Flint Maxwell
This novel gives off some Blair Witch vibes, and I'm here for it.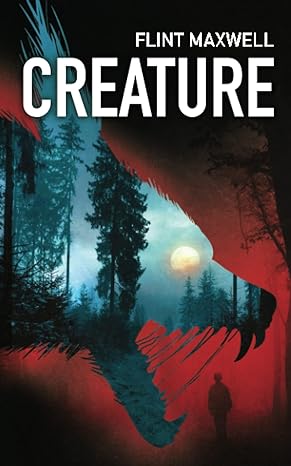 Almost a year after the disappearance of his brother, John Carver is finally trying to move on with his life. He and a couple of friends decided to create a horror movie and enter the Harvest Festival Short Film Contest. Their filming location? The same place his brother went missing. Their fictional horror film turns into real-life horror when they encounter a mysterious supernatural creature. Could this be the answer to what happened to his brother, and if so, how are they going to make it out alive?
Claw by Katie Berry
Equal parts horror, thriller, and mystery, you won't be able to put this one down once you start.
A buried relic of the past is unleashed on the unsuspecting public after a powerful earthquake wreaks havoc on the earth. Add to that, the conservation officer taking over for her missing predecessor is a target by the criminal organization of the area. Between the criminals and the bloodthirsty beast ripping people apart, Christine might not make it out of Lawless, British Columbia, alive.
Adult Romance
Personally, I'm a fan of any werewolf/shifter romance book with a bit (or a lot) of spice and a good plot.
This paranormal fantasy romance will suck you in and never let you go. Shifter dynamics are wonderfully portrayed, the world-building fantastic, and the prose is right up there with the best of them.
The bottom of the pack and weakest member, Silver, is an outcast within her pack. Her family is gone, and she's been under the supervision of her uncle, the pack alpha. With nothing in her future, she takes a chance on a stranger whose past could spell trouble for them both.
A female alpha, fated mates, and a murder mystery? Sign me up!
Sterlyn's entire pack is ambushed and murdered in the span of just a few hours. She's alone and in need of protection but trusts no one. She's still being hunted by those who murdered her pack, and the only one offering her help and protection happens to be her fated mate. She's not too keen on completing their bond, but sometimes fate just isn't willing to bend to the whims of those it ensnares.
---
Getting into werewolf novels comes with a host of new terms to learn. Click here for a Werewolf Dictionary to help you understand what's happening.
Browse these books and more on our Vampire and Werewolf bookshelf on Bookshop!
FEATURED IMAGE VIA BOOKSTR / KRISTI ESKEW