One month ago, it was revealed that actor Daniel Radcliffe will portray musician 'Weird Al' Yankovic in a new biopic. Well, first looks leaked out of the "Harry Potter" actor on the set of his movie, and he looks completely different in costume!
In the photos below, Radcliffe sports an afro, mustache, and patterned shirt on the Los Angeles set. The afro and mustache are in similar likeness to Weird Al, but it'll take fans a second glance before they realize it is Radcliffe!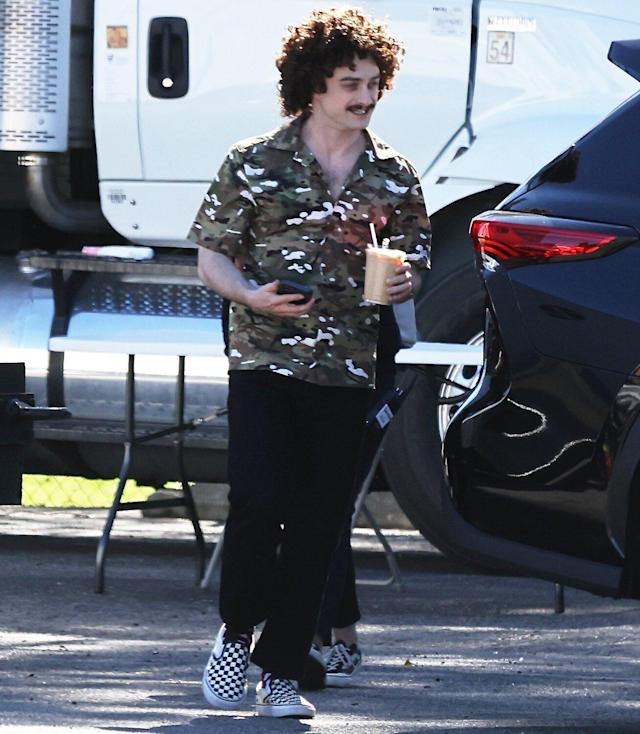 Alfred Matthew Yankovic, or more widely known as "Weird Al," is a singer-songwriter famous for his humorous and satirical music based off of pop culture.
Some of his best hits include parody songs such as "Eat It" (Based off Michael Jackson's "Beat It") and "White and Nerdy" (Based off "Ridin'" by Chamillionaire). The former won Yankovic a Grammy while the latter gave him a spot on the Billboard Hot 100. Overall, Yankovic's career earned him five Grammy awards and 11 nominations total.
The upcoming biopic on Weird Al's life, written by Yankovic and Eric Appel, will capture Yankovic's life. From his early childhood where he began writing music to his legendary status as a pop culture music icon, the biopic will explore Yankovic's unique lifestyle.
The biopic "Weird: the Al Yankovic Story" is produced by Funny or Die Studios and will premiere on the Roku Channel.
Radcliffe is most known for his role as the titular character in the "Harry Potter" franchise. However, the actor is still active, albeit not as mainstream as his wizarding days. Today, Radcliffe involves himself in theatre, indie films, and TV shows. Most recently, he stars with Steve Buscemi as main characters in the TBS show "Miracle Workers." With the actor's involvement in "Weird: the Al Yankovic Story," we cannot wait to see what Radcliffe has in store for us!
FEATURED IMAGE VIA SKY NEWS