The Lord of the Rings: The Two Towers is an iconic book and movie as part of the LoTR series and as a standalone. One thing that makes it so is the endearing friendship between two hobbit pals that spares not a dry eye and brings out an audible "aww" with every moment between them. They feel like two of our fictional friends we'd feel honored to sit and share a meal and a few laughs with. Ones we'd help out in a heartbeat because we know they'd return the favor without hesitation, as we see them do for one another time and time again. Samwise Gamgee may refer to Frodo as "master," but as they trek along on their arduous journey toward Mount Mordor, we all come to know these two as friends.
1. The One That Reminds Us: Friends Don't Leave Each Other Behind
When going on a long, wild journey, everyone needs a good friend at their side. And that's what Sam is to Frodo right from the start.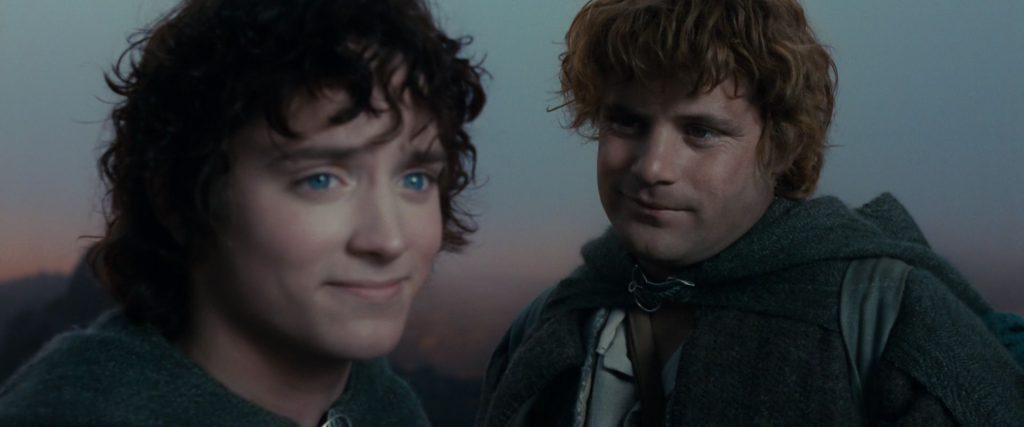 "I am going to Mordor."

Frodo
"I know that well enough, Mr. Frodo. Of course you are. And I'm coming with you."

Samwise
2. The One That Shows Us How To: Friends Encourage Each Other
When the road ahead looks bleak, we all need that extra encouraging nudge to help us go on. With Sam helping Frodo see the good in the midst of the bad, that's the purest thing a friend can do.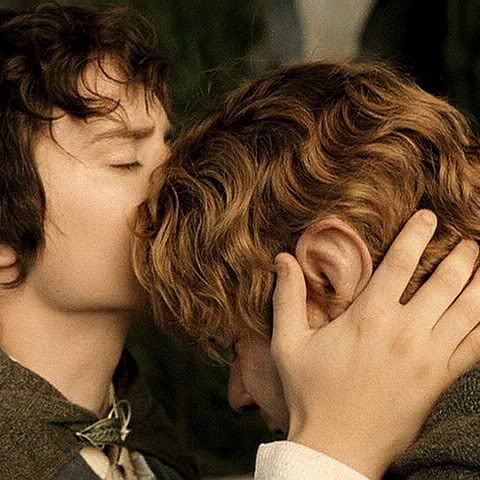 "What are we holding on to, Sam?"

Frodo
"That there's some good in this world, Mr. Frodo… and it's worth fighting for."

Samwise
3. The One That Inspires Us: Friends Lift Each Other Up
We all break down and are unable to continue at some point, especially when the journey starts to get the better of us, so it's good to have a friend lift us up. In this case, we have our best friend, Sam, for that.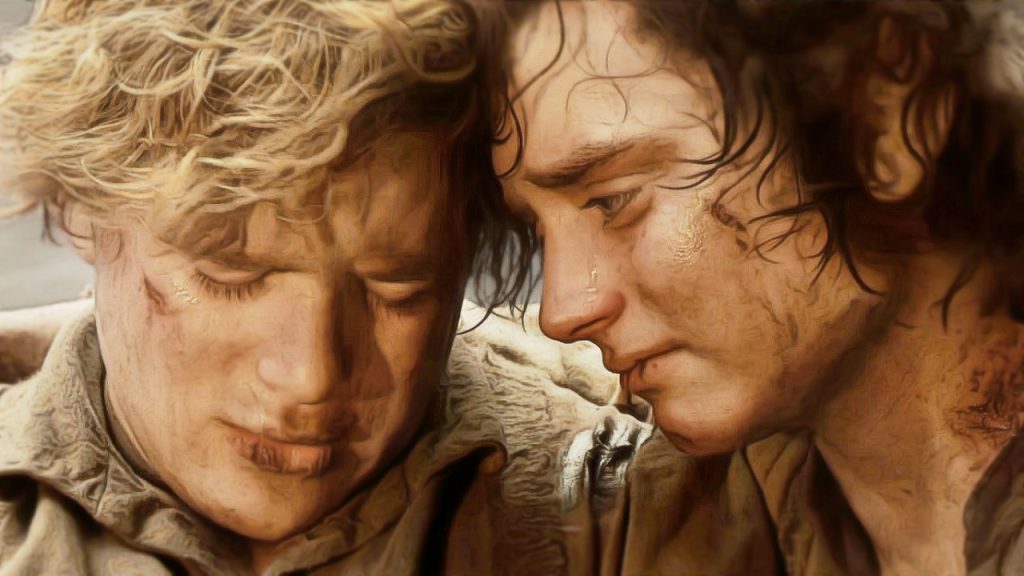 "I can't do this, Sam."

Frodo
"I know. It's all wrong. By rights we shouldn't even be here. But we are. It's like in the great stories, Mr. Frodo. The ones that really mattered. Full of darkness and danger, they were. And sometimes you didn't want to know the end. Because how could the end be happy? How could the world go back to the way it was when so much bad had happened? But in the end, it's only a passing thing, this shadow. Even darkness must pass. A new day will come. And when the sun shines it will shine out the clearer. Those were the stories that stayed with you. That meant something, even if you were too small to understand why. But I think, Mr. Frodo, I do understand. I know now. Folk in those stories had lots of chances of turning back, only they didn't. They kept going. Because they were holding on to something."

Samwise
4. The One That Makes Us Laugh: Friends Know How to Bring Levity
Every moment can't be filled with austerity. Sometimes, we need a good laugh to ease the tension. As Frodo and Sam make their way to Mordor, Sam makes sure to bring the humor so as to lighten the mood and heavy burden Frodo carries.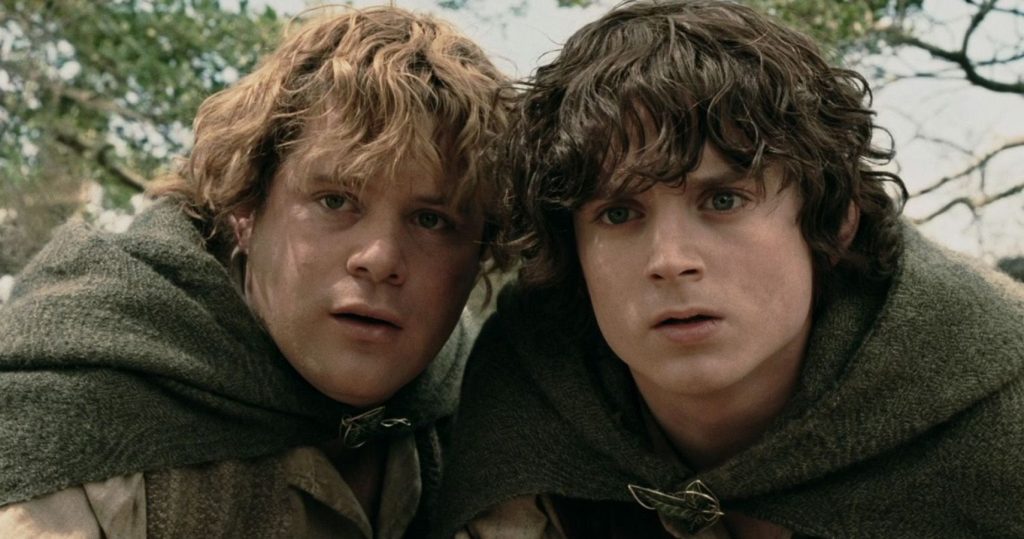 "You know I don't usually hold with foreign food, but this Elvish stuff – it's not bad."

Samwise
"Nothing dampens your spirits, Sam."

Frodo
5. The One That Shows Us Who Is Always There: Friends Don't Let Each Other Be Forgotten
Our friends may not say it to us all the time, but a true friend tells us when the proper moment comes: "You are an important part of this story; everyone should know it." And so, it brings all our hearts warmth and a tear to our eyes when Frodo makes sure to let Sam know that he is indeed an important part of the story. Because without Sam, there is no Frodo.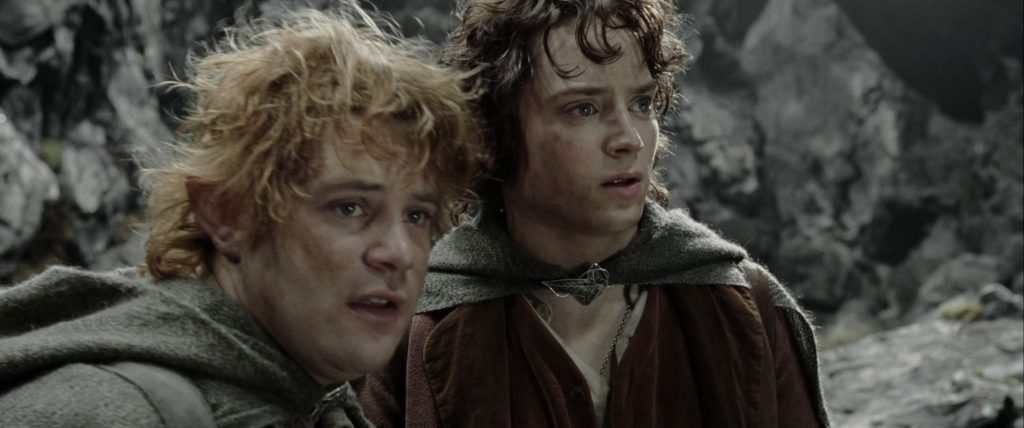 "I wonder if people will ever say, 'Let's hear about Frodo and the Ring.' And they'll say 'Yes, that's one of my favorite stories. Frodo was really courageous, wasn't he, Dad?' 'Yes, my boy, the most famousest of hobbits. And that's saying a lot.'"

Samwise
"You've left out one of the chief characters – Samwise the Brave. I want to hear more about Sam… Frodo wouldn't have got far without Sam."

Frodo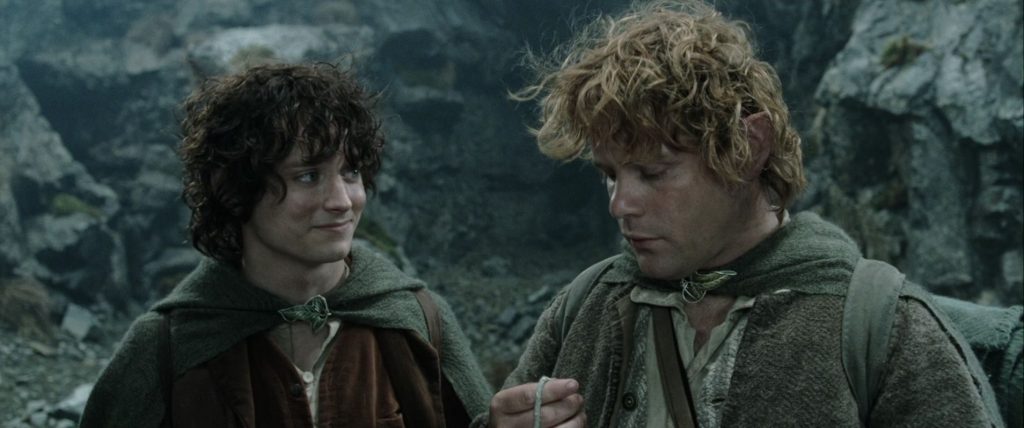 It's been said before, and it bears saying again: friends are there until the end and are glad for each other's company. And with friends like Frodo and Samwise Gamgee, we're in great company and the best hands.
""I'm glad to be here with you, Samwise Gamgee. Here at the end of all things."

Frodo
---
If you can't get enough of the Lord of the Rings quotes and want more, click here and here.
FEATURED IMAGE VIA WARNER BROS/NEW LINE CINEMA