Editor's Note: Our guest writer, Sandi Christiansen (she/her/hers), is a Licensed Professional Counselor through the Commonwealth of Pennsylvania, a Certified Clinical Anxiety Treatment Professional (CCATP), and a Certified Clinical Trauma Professional (CCTP). She has been working in the field of mental health and substance use disorders for almost 15 years and has dedicated herself and her practice working with the younger population; working with kids, teens, and young adults.
As a mental health provider who works with kids — and who has always loved books — I've found great value in introducing my clients and their parents to resources that teach them skills and help them feel less alone.
I always say to the kiddos I work with, "Why do you think this book exists? Because you're the only person who feels this way? Did they write it just for you?" And they get a little smile on their faces, realizing, sometimes for the first time, that they are not alone in this feeling. That's the power of therapy…and the power of books.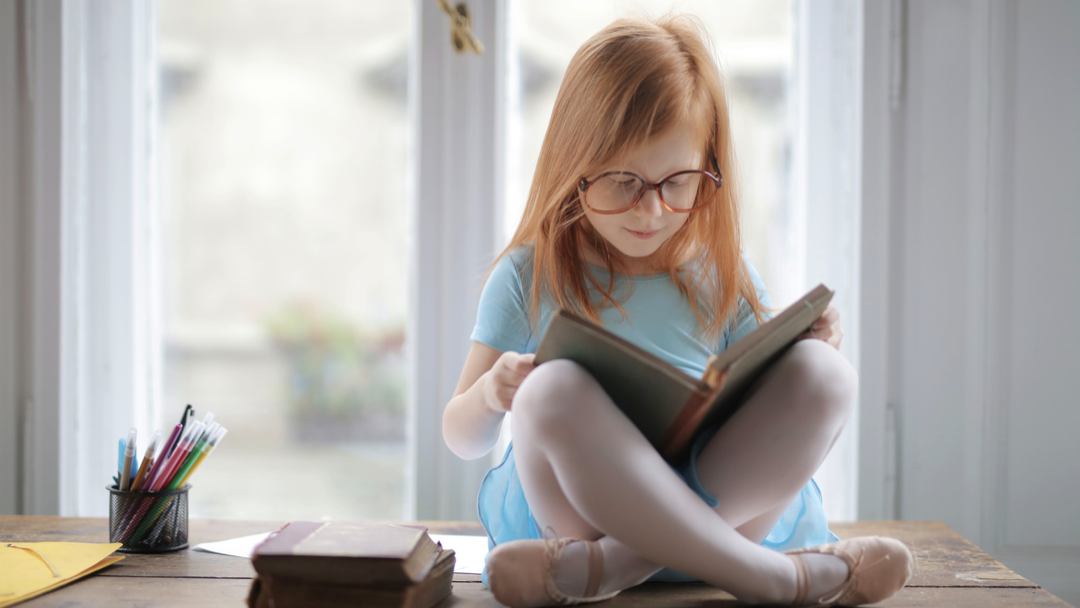 Children's books about emotions and anxiety can help kids feel less alone and more understood. These books feature relatable characters and situations that can help kids develop empathy for others, self-compassion, and insight. Books can provide strategies and coping skills that kids can use to manage their feelings, thoughts, and behaviors. Seeing characters in the story navigate their own challenges and come out on the other side can help kids feel hope and reassurance about their own abilities and resilience.
Reading books about emotions and anxiety with kids can also be a great way to start conversations about these topics. Parents, teachers, and caregivers can use these books as a springboard for discussing emotions, anxiety, and healthy ways to cope with stress. Here are just a few that I love to offer to families of children who have made the hard choice to work on themselves.
A Little Spot of Anger by Diane Alber
Not to fangirl the minute I post my first article, but I absolutely love Diane Alber. All of her books are genius, and the Little Spot series is a go-to for me in session.
This book personifies anger as a red spot that gets bigger or smaller based on how overwhelming the feeling can be. A green peaceful spot teaches kids how to manage their anger when the spot gets so big that it's hard to control. It explains how anger makes it difficult to think through your actions, normalizes feeling angry and even experiencing our emotions getting bigger than we are, and ultimately teaches a skill that's super simple to use and can be practiced anytime, anywhere.
It's just a great book that kids really get. Once they learn it, they refer back to it all the time.
Alber offers her books in sets, individually, or in a pack with little plush "feeling spots" that kids can play with and use to act out their feelings.
This relatable and engaging book by renowned author and school counselor Julia Cook addresses anxiety in a funny way, normalizing these feelings for kids. The main character is easy to connect with, and might even remind kids of themselves at times throughout the book.
Kids learn, along with Wilma Jean, how to sort through their worries to determine which they can control and which they can't (a skill that many adults still haven't mastered — because it's HARD), how to put their worries into a hat so they don't have to carry them around, and more.
These practical tools, presented in a creative way, lend themselves to endless opportunities for teachers and caregivers to use new language and fun activities to help kids manage their emotions and talk about their feelings.
A unique feature: The author includes a note, speaking directly to parents and educators, with suggestions to help support an anxious child. The amount of care and true passion for helping kiddos is clear.
With playful exercises and vivid illustrations, this book is sure to capture kids' attention. Deep breathing exercises have been shown to activate the body's relaxation response, reducing feelings of stress and anxiety. By incorporating these techniques into their daily lives, children can learn to manage their anxiety, frustration, and other big feelings more effectively.
The interactive nature of the breathing exercises makes it an engaging read. Often at the end of a session, I pull out this book and let the child choose which exercise they want to practice this week between meetings. Kids laugh at the names and illustrations, and this automatically makes it less clinical and more fun to learn mindful breathing.
Each letter of the alphabet is associated with a specific breathing technique, making it easy for children to learn and remember. From the big giant Alligator Breath — swing your arms wiiiiiide and then CHOMP them shut as you exhale! — to the quiet-as-a-superspy Ninja Breath, to the YAAAAWN Breath that will probably lead to an actual yawn or two, this book will elicit a lot of giggles and the newfound skill of breath awareness.
This book offers a collection of 30 mindfulness exercises designed to teach kids techniques for managing their bodies, breath, and emotions. These exercises promote relaxation, focus, and self-awareness, and they're presented in a non-threatening way that invites children to join in practicing the skill with the bear.
The exercises are introduced in a playful and imaginative way, using animals and storytelling to capture children's attention. This can help children with anxiety to feel more at ease and interested in practicing mindfulness. The skills we teach adults — Box Breathing, 4-7-8 Breathing, Alternate Nostril Breathing (yes, really) — are just not going to be fun, or approachable, for kids. But, Hot Chocolate Breathing? Sign. Them. Up.
Bonus: There is a companion picture book, Breathe Like a Bear: First Day of School Worries, which helps kids feel calm and ready to meet new classmates. This additional resource can be beneficial for children who have difficulty with transitions, new situations, and/or changes in routine.
Confession: This book was written by me. Is it bad to put your own book on your list? Maybe, but I teach coping skills and confidence, not humility. It's staying.
I specialize in kids and teens, and after teaching this skill to every single client I've ever worked with, I decided I needed it in book form. I was sending parents a script to use with their kids after I taught it, and it just wasn't capturing the peace of the exercise like I wanted it to for these kids. I knew there was a better way to teach it, a way that they would actually enjoy and that wouldn't feel like work, or like more therapy.
Written in an engaging poetic style, this book teaches the challenging concept of acceptance through the practice of letting go of our thoughts. Imagine learning that as a little kiddo! What a difference that skill can make in a person's life.
Leaves on a Stream walks the reader through a guided tour of a forest with a stream running through it and encourages little ones to pluck their thoughts from their minds, place them on a leaf, and watch them drift away. Whether good, bad, or neutral, thoughts aren't always right, they aren't in charge, and they don't have to stick with you. Truly, an empowering message for humans of any age!
This is, of course, not an exhaustive list. There are so many incredible children's books committed to helping kids and families have a healthy relationship with their emotions. Destigmatizing therapy and mental health starts with normalizing these discussions with kids, and it's never too early to begin. I hope these books offer you a solid place to start!
If you'd like to learn about mental health-centric fiction for a slightly older audience, check out these YA recommendations.
Interested in learning about more books that spotlight mental health, teach coping skills, and normalize therapy? Bookmark Psyched with Sandi for resource recommendations from a licensed professional counselor. I'm so psyched to share my favorites with you! 
---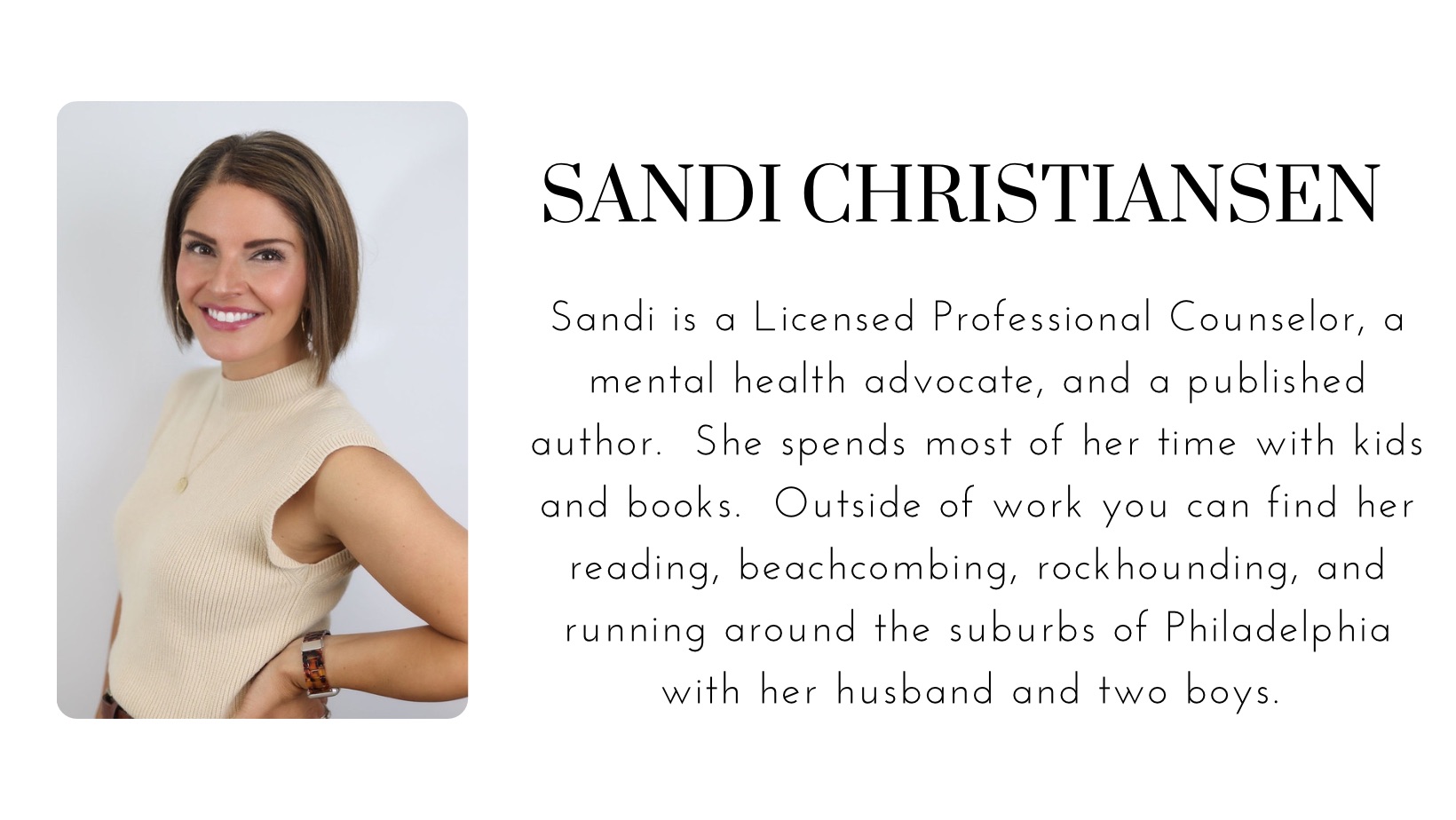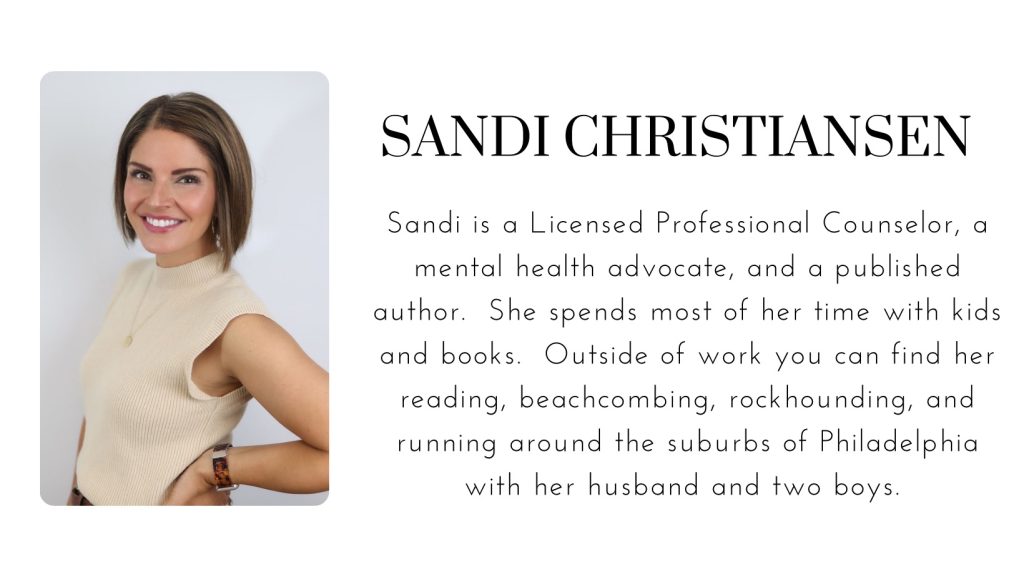 ---
FEATURED IMAGE VIA ADOBE STOCK