You walk into the small bookstore on the corner. There, you spot a pretty orange tabby roaming the shelves. Books and cats, what an awesome idea, someone should have thought of this sooner! The resident pet trend is catching on in bookspots all over America. Previously, we mentioned in the article Do Cats Create a Purr-fect Bookstore Experience? how some stores decided to get little kitties. Some stores went for resident dogs. The wackier bookspots, however, decided to take the trend a step further. These libraries and stores have the weirdest resident pets ever.
The Turtle and the Hamster
For example, rather than a cat roaming the library halls, the Orangeburg Public Library in Orangeburg, New York had a hamster. The library welcomed Jasmin the hamster to her new home in 2018. Visitors could pet and hold Jasmin if she was in her cage or watch her roll along the carpet in her clear plastic ball. Kim Carletta, the Head of Youth Services, reported that seniors and children alike adored the little fuzzy friend for her entire time at the library.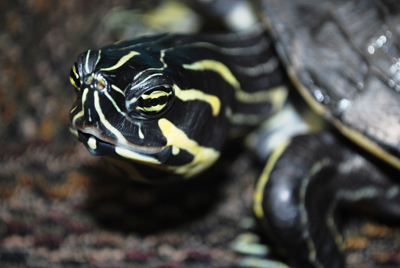 Is it shocking to see a hamster running amuck in a library? What about a turtle? Tina the freshwater turtle is an attraction and resident pet at the Katonah Village Library, also located in New York in Katonah. In 1991, someone anonymously left Tina on the doorstep of the library. The community raised over $5,000 to buy a cage and amenities for the turtle. In 2012, they had a town-wide party in celebration of Tina's "birthday." Tina lives in the Katonah Village Library to this day. She even has her webpage on their site!
Cats and Rats and Fish, Oh My!
Even so, both of those libraries are just one animal apiece. What about multiple different strange bookspot pets? The Clues Unlimited mystery bookstore in Tuscan, Arizona fits the bill. First, everyone knew the friendly greyhound that paraded the shop. Alongside that furry pal, the store also housed guinea pigs and a pot-bellied pig. After 24 years of business, the COVID-19 pandemic forced Clues Unlimited to close down. Despite no longer being open, I still recognize Clues Unlimited as one of the top contenders for weirdest resident pets.
What is still open is Wild Rumpus, which I generously bestow the title of "king of resident pets." Over the 30 years of business in Minneapolis, Minnesota, this bookstore lived up to its name because they owned a whole host of weird animals. Cats, rats, doves, ferrets, chickens and even a tarantula lived here once. Their current menagerie consists of two cats, two chinchillas, two cockatiels and an aquarium of assorted fish. If you want animals and books, there is truly no where else that can match Wild Rumpus.
Of course, this can't be an exhaustive list. How many other weird resident pets in bookspots do you know? Can any beat Wild Rumpus? If you want to see animals outside the library buildings, read our cute article The Library is for Everyone next.
FEATURED IMAGE VIA EVERY CREATURE COUNTS