Priscilla, the new film written and directed by Oscar-winning filmmaker Sofia Coppola, is a dreamy dramatization of the turbulent relationship shared by Elvis and Priscilla Presley. Coppola's script is adapted from Priscilla Beaulieu Presley's memoir Elvis and Me, which offers a rare glimpse into the iconic couple's private lives. The film follows the events of Priscilla's life from the time she met Elvis as a teenager through the years of her marriage spent at Graceland.
In contrast to last year's flashy Baz Luhrmann-directed biopic Elvis, which focused on the complicated relationship between the singer and his manager Colonel Tom Parker, Priscilla offers an alternative perspective that captures the glamor, fame, and isolation that came with being married to the King of Rock.
Priscilla Presley's Candid Memoir Elvis and Me
Priscilla Beaulieu first met Elvis Presley at a party in 1949 at the singer's home in West Germany. Elvis was 24 and serving in the army, while Priscilla was 14 and living with her mother and step-father, who had been transferred to the local Air Force base. Immediately, the pair began dating and continued to keep in touch over the phone after Elvis returned home. In 1967 — when Priscilla was 21 years old — the couple married. They spent six years of marriage together at their famed Graceland estate in Memphis, Tennessee, and they had one daughter, Lisa Marie.
Nearly a decade after Elvis' tragic passing in 1977, Priscilla released her bombshell memoir Elvis and Me with co-writer Sandra Harmon. The book recounts the story of Elvis and Priscilla's relationship from their first meeting in Germany to Elvis' death four years after the couple divorced. In Elvis and Me, Priscilla offers a complex portrayal of the singer, gracefully walking a fine line between expressing her genuine devotion to him while also never shrinking back from being honest about his shortcomings.
With unflinching candor, Priscilla offers a unique, intimate perspective on the incredible life of the legendary musician. She vulnerably shares anecdotes about the couple's private life, and although she speaks of Elvis with love and tenderness, her description of the mega star's behavior is not wholly flattering. She ultimately reminds fans that, beneath the legend, Elvis was an imperfect human like anyone else. Although Priscilla had been the subject of rumors and stories about her life with Elvis for decades, with the publication of Elvis and Me, she was finally able to communicate her singular experience in her own words.
What inspired Sofia Coppola to bring Elvis and Me to the big screen?
Oscar-winning filmmaker Sofia Coppola first picked up Presley's memoir a few years ago as a vacation read, expecting a glamorous, amusing page-turner, but as she read, she was struck by how much she resonated with Presley's perspective. The director recently told The Hollywood Reporter, "I was struck by how much I connected with it emotionally. I thought it was just going to be a fun adventure, and I was surprised by how relatable her story was."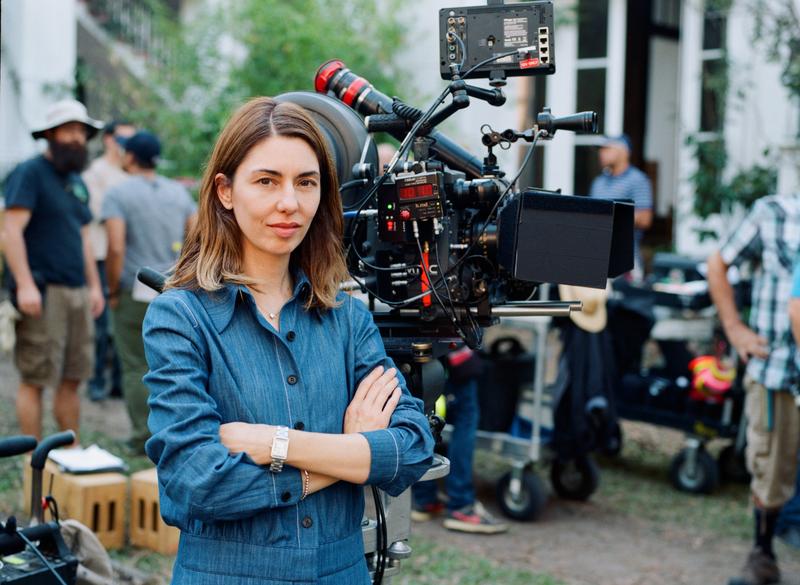 "I was struck by how much I connected with it emotionally. I thought it was just going to be a fun adventure, and I was surprised by how relatable her story was."
Over a remarkable film career spanning 25 years, Coppola has become known for telling stories that explore the interior lives of teenage girls and young women with authenticity and sensitivity. In sublime films such as The Virgin Suicides (2000), Lost in Translation (2003), and Marie Antoinette (2006), Coppola combines soft visuals and dreamy aesthetics with themes of female longing and isolation. Her distinctive directorial style has amassed a cult following of dedicated fans, and this September, she released an archival book that features photographs, reference images, and commentary that cover the entirety of her career, including sneak peeks from the set of Priscilla.
With Coppola's extensive record of thoughtful chronicling of the lives of teenage girls, it's no surprise that Priscilla Presley's unique coming-of-age tale captured her attention. She told The Hollywood Reporter, "Her story was so vivid in my mind and the visuals of that world, Memphis, the '60s. It's so American. And I always like themes about finding one's identity and teenage girls growing into adulthood."
Presley is reportedly a fan of Coppola's work, and she agreed to join the project as an executive producer after discussing the adaptation with the filmmaker. In a joint interview with Coppola, Presley gushes, "I've seen all of her movies. And her sensitivity, her understanding of women, she puts her heart and soul into it. I would never do this with anyone else."
"Her story was so vivid in my mind and the visuals of that world, Memphis, the '60s. It's so American. And I always like themes about finding one's identity and teenage girls growing into adulthood."
Priscilla offers a fresh angle on the Presleys' iconic relationship.
Sofia Coppola's Priscilla closely follows Presley's memoir to deliver a fleshed-out portrayal of the complicated romance of Priscilla and Elvis. It focuses on the private moments shared by the couple from the time of their first meeting in Germany through the tumultuous years of their marriage and tells the great American myth of the King of Rock "through Priscilla's eyes." The film stars Jacob Elordi as Elvis and Cailee Spaeny as Priscilla.
Although Priscilla will inevitably be juxtaposed with Baz Luhrmann's 2022 biopic about the singer — People recently called it the "anti-Elvis" — Coppola remains unfazed by such comparisons. She has stated, "I heard Baz was making a movie about Elvis. I was like, 'That's OK. That's even better, in a way, that people are looking at his story.' He's so much in the culture always, but even more so now. It's interesting, then, to look at Priscilla's perspective."
While Luhrmann's ostentatious Elvis is preoccupied with the legend of the singer, Coppola takes an understated, subtle approach — both visually and thematically — in order to explore the reality and nuance of the Presleys' lives. At the film's premiere in Venice, she candidly told audiences that Priscilla was not made for Elvis fans, later explaining, "I didn't mean it to be brazen. I was just getting pressured to cut out anything negative about him and I was being firm. I was really clear that I wanted to tell her story and that was my priority."
After seeing the film, Presley enthusiastically praised Coppola's efforts, claiming she appreciated that "it was done really sensitively, with a lot of care, and I had tears in my eyes for sure." Despite Priscilla's endorsement, however, the Presley estate declined any participation in the film and did not allow Coppola to use any of Elvis' music.
With Priscilla, Sofia Coppola and Priscilla Presley add depth and nuance to the American myth of the Presleys. David Rooney, a critic from The Hollywood Reporter, writes that the film "elegantly upgrades a key player in the Elvis legend from the sidelines." Ultimately, Coppola's dedication to portraying Presley's unusual coming-of-age story and her insistence on uncovering the humanity beneath the legend of Elvis provides a fresh perspective on a beloved American story.
Priscilla will be released in theaters on Friday, November 3.
---
To read more content from Bookstr about book-to-screen adaptations, click here!
IMAGE VIA A24 STUDIOS