Make Believe Ideas recalled 260,000 units of books in the U.S. and 12,900 in Canada after a choking hazard became apparent within the Rainbow Road Series Board Books. The plastic binding rings along the spines pose a choking hazard when they come off the books. Here's what made the U.S. Consumer Product Safety Commission send out the recall and what's being done to correct the mistake.
What Are the Rainbow Road Series Board Books?
The Rainbow Road Series Board Books are seven children's books released by Make Believe Ideas. It covers classic stories like Old MacDonald Had a Farm and There Was an Old Lady Who Swallowed a Fly. All books in the series had felt flaps that readers could lift to make the stories interactive for young readers. These books were sold in large chain stores like Barnes and Noble or Target.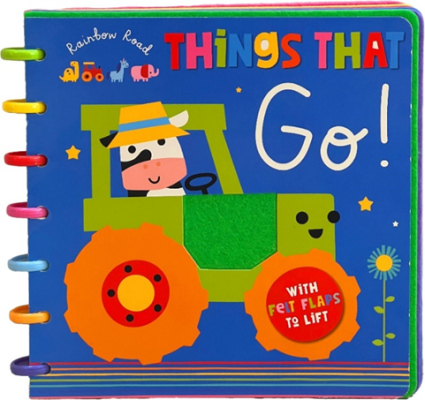 The issue came from the bindings, which were large plastic rings. There were three instances reported where the rings came off. While no one has been injured, this provided enough of a hazard that a recall was issued for both the United States and Canada.
Did Make Believe Ideas issue a response?
The U.S. Consumer Product Safety Commission and Health Canada posted the recall on each site. Make Believe Ideas also posted a warning to its consumers across its social media pages.
Make Believe Ideas mentioned it on Twitter, Instagram, and its Facebook page. They publicly acknowledged the recall and the issue across multiple social media feeds. There's no long-written apology from the company, but it did post about the recall.
What Can Consumers Do?
If you're a parent who owns any of these books, the U.S. Consumer Product Safety Commission recommends you throw them out immediately. Despite no one getting hurt yet from the books, the choking hazard is dangerous enough that it is risky to keep the books around kids. If you choose to keep the books regardless of the recall, then it is at your own risk.
Since this is only for seven of the Rainbow Road Board books, it's important to check if you have the recalled books. Make Believe Ideas has a recall page where readers can check the ISBN of a book to see if it is a part of the recall. If you own one of the recalled books, then you can proceed with the recall process. This includes uploading a photo of the book to prove ownership and then throwing the book away due to the choking hazard. Once this is done, Make Believe Ideas will provide a refund for the incident.
So thankfully, everyone can receive refunds for the error, and no one got seriously hurt. Always keep an eye on the recall statements for children's books to make sure your young readers stay safe while learning!
---
Want more on book recalls? Check out this article on a recalled Anne Frank story.
FEATURED IMAGE VIA CANVA