Heartstopper, the graphic novel series by Alice Oseman, has received constant positive reviews and praise since its release. Especially with the release of the Netflix show, and season two premiering at the start of August, it's been a roaring success. So, it would likely be a popular graphic novel for libraries to keep in stock. But a Mississippi public library has just pulled it from its shelves.
What's Heartstopper About?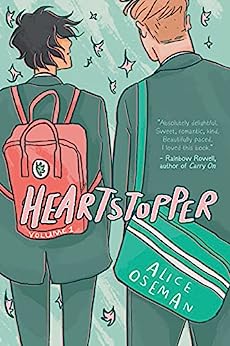 Heartstopper by Alice Oseman is similar to many other cutesy high school romances. The difference is that it's LGBTQ+, with the main couple being two boys, Nick and Charlie. The series follows them as they fall in love, uncover their own sexualities, and deal with other issues that come with growing up. There's a large cast of characters in the series, all exploring their own issues, and many romances along the way. It also includes a few scenes with kissing and other romantic gestures. Since it is a graphic novel, most of these moments are illustrated.
What Were the Complaints?
Residents in Marion County were concerned about the romantic moments within the book. They argued that these scenes went too far for children. Heartstopper is marketed to the young adult market, so they're worried it's too much for that audience. Even if the book is going to stay in the library, they at least want it pulled from the children's section.
"I looked at the back of the book and uncovered that it had some kind of sexual situations… It was a LGBTQ book."

Heather McMurry, Marion County resident
Many residents came together to explain their concerns to the library. While this book has always been incredibly popular among younger ages, the parents were still concerned about the content.
What Was the Library's Response?
Despite the book's popularity, the Columbia-Marion County Public Library took the concerns seriously. They reconsidered its placement at their library.
"We did check reviews, we did check what other libraries had it, and we based it on our policies and acquired it that way,"

Ryda Worthy, the library director for the South Mississippi Regional Library
The library acquired the book series after initial requests for it to be stocked there by a patron. But as a wider range of residents discovered the book, there were more concerns. Heartstopper has been banned in many libraries before, although if it's because of the romantic themes or if it's because it's LGBTQ+, depends on the library. Regardless, the romantic themes seem to have unsettled parents and librarians in many different districts of the country. Heartstopper is one of the most popular LGBTQ+ books for younger audiences, and that popularity can always drag negative attention from those against it as well.
---
Thankfully, the library's removal of the book is temporary. It may return to shelves later once the library decides what they want to do with it. But as of right now, it's up in the air. Since many other libraries have banned it permanently, it wouldn't be a surprise if Columbia-Marion County Public Library did ban it permanently. Hopefully, residents of the community who do support the book will rise up in its defense. But as it stands now, it most likely it will not return to the library.
Want more book news? Check out this story!
FEATURED IMAGE VIA CANVA