Philosophy is a field historically dominated by men — even retrospectively, female philosophers do not get much recognition for their ideas in the context of philosophy at large. Here are five women you should know.
1. Simone de Beauvoir
Simone de Beauvoir is one of the most prominent French existentialist philosophers, as well as one of the most prominent feminist philosophers. The Second Sex combines both existentialism and feminism — "one is not born but becomes a woman," and argues the distinction between biological sex and gender as a social construct. In this work, she also calls out the sexism of prominent male philosophers like Aristotle who regarded women as the inferior sex. Her novel The Mandarins won France's most prestigious literary prize, the Prix Goncourt, in 1954.
De Beauvoir was close friends and partners with Jean-Paul Sartre, another major figure of French existentialism.
2. Hypatia
Movement: Neoplatonism (also an astronomer and mathematician)
Works: Hypatia's version of Ptolemy's Almagest, a treatise on planetary movement
Hypatia lived in Alexandria, Egypt from roughly 350 AD to 415 AD and was a respected thinker, teacher, and counselor. As a neoplatonist, she studied and developed interpretations of Plato's ideas and further developed mathematical treatises on things like geocentric theory and the math of conic sections. She was the head of the Platonist School in Alexandria and tought philosophy, math, and astronomy.
During her lifetime, there was tension between Christians and pagans in Egypt, and eventually a century after Hypatia's death, emperor Justinian I of the Byzantine Empire banned the teaching of non-Christian philosophy. In March of the year 415 AD, Hypatia was murdered in Alexandria by a mob of Christians. She became regarded as a "martyr for philosophy."
3. Angela Y. Davis
Movement: Civil Rights, Black Power, Prison Abolition theory
Angela Davis was born in Alabama in 1944 and studied philosophy in Germany, first at the University of Frankfurt and then earning her doctorate from the Humboldt University of Berlin. Upon her return to the states, she was part of both the Communist Party USA and the Black Panther Party. Her communist affiliations ended up getting her fired from her teaching position at UCLA's philosophy department, but she has since taught in higher education at multiple other institutions.
In 1979, she was a recipient of the Soviet Union's Lenin Peace Prize. Her philosophies and ideas about prison abolition have seen a resurgence with the Black Lives Matter movement, especially with her books Are Prisons Obsolete and Women, Race, & Class. Davis argues that restorative justice is the ethical way to deal with crime — not imprisonment, as America's criminal justice system is irredeemably corrupt.
4. Mary Wollstonecraft
Movement: Feminism
If you only know Mary Wollstonecraft as the mother of Mary Shelley, it's time to dig into her own work! Wollstonecraft is regarded as one of the mothers of feminist philosophy, and is best known for her 1792 work A Vindication of the Rights of Woman: with Strictures on Political and Moral Subjects.
This came after her 1790 A Vindication of the Rights of Men, a broader political piece attacking Edmund Burke's defense of constitutional monarchy and aristocracy. Wollstonecraft argued against aristocracy and the outdated values that upheld it.
5. Hannah Arendt
Movement: 20th century political philosophy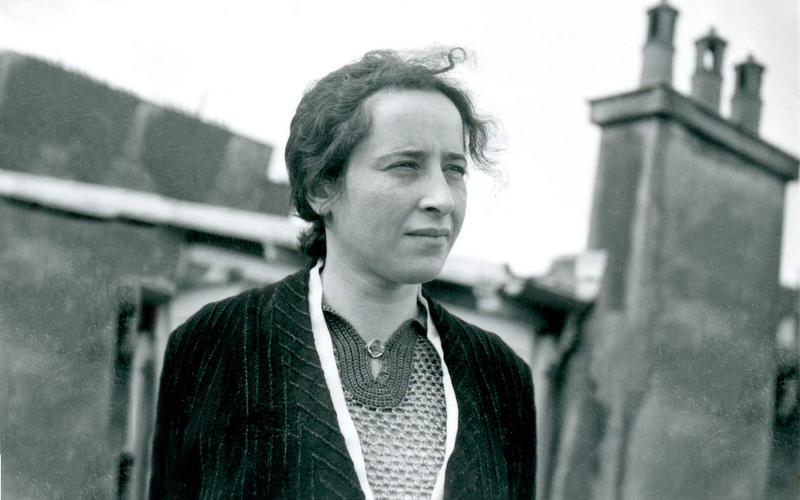 Arendt was a German philosopher active after the second world war. She fled Germany during Hitler's rise to power (she herself was Jewish) after being arrested for investigating the antisemitism of Nazi Germany, and later was a journalist. One of her most famous ideas is the concept of the "banality of evil," where she describes how true evil, as committed by Nazi Germany, is carried out by normal people who are not particularly monstrous themselves, just blindly following orders and conforming to popular opinion.
During World War II, she relocated to the United States where she worked as a journalist and educator, becoming the first female professor at Princeton University.
FEATURED IMAGE OF SIMONE DE BEAUVOIR VIA HERE MAGAZINE