Here at Bookstr, we're thankful for all things bookish. And during this Thanksgiving season, we're getting personal with the bookish things we cherish that exist to bring us happiness, along with the books we enjoy reading. For me, it's the pretty bookmarks featuring vibrant, offbeat colors, fantastical images of fairies, mythical birds and dragons gifted to me by loved ones, or just a lovely bookmark I picked up during a stop through Mexico. Whatever the scene or decoration, someone put a lot of time and heart into the creation of something that seems so small and insignificant in the grand scheme of things. But truly, those added details and care make all the difference to a bookmark lover like me. So, to say that I'm thankful is an understatement. I'm genuinely grateful that I have bookmarks to light up the pages of my books, as they hold my place and light up my life.
Tragedy Marks the True Beginning of My Bookmark Love Affair
I've always loved bookmarks. These artful treasures would usually catch my eye in a store or at an event, and I'd want to purchase them without hesitation. But to fully express my love affair with bookmarks and why I'm thankful for them is to go back to the beginning of things, where a happy moment turned into heart-wrenching sadness that I have yet to fully get over. While I may come off dramatic, I must pour out of me that vulnerable part of who I am as someone dealing with OCD, so this event truly set in motion what would come to be an obsession to collect as many cool, unique, beautiful, and even simplistic bookmarks as possible.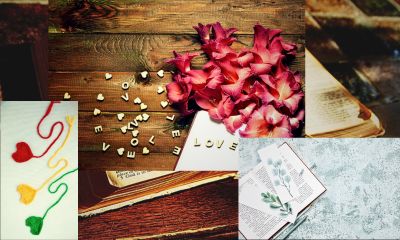 My oldest nephew was in kindergarten then, and he'd just gotten back his school pictures. My sister dressed him in the spiffiest of duds, and he just looked quite the adorable little person. Looking back on this moment, I was such a proud aunt and so happy to see him smile back in those pictures. The joy seemed to ooze through; you almost felt it. And there was one item that came with the pictures that I had to have — a bookmark with his precious little face and pose in all of his "cute kid" glory. I asked my sister if I could have it because I truly do love bookmarks, and this one was the most unique to me.
I carried it around with me everywhere I went, and in those days, I was in school and took the bus to and from. Well, of course, you can guess where the tragedy comes in. I LOST that bookmark with my nephew's precious face on it, and my heart forever broke. I was crushed to my soul. Somehow, I'd dropped it on the bus and hadn't realized my bookmark had ridden out of my life for good. For a while, I was pretty hurt and had to figure out a way to let go. Somehow, I had to relinquish that bookmark and move on.
But the thing about moving on is that you don't really move on. You simply take that hurt and put it into something else. For me, that was building my collection of bookmarks. I now have over 200 of them; some are decorative and amazing, and some are simple and mass-produced. Doesn't matter. They all hold a special place in my heart because they all represent that lost bookmark that I can never get back. So, this love affair may have begun with heartbreak, but it has flourished into deep gratitude for these small keepsakes that add whimsy and mystique to the books I read, full of adventure and mystery themselves. My collection continues to grow, but I do hold a special place for the bookmarks that land at the top of the list. I found these particular bookmarks in places you may not dare think about.
The Faire-est of Bookmarks
The Renaissance Faire is a place that sits in its own pocket of time and space for just a few weeks out of the year. People dress up as medieval citizens of an olden realm and go about their lives, living in what I consider to be more of a land full of fairies and dragons. So, it's no surprise that each time I've gone, I've come across bookmarks that showcase just what the ren-faire has to offer. As a true-to-form fantasy girl, I'm always drawn to these particular bookmarks.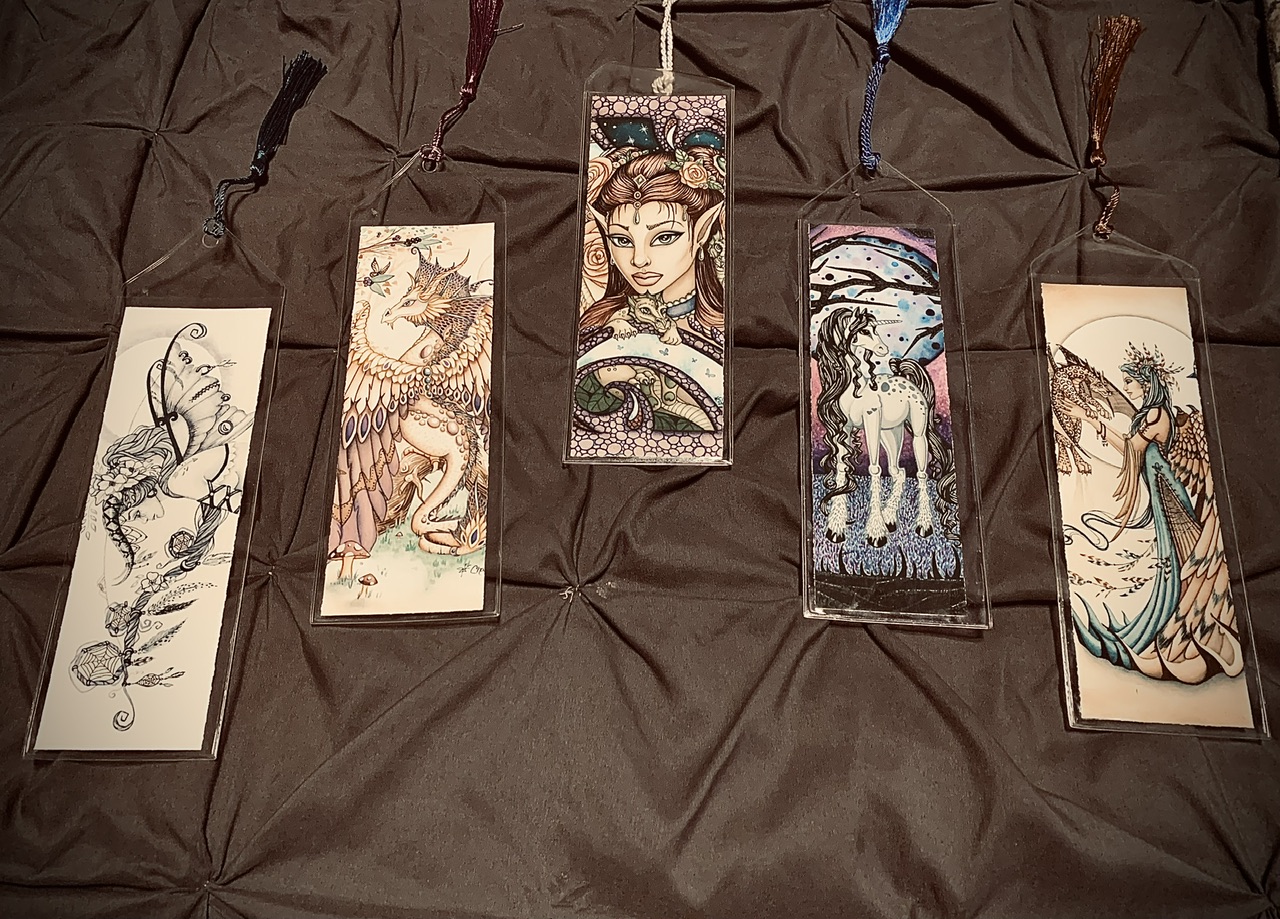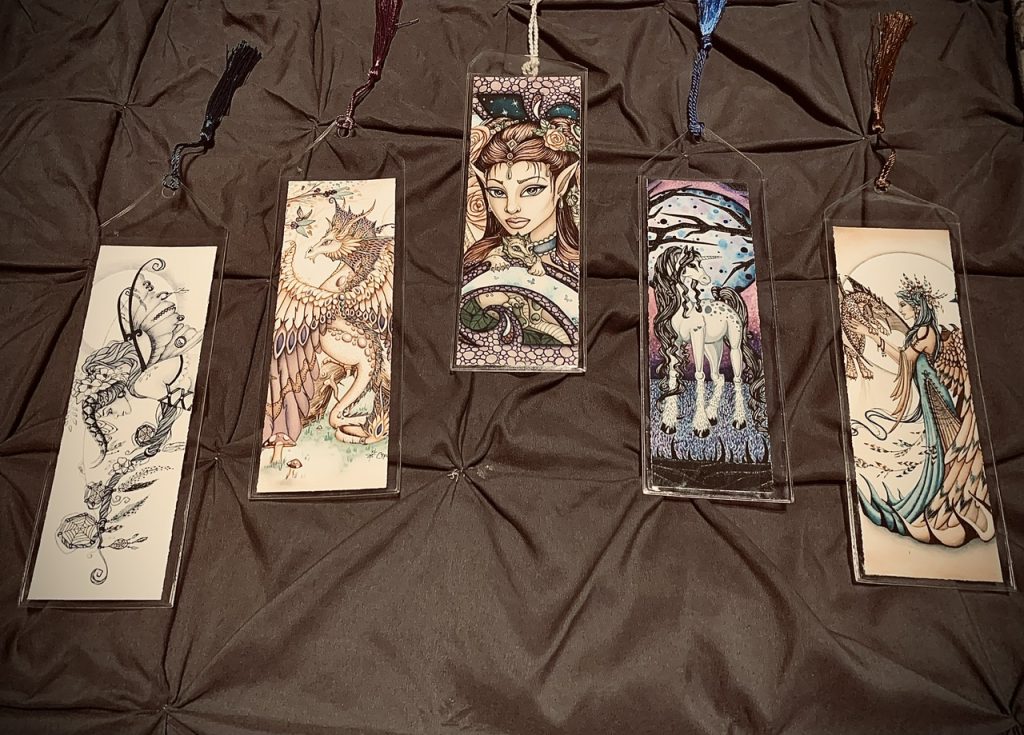 As I go to glimpse them hanging on the wooden doors inside and outside the colorful stalls, I can almost hear pan flutes play in my ears, and then I pick up these whimsical bookmarks that sparkle and nearly come alive. From unicorns to fairies and elves to fantastical dragons and otherworldly queens of mystical lands, I'm drawn to these bookmarks with matching tassels. They're some of my favorites to use when I'm reading. And they certainly are the faire-est bookmarks in my collection.
A Con of Bookmarks
The other side of me is always into the darkly whimsical, the weird, the shadowy, the hauntingly beautiful. My color scheme always seems to point to a little sanguine red, off-blue, deep black and purple, neon pink, and high-rez green. So, when I came across these bookmarks at an artist's stall at a con who'd drawn them, I knew I'd found the perfect bookmarks for my collection.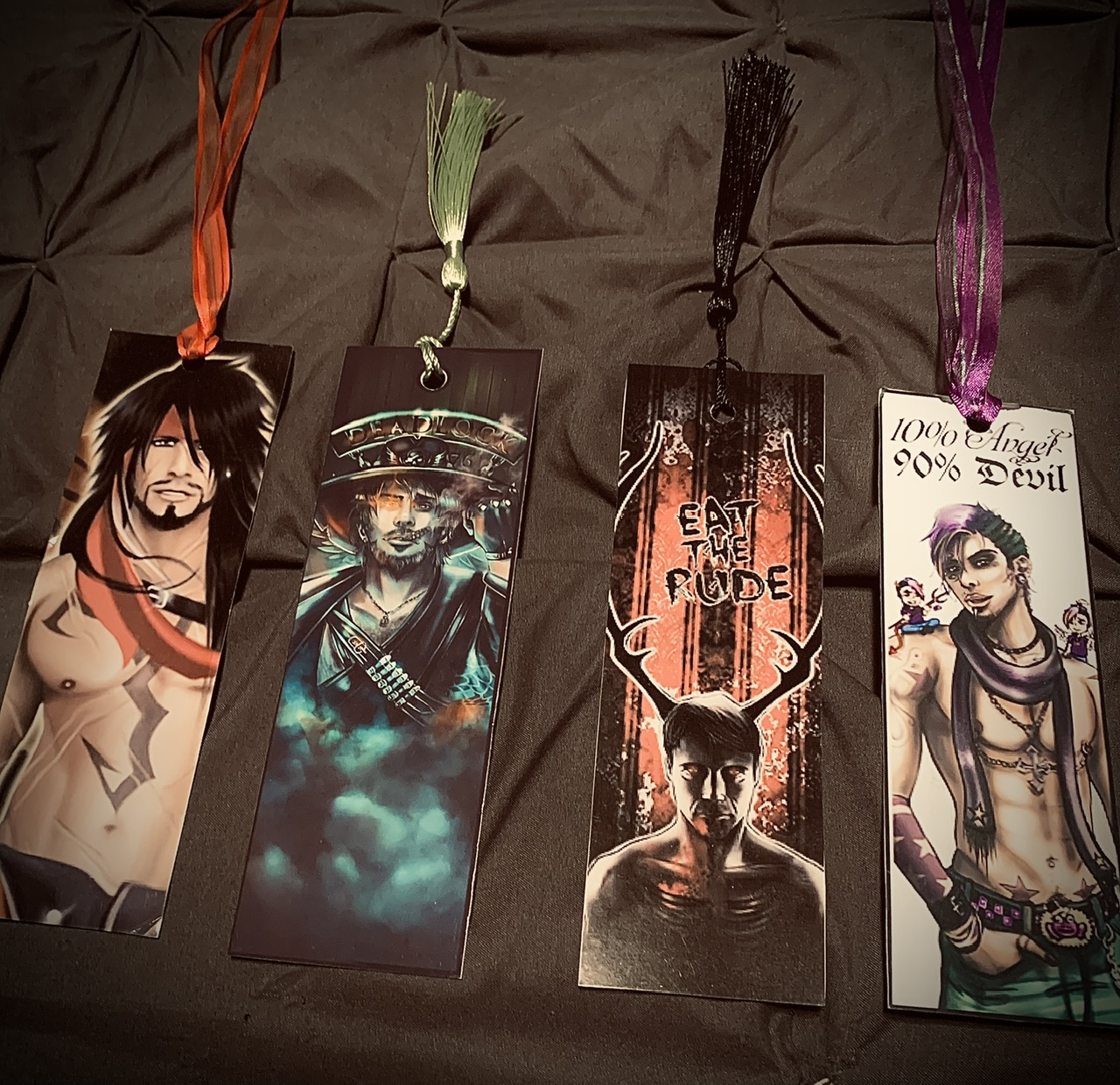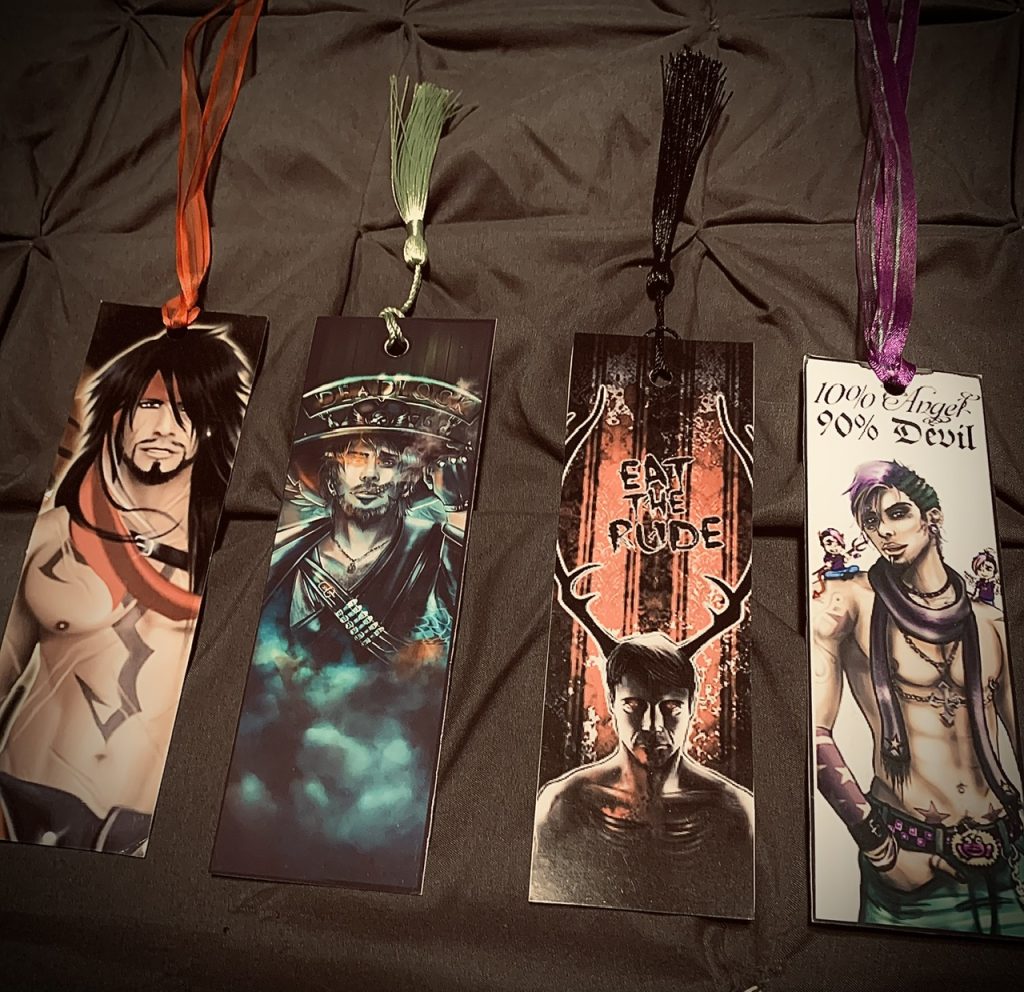 I travel to an anime con with my cousins, sister, and nephews every year, and they know that I must stop at the artists' booths to scour their displays for amazing, one-of-a-kind bookmarks. Some of the artists do return, and that's when I pounce, scooping up the best bookmarks that I believe my heart has found. These four are only some of the ones I've collected from the anime con, but they are my favorites in the bunch. I'm just thankful that I was able to find them among the multitude of others when I did.
Bookmarks with Character(s)
Bookmarks as gifts? What more could I ask for? And I mean this. A card and a bookmark are all I need. And it seems my beau understands this very well. And that's what makes these bookmarks extra special. We both enjoy these characters, so to see them artfully drawn on thin-plated metal as bookmarks that I can use over and over is the way to my soul core.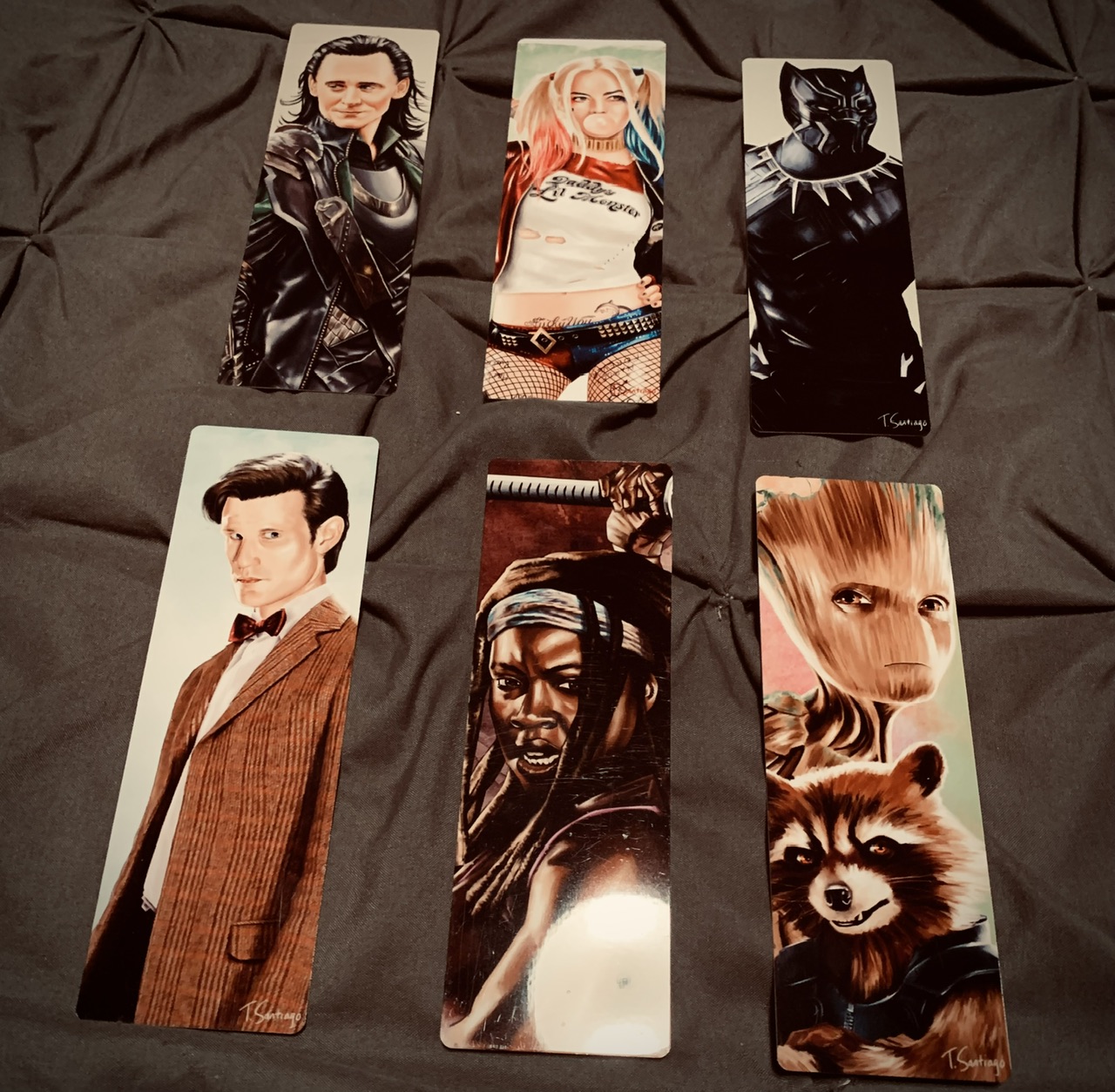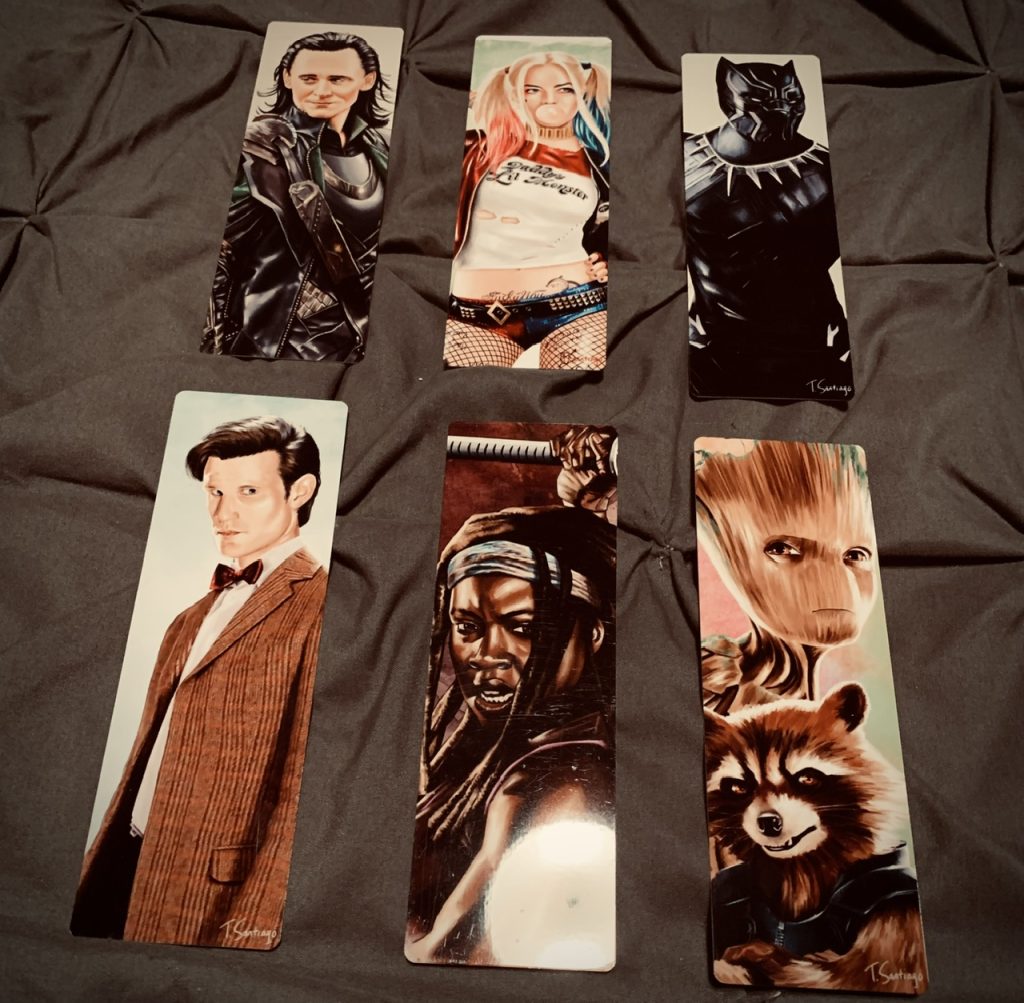 From the eccentric, intelligent Doctor Who to the fiercely awesome Michone from The Walking Dead, I absolutely adore these vibrant collectibles that certainly capture my favorite characters in true form. And I would be remiss not to acknowledge dear Marvel villain Loki's realistic smirk drawn with such care to detail. For me, it's no stretch of the imagination as to why these bookmarks are cherished favs in my collection.
Ancient Dragon Tale Bookmarks
Gift-giving is a tricky beast, but as I said before, my family knows me to a fault. So, it was no surprise that during a Secret Santa exchange, when I said I wanted bookmarks, my mother dug deep and came up with these breathtaking beauties. I honestly couldn't believe when I opened the box that these wooden bookmarks with stills of dragons, ancient ships sailing the seas, swooping phoenixes, and giant eagles engraved on them were staring back at me. They looked quite traditionally ancient, and I think that's what made me fall in love with them the instant I saw them. I ran my fingers over them, and the feel of the wood, so delicate, made me want to handle them with the utmost care.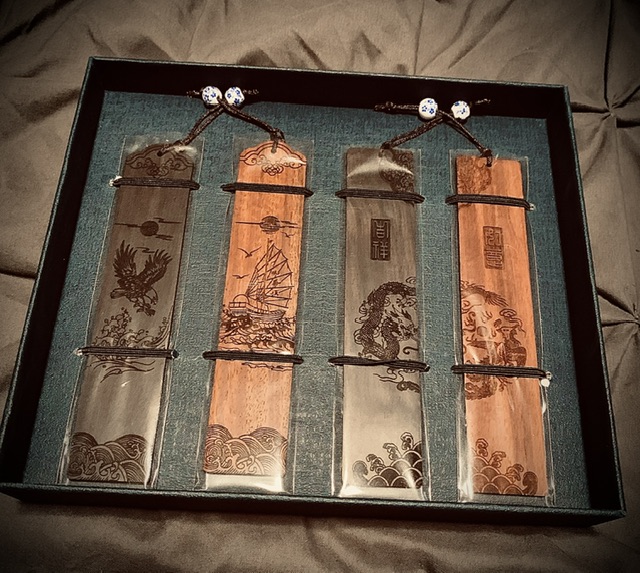 I've had them for over a year now, and I still can't bring myself to use them. Not yet. They're too precious, and sadly, I already know what happens to precious things when I take them out into the world. I do truly thank my mom for these amazing bookmarks, but maybe they're just meant to add that bit of traditional flair to my collection.
Pretty Pin Bookmark
Hmm… Another ren-faire bookmark, yet this one is quite special to me. Something sparked when I first saw it. Maybe it was the broach-style pin-shaped head with the fairy prince and princess staring lovingly into each other's eyes. Maybe it was the slender shape of it, from the pin to the straight handle that doubled as a miniature ruler. Maybe it was because a handmade bookmark like this one (with sincerest gratitude to its maker) wasn't something I came across every day.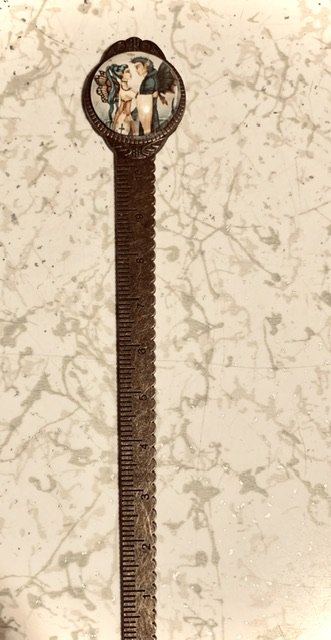 I'd gotten this one a few ren-faires ago, and I've used it so much that the markings have since faded some. This one, however, remains at my bedside, tucked inside a future book I look forward to reading someday. It always is. And I can keep a sharp eye on it and know it's safe. But I couldn't resist showing it off, just this once, to express my thanks that this fantastical beauty exists.
The Bookmark from Out of the Country
As I close out my "thankful" list, I end with this pretty, spectacular souvenir I picked up during my travels with family in Cozumel, Mexico. We'd stopped at some local shops to browse and see what wonderful trinkets we could buy. The moment I came upon this special bookmark, I knew it'd be a treasured keepsake to have. Unlike most of my bookmarks, which are made of plastic and metal, this one is made of felt cloth. It's floppy and bendy and (hopefully) less destructible than the others. But it's pretty, and I couldn't see myself not purchasing such a find.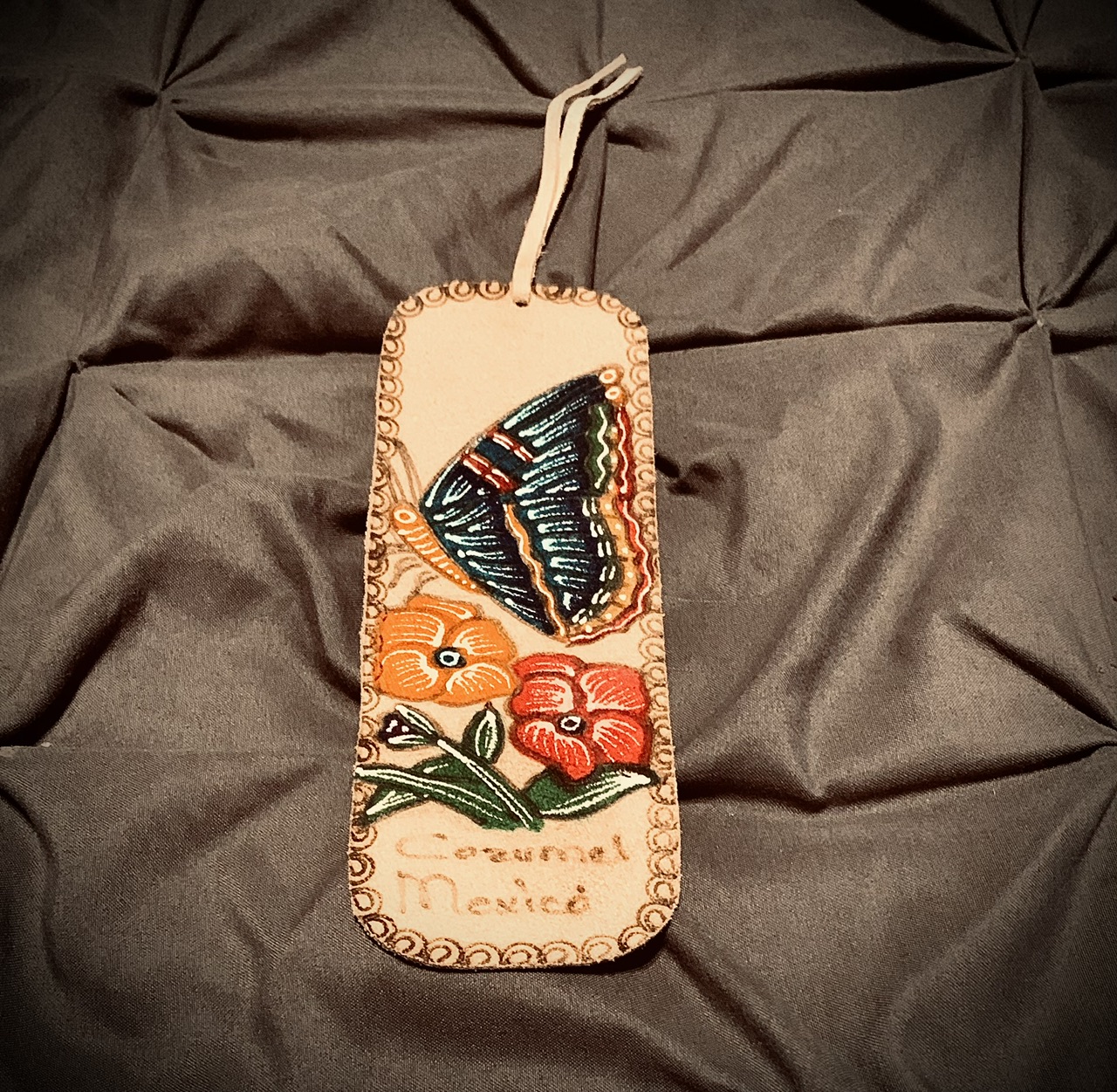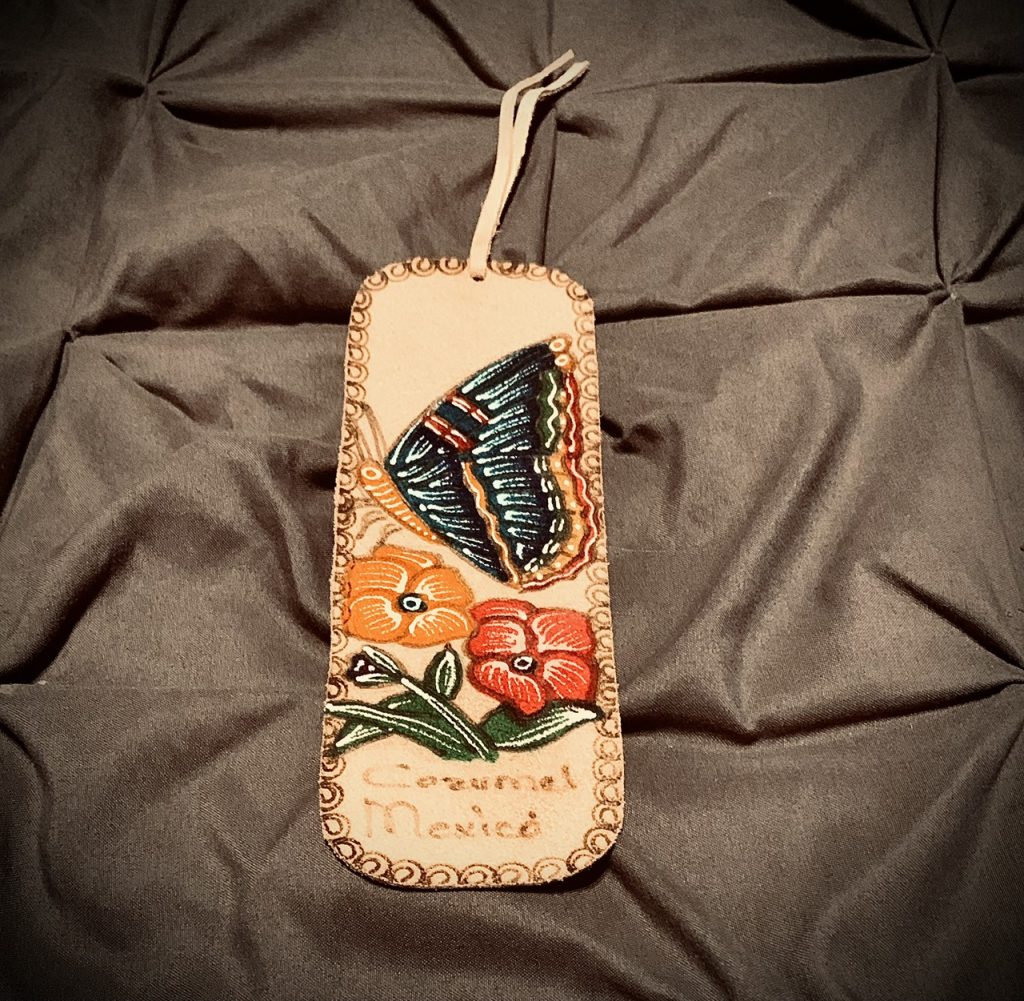 This one, too, has yet to be used, though its time is coming. For now, I'll resign myself to mostly ogling its bright colors and timeless feel. But I'll mostly look fondly upon it as a traveler like me, crossing different lands and seas just to be part of my collection. For that, I am thankful.
To end this love letter, I leave it with these final thoughts. These are only a handful of bookmarks out of the many that I have, but so many have become part of my spirit, my darkness, my light, my bones. Me. They show different sides of who I am and bring out my inner nerd, and they simply make me feel somewhat whole with each new addition to my collection. While I may never fully recover from the loss of that one special bookmark of my nephew, I get closer and closer to leaving that one floating in the wind. Hopefully, it reaches its destination slipped in the crease of a good book. For now, I have these dear ones to keep me and my books company. For always.
And I'm most thankful for that.
---
If you enjoyed my love letter to bookmarks and you long for more interesting bookmark-related articles, click here and here.
FEATURED IMAGE VIA KRYSTEN WINKLER / BOOKSTR