There are a lot of things that can keep you from finding your next read: a reading slump, too many options, not enough time, or no idea what you're looking for, just to name a few struggles readers are likely to face. Sometimes when you aren't sure where to start looking, it pays to go back to the basics. Are there certain types of stories that draw you in? What things did you like when you were younger? What did you enjoy doing in school?
If you're struggling to find a book to read, try looking for one that relates to something you already love. These are six books to read based on your favorite school subject.
1. Math / Ace of Spades by Faridah Àbíké-Íyímídé
Besides being the only Black students at the prestigious Niveus Private Academy, Devon Richards and Chiamaka Adebayo have very little in common. They run in different social circles, come from opposing neighborhoods, and have contradicting ideas on the best way to survive at their elite prep school. When Devon and Chiamaka are made prefects their senior year, they finally have one thing in common: they're both in the race for valedictorian. But shortly after they're announced as prefects, Devon and Chiamaka find themselves targeted by an anonymous bully named Aces, who threatens to expose their deepest secrets and ruin their carefully planned futures. Devon and Chiamaka will have to work together if they have any chance of defeating Aces before they lose everything.
This YA thriller is perfect for people who like math. Much like math, Ace of Spades is full of carefully calculated plots. Trying to follow the twists and turns will have you second-guessing your every thought down to the last page.
In this modern take on the classic Jane Austen novel, two Black teenagers separated by different classes fall in love while overcoming their prejudices. Zuri Benitez loves her corner of Brooklyn and is full of pride for where she came from, even when others look down on her and her home. When the wealthy Darcys move in across the street, she sees them as more rich people who don't understand life in Bushwick and its culture. Zuri is especially annoyed by Darius Darcy, who seems to take any opportunity to look down on her. But Zuri and Darius are forced to co-exist as their older siblings start circling each other, and Zuri finds her once steady perspective on the world shifting in the face of many sudden changes.
Pride is a great example of how classic literature ends up shaping contemporary literature. All the themes Austen is famed for writing about — love, family, and feminism — are redone by Zoboi to fit the present moment with relatable characters and conflicts readers are likely to face in their own lives.
3. History / Dig by A.S. King
The Hemmings are a family that comes from humble roots. The grandparents, Gottfried and Marla, turned their family potato farm into a comfortable life in a subdivision with a large bank account. Despite their success, they refuse to pass down the wealth to their adult children and their five grandchildren in an attempt to make them thrive on their own. But their grandchildren, five estranged cousins, are barely surviving as they struggle to untangle themselves from unspoken family secrets. All the unspoken things are poisoning their family, and in the slow destruction, the cousins begin to find their way to each other as the value of the family name comes into question.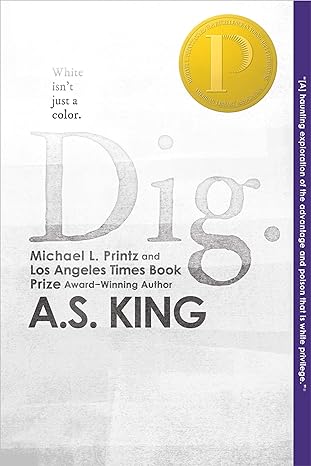 Much like real historical narratives, King uses several different perspectives, spanning time and place, to weave together the real story. When it all comes together, the reader is left wondering what the past says about the present and what can be made about the future. The characters are flawed and equally unlikeable and sympathetic as they uncover their family story in real-time.
In the 1980s, the FBI recruited two teenagers with ties to serial killers in hopes of gaining information about cold cases from convicted juvenile killers. Emma Lewis is a survivor of a notorious serial killer who is reluctant to join, while US Marshal candidate Travis Bell is eager to follow in his father's footsteps. Despite their opposing demeanors and conflicting ambitions, Emma and Travis form a quick, tight bond as they dive into the minds of their criminal peers. The duo is put to the test when they take on teenage sociopath Simon Gutmunsson. Simon provides information that helps the FBI, but his cooperation comes at the cost of getting Emma closer. Emma and Travis begin to fracture as their case deepens, and they reluctantly become part of Simon's long game.
Marney treats this true crime-esque thriller with the clinical nature of a lab test: she proposes a hypothesis of how the minds of the wicked may work and tests each theory with a series of trials that have the characters confronting their thoughts, beliefs, and humanity. This book will speak to those with an interest in psychology or criminology or even those who like making their own theories as they follow a book to the end.
Bri is the daughter of an underground hip-hop legend, and she's eager to fill his legacy by becoming the greatest rapper of all time. Her first step is simple: win her first rap battle. But chasing her dream and making her father's memory proud proves harder than she thought. She's misunderstood at school, her mother has lost her job, and Bri is thrust into the center of a controversy. With the media ready to villainize her and her family under threat of eviction, the stakes for Bri to make it have never been higher.
This book conveys all the things music is about: expressing yourself, making a statement, and just being heard. There's a healthy mix of iconic hip-hop references and original lyrics that show how fundamental music can be to a person's growth into who they are, and the story itself is a timely portrait of what obstacles may occur when you try to use your voice.
Felix Love has a lot going on: he's attending an ultra-competitive arts summer program for the chance to get into Brown; he's contending with his identities as a Black, queer, and trans teenager; and never has he been in love. But he's not letting these things get in the way of securing his future at Brown, which starts with winning a full scholarship. His hopes for winning the scholarship are suddenly in jeopardy when someone starts posting pictures of him pre-transition with his dead name. Felix plots revenge against the anonymous bully and unexpectedly sets himself on a journey of self-discovery and falling in love in the process.
Felix Ever After deals with many themes also tackled by artists: self-identity, adolescence, love, and family. Beneath the vibrant cover is an equally colorful story about a boy trying to secure his future and find his sense of self through his art which makes for a delightful read.
---
For more ways to find your next read, click here or here!
Browse these books and more on Bookshop!
FEATURED IMAGE VIA BOOKSTR / ABIGAIL CASWELL