Adulting is hard, so sometimes we need to go back to an easier time in our lives: our childhood. Some people do this through videogames they grew up playing on Gameboys, some through nostalgic dinners of chicken nuggets and macaroni and cheese, but for us readers we take a mental break back to our childhood literary favorites. However, many of these children's books are too rudimentary for adults so we have to scavenge for books we can still enjoy at our age content-wise while keeping the light-hearted feel and easy vocabulary of early reading. Well, scavenge no further dear readers, because this list contains 8 specially chosen children's books for 8 year-olds to let adults revisit the wonders of their youth.
Alice in Wonderland and Through the Looking Glass
by Lewis Carroll
"She generally gave herself very good advice, (though she very seldom followed it.)"

From Alice in Wonderland
First, how could I not include Alice in Wonderland and Through the Looking Glass? The reader follows the tale of little Alice as she enters Wonderland and then the mirror world. You will read about well-known characters from media such as the White Rabbit and the Mad Hatter, as well as newer characters that didn't make it to screens such as the Queen of Spades and the Duchess and her pig. These stories are silly, strange and unusual and they have a lot to offer. The young-at-heart adult who wants to enter a topsy-turvy land of make-believe will love these classic tales.
The Great Gilly Hopkins
by Katherine Patterson
"Nothing to make you happy like doing good on a tough job, now is there?"

From The Great Gilly Hopkins
Next on the list is The Great Gilly Hopkins, a realistic fiction novel from the late 70s. As with all realistic fiction for children, this story takes a tough concept, in this case adoption, and makes it attainable for the reader. You will watch Gilly develop through her time in the foster agency, enjoying her bratty antics and her eventual loving connections she makes with other characters. This story will make you laugh then suddenly give a yank on your heartstrings. For this, you will love it all the more.
Bud, Not Buddy
by Christopher Paul Curtis
"Just like when there's a time that a smart person knows enough is enough, there's a time when you know you've got to fight."

From Bud, Not Buddy
Bud, Not Buddy is a historical fiction novel following the story of Bud. Bud is an orphaned black boy in Flint, Michigan trying to make his way in life. Using clues from his mother's possessions, Bud goes on a journey to Grand Rapids in search of his father whom he has never met. This novel has a lot of insight into the historic time period of 1936 and weaves these details in flawlessly to the overall narrative. You won't even notice how much you learn while you cheer Bud on throughout the story. Undoubtedly, you will get emotionally attached to this brave, polite little boy.
Shel Silverstein's Poem Books
"If you're a pretender, come sit by my fire / For we have some flax-golden tales to spin"

From "Invitation" in Where the Sidewalk Ends
Oh, nostalgia! If you have never read Shel Silverstein's poetry, honestly, what are you waiting for? Even if you have, going back over these hilarious and sometimes poignant pieces is guaranteed to be a good time. Everything from wanting to destroy homework to hating your siblings, this collection has all your childhood memories bundled up in rhythmic packaging. Start with Where the Sidewalk Ends then get them all; Flip through the pages for a lot of chuckles and smiles.
The Wizard of Oz
by L. Frank Baum
"A heart is not judged by how much you love; but by how much you are loved by others."

From The Wonderful Wizard of Oz
No, this isn't like the movie. Similarly, the book follows Dorothy, swept away by a tornado in her little house in Kansas to the wonderful land of Oz. Her goal is to find her way home. Along the way, she meets colorful, unique characters. Unlike the movie, Dorothy is a total sparkplug and the bravest, smartest little girl I have ever read about in a children's book. If you want a strong female protagonist, pick The Wizard of Oz up today. If you want to hear more about the differences between the movie and the book, check out our video where we explain them.
Scary Stories to Tell in the Dark
by Alvin Schwartz
"Telling scary stories is something people have done for thousands of years, for most of us like being scared in that way. Since there isn't any danger, we think it is fun."

From Scary Stories to Tell in the Dark
Even if we're not kids anymore, a ghost stalking the hallways crying for his missing big toe or your best friend rising from the grave is still scary. Scary Stories to Tell in the Dark are collections of short horror stories that were a big deal in elementary school. You can definitely tell they influenced modern horror movies, as well. Some of the stories are a bit silly in hindsight but many can still give you the creeps. If you want to roll the dice on a laugh or a scream, this is the trilogy for you.
Roald Dahl Books
"There are a whole lot of things in this world of ours you haven't started wondering about yet."

From James and the Giant Peach
What can I say that hasn't already been said about the incredible Roald Dahl? I couldn't bring myself to only put one of his books on this list when they're all so whimsical and meaningful, no matter your age. With household names such as James and the Giant Peach, Charlie and the Chocolate Factory, Matilda, the BFG and a few others, this collection features a great spread of Dahl's writing, including some you may not already know. There's no going wrong with a Dahl book so this should absolutely be on your reading list.
The Color Fairy Books by Andrew Lang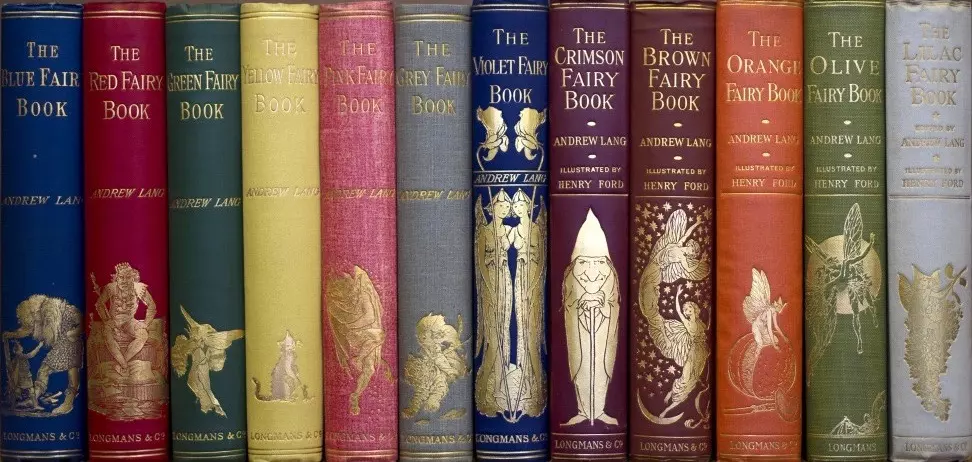 "My dear Prince, might I beg you to move a little more that way, for your nose casts such a shadow that I really cannot see what I have on my plate."

From "Prince Hyacinth and the Dear Little Princess" in The Blue Fairy Book
If you want Grimm's fairytales minus the grim, The Color Fairy Books by Andrew Lang are a great option. These are a 12-book collection of European, not only German, fairy tales marketed towards children. Each volume is named after a different color, hence the series name. Inside, there are classics such as "Puss in Boots" and "Rumplestiltskin" as well as lesser known stories such as "Why the Sea is Salt" and "The Master Maid." For fairytale lovers and historians alike, try The Blue Fairy Book, the first book in the collection.
Wow, so many great options, how many will you choose? While you're deciding, consider reading our article about a new children's book Abdul's Story by Jamilah Thompkins-Bigelow.
FEATURED IMAGE VIA READING PARTNERS