I think every reader can agree that they have a favorite place to hunker down and devour a good book. There's a comfy chair, room, or person who just makes us sigh in contented happiness as we hallucinate to ink etchings on dead trees (or electronic devices or whatever). Our Bookstr team is no different. Let's find out what their favorite book spot is during the tropical months of summer.
Coffee Shop Dreams
Lately, my favorite reading spot has been an independently-owned coffee shop in my college town. It's filled with plants and just an all-around relaxing aesthetic. I love sitting down at a table with an iced matcha or latte and letting myself get lost in a fictional world.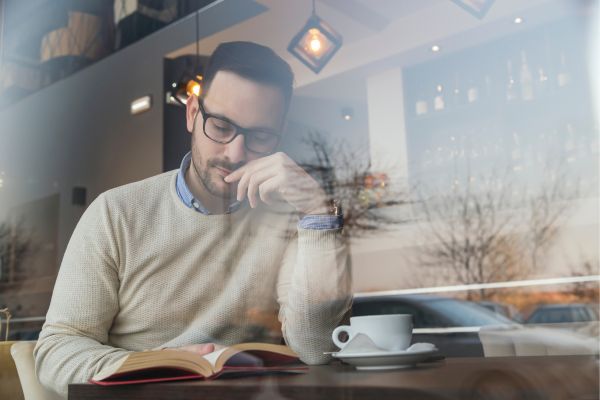 Plush Couch Potatoes
After spending most of the year at university, I love nothing more than coming home during the summer, reclining on my striped blue couch, and reading in my home library. With warm light coming through my French doors, my empty fireplace adding to the aesthetic, and the Lord of the Rings-themed decorations surrounding my shelves, I feel safe and content when I dive into new worlds. Also, my neighbor's cat sometimes climbs onto my deck outside the library to take naps, so the view is lovely as well.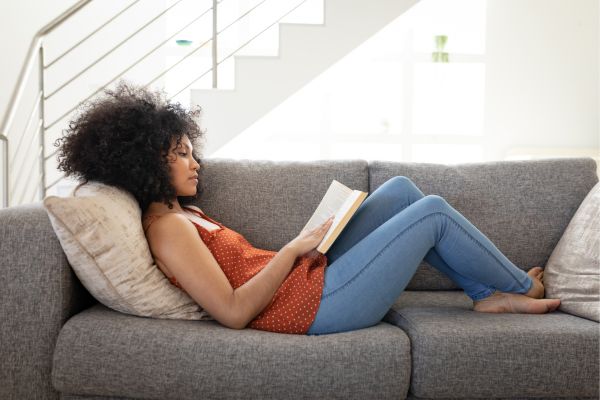 My favorite spot is on my couch, which sits in front of a big window. I love to have the sun shine through and use that as my light source to read. I would get so distracted by the story that it soon becomes dark outside, and I still wouldn't get up to turn on the light as the couch is super comfortable. That's why I have a reading light beside me!
It doesn't matter the season; my favorite reading spot is always: On my couch, snuggled up next to my husband while he watches tv and plays with my hair. Seriously, he's comfy, the couch is comfy, and most importantly, he's occupied letting me read while still spending time together.
The Comfort of Laying on a Mattress and Surrounded by Pillows
I love reading in my bed. I enjoy the privacy of being in my own room to make my facial expressions reacting to my book and just being comfortable. I'm able to spend hours at a time lying down and reading my book, lost in my own little world.
Lauren Tabella, Editorial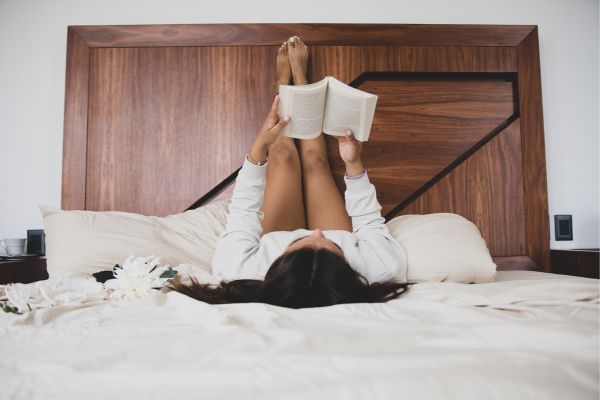 I'm not a fan of the summer heat, so my favorite place to read during the summer is in my bed with the fan on high and a large cup of ice water to last me hours.
I wish I could give you something aesthetic, like the beach or the park, but driving seriously stresses me out. I can't even say I read on the patio or on the couch. I live in a household of seven, so for an introvert like myself, no place but my bedroom is safe.
Kaitlyn Gardineer, Editorial
Beach Vibes
I like reading on the beach. I'm not much of a fan of the outdoors or heat, but I can't find a better place. Sitting under an umbrella in the mornings, wearing thin clothes so I don't overheat, is the best. It's so relaxing to hear the ocean as I read.
Danielle Tomlinson, Editorial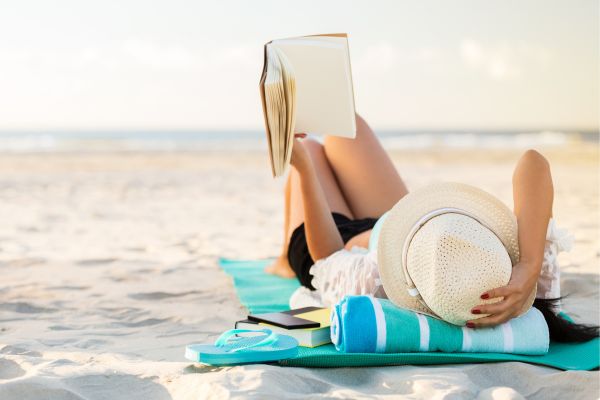 I started living in the city near a beach. On my days off, when I know I don't plan to rush to go anywhere, I read on the sand. I found that simply laying on the beach towel or sitting on a bench near the beach is a calming and relaxing summer spot for me.
If it's not my bed, tucked into the corner in a swarm of pillows looking out the window, it would have to be the beach. I spend hours on end reading at the beach; it's what I look forward to most in my day. I like to sit in my car with all my windows down and my feet out the window, or I will sprawl out in the sand, head bent over, dripping seawater onto the pages.
Olivia Salamone, Editorial
My favorite reading spot is on the beach. The warmth of the sand and sun, the sound of the waves, pure relaxation and happiness!
Porch Lounging for the Win
Since the summer heat can be a little brutal during the day, I prefer reading outside during those warm summer nights. I will typically sit in my hammock beneath the porch light, the fluorescent lighting illuminating the pages of my novel as I'm flipping through it. There's also the immersion that comes with hearing the harsh caw of the black crows as they fly from tree to tree and the soft glow of the fireflies that drift from the grass.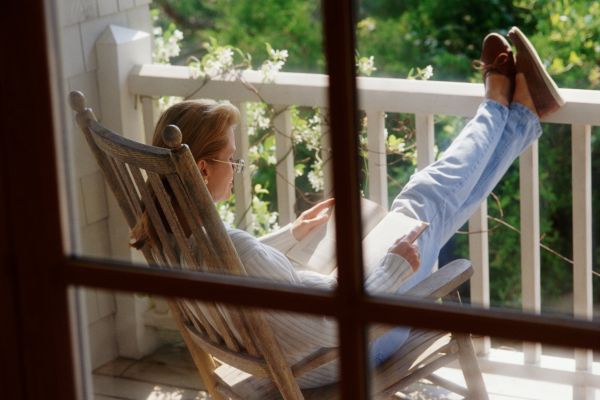 I've been finding myself outside on my porch late at night for some peace, and I found that it's a perfect place for reading! Having a hammock, too, is a big plus to that.
I'm usually a reading-in-bed gal, but I've been reading outside more. Either on a bench or in the back of my car with the trunk open is pretty relaxing on a cooler day.
---
There you have it! We love what makes us most comfortable, no matter the season! Where do you prefer to read? Make sure to let us know!
Want to know more Bookstr Team Bookish opinions? Click here to find out what books and genre's we like to read during the summer!
FEATURED IMAGE VIA BOOKSTR / KRISTI ESKEW