UK producers Harriet Hammond and Daz Spencer Lovesey have acquired the rights to Samantha Shannon's young adult novel The Bone Season which they plan to adapt for television.
Image Via Amazon
Named the first book in NBC's Today show's monthly book club, the novel was published on August 20, 2013 by Bloomsbury Publishing. Set in 2059, the book follows Paige Majoney, nineteen, who is a dreamwalker, better known as a clairvoyant, and who lives in a dystopian world where she commits treason simply by breathing.
It's a dystopian novel with a supernatural twist. I'm in. But wait! There's more!
Samantha Shannon? She was only twenty-one, TWENTY-ONE, when the book was published. She's living the dream, and that was before Harriet Hammond and Daz Spencer Lovesey of Bad Penny Productions, who've been involved in such films as the still in production Waiting For Anya (based on Michael Morpurgo's book of the same name) and Mad To Be Normal nabbed the rights to her book.
It hasn't been an easy road getting there, though. Previously, the rights were owned by Andy Serkis's Imaginarium Studios having "struck a deal with 20th Century Fox to develop the project back in 2013" but, according to Screen Daily, that only "recently expired".
Harriet Hammond and Daz Spencer Lovesey are now going to make this book into a television series. The Book Seller wrote that, "[t]he first series will be comprised of eight episodes, with further series to follow. The deal for television rights was brokered by Kirsty McLachlan at DGA Associates".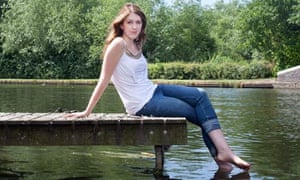 Image Via The Guardian
Shannon herself recently said that:
"Once a book is out in the world, it's essentially set in stone, but adapting The Bone Season for TV will allow me to explore the world of Scion in even more depth and consider the story from new angles. I'm looking forward to the journey."
I'm looking forward to that journey too.
But there's one thing to keep in mind. Today noted that Bone Season is only the first episode in a seven-book deal with Bloomsbury. The second novel, The Mime Order, was released January 27th 2015. The third novel, The Song Rising, was released March 7th, 2017. The fourth, fifth, sixth, and seventh novels remain unpublished.
Image Via Meridian Reviews
I don't know about you, but I'm getting flashbacks.
Image Via Daily Express
But I can't quite place them.
Image Via 
IGN Nordic – IGN Entertainment
Oh well!
Featured Image Via CNN