Hello book lovers! I hope you're well and, most importantly, home. The world has gone a bit upside-down hasn't it? Hard to know what to do with everything changing. One thing you can count on, though, is the Three to Read. We've got you! I have three amazing reads for you this week – and with everyone self-isolating, your TBR pile might actually stand a chance. With no further ado; the Hot Pick, Coffee Shop Read, and Dark Horse.
Hot pick
by Andrew Zimmerman.
image via amazon
Synopsis:
Paul is a top business executive hoping to be the next CEO of Ascendant―a New York-based tech giant. He neglects everything―his family and himself―in the race to the top. His fast-paced life is interrupted when he travels to Glastonbury, England, to visit friends in a village rich in history and mysticism.
Glastonbury represents a complete counterpoint to Paul's elite corporate day job. It compares to an amusement park, with shops and venues catering to spiritual seekers ranging from would-be witches, goddesses and druids, and burned-out hippies. Like many seekers before him, he is attracted to the energy of a nearby hill―Tor―said to be the mythical Isle of Avalon. Paul meets a beautiful soul reader, Christine, who reads his soul and plants the seeds that turn his life upside down.
When he returns to New York, his wife, Mary, is skeptical. Is Paul having a spiritual awakening or is he falling in love with an attractive charlatan? His journey both scares and intrigues her as she watches him struggle to navigate between the business and spiritual worlds. A series of synchronistic events draws Paul closer to Glastonbury and Christine, compelling him and a reluctant Mary to return, unaware that their lives will never be the same.
Why?
Zimmerman's novel is as spiritual as it is intriguing. The reader is faithfully brought along on Paul's journey to spiritual realization after his trip to Glastonbury. Many will relate to Paul's struggle with balancing his career with everything else in his life. This is particularly poignant and thought-provoking these days, with most of the world working from home and reevaluating what is important to them. This novel provides the reader with the inspiration and hope that it is never to late to change the course of your own life, and proves the importance of looking inward, and trusting your gut.
coffee shop read
by Rin Chupeco
image via amazon
Synopsis:
Many years ago, the magical Kingdom of Avalon was left encased in ice when the Snow Queen waged war. Its former citizens are now refugees in a world mostly devoid of magic. Which is why the crown prince and his protectors are stuck in…Arizona.
Prince Alexei, the sole survivor of the Avalon royal family, is hiding in a town so boring, magic doesn't even work there. Few know his secret identity, but his friend Tala is one of them.
A new hope for their abandoned homeland reignites when a famous creature of legend, the Firebird, appears for the first time in decades. Alex and Tala must unite with a ragtag group of new friends to journey back to Avalon for a showdown that will change the world as they know it.
Why?
Who doesn't love a bit of escapism? Wicked As You Wish is a magical novel with endearing characters and an exciting premise, which Publisher's Weekly have dubbed "A nail-biting quest that introduces a gripping new series." Chupeco breathes new life in to many beloved fairytales, and takes some of their best aspects, building them into the totally unique universe that she has created.
Bonus points for Chupeco, too, in the seamless introduction of the novel's non-binary character, who is correctly gendered and presented throughout. Non-binary readers will undoubtedly enjoy the fair and honest representation that Rin has managed to make natural and low-key.
"Rin Chupeco's marvelously magical WICKED AS YOU WISH is a great read for fans of fairy tales, myths and legends. In fact, avid fans will want to read it two, three, or four times just to catch all the twists, updates and Easter eggs, as nearly every chapter is loaded with delights. Come for the adventure, stay for the sassy jerkwad firebird." – Kendare Blake #1 New York Times bestselling author of the Three Dark Crowns series
dark horse
By Ash Ambirge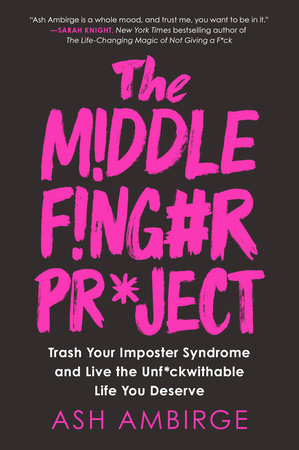 image via amazon
Synopsis:
"Don't worry, this isn't a book about God, nor is it a book about Ryan Gosling (second in command). But it is a book about authority and becoming your own." –Ash Ambirge
After a string of dead-end jobs and a death in the family, Ash Ambirge was down to her last $26 and sleeping in a Kmart parking lot when she faced the truth: No one was coming to her rescue. It was up to her to appoint herself. That night led to what eventually became a six-figure freelance career as a sought-after marketing and copywriting consultant, all while sipping coffee from her front porch in Costa Rica.
She then launched The Middle Finger Project, a blog and online course hub, which has provided tens of thousands of young "women who disobey" with the tools and mindset to give everyone else's expectations the finger and get on your own path to happiness, wealth, independence, and adventure.
In her first book, Ash draws on her unconventional personal story to offer a fun, bracing, and occasionally potty-mouthed manifesto for the transformative power of radical self-reliance. Employing the signature wit and wordsmithing she's used to build an avid following, she offers paradigm-shifting advice along the lines of:
•  The best feeling in the world is knowing who you are and what you're capable of doing.
•  Life circumstances are not life sentences. If a Scranton girl who grew up in a trailer park can make it, so can you.
•  What you believe about yourself will either murder your chances or save your life. So why not believe something good?
•  You don't need a high-ranking job title to be authorized to contribute. You just need to contribute.
•  Be your own authority. Authority only works as long as you trust that someone smarter than you is making the rules.
•  The way you become a force is by being the most radically real version of yourself that you can be.
•  You only have 12 f*cks a day to give, so use them wisely.
Why?
Who wouldn't want to master the art of being their own authority? This novel is fun, fresh and on-the-nose. We all struggle with imposter syndrome, women in particular, and Ambirge will help you overcome this with The Middle Finger Project. Pulling from her own experiences, she inspires and instills hope in any woman (or person, for that matter) that is ready to break free of the shackles of the own worry that they aren't good enough. Ambirge is inspiring both in matters of business, and life in general, with a down-to-earth and to-the-point read that will have you disobeying, making your own rules, and setting up your own business. The f-bombs are far from off-putting and instead come across as honest, because who hasn't dropped a few of late? Ambirge doesn't pretend that getting what you deserve is easy, either, and highlights the dangers and fears rather than hiding them. But this, too, is refreshingly honest and transparent. You'll trust Ash, and most importantly, you'll trust yourself. Go get this book and then go get your life!
Enjoying Bookstr? Get more by
joining our email list!
Bookstr is community supported. If you enjoy Bookstr's articles, quizzes, graphics and videos, please join our Patreon to support our writers and creators or donate to our Paypal and help Bookstr to keep supporting the book loving community.
Become a Patron!