If you're a fan of fantasy, you've probably read J.K. Rowling, Leigh Bardugo, and all the other must-read authors that swoop you up into a world of dreams and magic. But you may or may not have read Italo Calvino, an Italian journalist known for his short stories and whimsical fiction. Born in 1923, Calvino seems almost ahead of his time in fantasy and immersive settings. These magical twists always come when least expected because, in a Calvino book, anything is possible. If you want to take a dive into Calvino's world (and come out feeling like someone unplugged your connection to reality), here are four books to try.
1. Invisible cities
image via atisuto17 on newgrounds.com
If you love urban fantasy, or you feel whispers of magic in the night lights of the city, Invisible Cities will feel absolutely unreal in the most beautiful way. In this collection of short stories, each chapter features the description of a whimsical city narrated by Venetian traveler Marco Polo who relays his travels through cities of memory, desire, design, the dead, and the sky.
There's a spider-web city suspended above nothing but air on a series of nets, and inhabitants must climb around to get from place to place. There's a city of waste where residents only use everything one time before throwing it away- one bar of soap per hand wash, one set of sheets and pillow per night's sleep. There is a city that is forever under construction to prevent its destruction and a city of wells and buckets built over a massive lake.
Invisible Cities combines fantasy, metaphor, and social commentary in an absolutely breathtaking read.
2. IF ON A WINTER'S NIGHT A TRAVELER
image via archzine.com
The first time you open If On A Winter's Night A Traveler, it'll feel something like trying to read this. This book is about you, the reader, trying to read If On A Winter's Night A Traveler by Italo Calvino, but you keep receiving incomplete copies missing parts of the plot, or completely different books altogether. As a result, If On A Winter's Night A Traveler (and we never find out what that traveler does on a winter's night) ends up combining about eight different plots for novels in total, each one more intriguing than the next. We never find out the endings. It's just as frustrating as it is fascinating and addictive. In fact, this meta novel is more about the experience of the reader. Calvino uses the opportunity to make fun of books, readers, writers, publishers, translators, booksellers, and anti-readers in a way that's strangely relatable.
If you love reading and meta stuff, this is definitely a book for you.
3. THE BARON IN THE TREES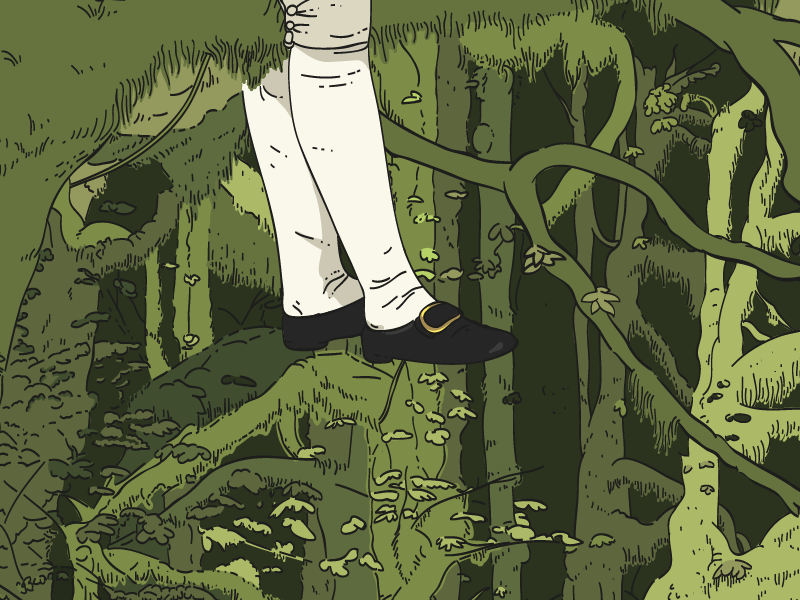 image via dribble
When you were a kid, did you ever dream about running away from home and living in the forest, maybe building a treehouse where you can sulk in peace? The Baron in the Trees is the story of Cosimo di Rondó, a young Italian boy who had similar feelings after a fight with his family. He ran away into the trees and proceeded to live there for the rest of his life. Cosimo creates a whole world for himself in the trees, making friends, helping others, and solving worldly problems.
This book is for any fantasy lover who has elaborate dreams of escape into a world of their own making.
4. MARCOVALDO: The SEASONS IN THE CITY
Image via ioannagalanomati.blogspot.com
I like to think of Marcovaldo as cartoons come to life. Marcovaldo is an unskilled worker living in an Italian industrial city. He's just trying to live a normal life and care for his family, but more often than not his imagination gets the best of him. Imagine the scene in cartoons where a person gets covered in a pile of snow and becomes a snowman. This happens to Marcovaldo. Imagine the scene where a person falls asleep on a raft in the middle of a lake and drifts over a waterfall, still sleeping. This also happens to Marcovaldo. Anything and everything happens to Marcovaldo, and fantasy just keeps intruding on the boring monotony of his working life.
If you're a daydreamer who would rather chase fantasy than stay grounded in reality, you'll probably relate to Marcovaldo as much as I did.
Basically, if you've never read Calvino and you're in the mood for some fantasy that is also self-aware and unique, you HAVE to try one of these.
Featured image via telegraph.co.uk