So I know I have been complaining about the lack of ensemble scenes we have gotten so far in this season of Riverdale. This has been rectified slightly…even if it is not in the way that I would have wanted. We have a wonderful Thanksgiving night dinner at Pop's featuring all of the parents (except Molly Ringwald because she is busy saving Archie's life- more on that later). We get a lot of Falice (FP and Alice) content in this episode, which I am not mad at except that it could possibly hinder Jughead and Betty's relationships, which is not ideal. In another amazing moment, FP almost murders Hiram with a broken bottle after Hiram ordered FP to close down Archie's community center. Oh yeah, Hiram is the mayor now. That happened fast. The only resolution from this little parent soiree was FP realizing that he can be both a gang leader and the sheriff of a town. The best of both worlds, if you will. 
While their parents were getting it on, ironically so were their children. Betty visits Jughead at Stonewall Prep making for some much deserved Bughead content. They plan to spend the weekend doing what they do best—kissing and solving murders. Jughead wonders whether Mr. Chipping actually killed himself or was coerced to do so by an outside force. He finds evidence of Mr. DuPont and Mr. Chipping belonging to the same secret society. As with most secret societies, secrets are shared and could potentially be used as blackmail. In Jughead's mind, this could lead to DuPont blackmailing Chipping enough to cause him to commit suicide. 
Image via TVLine
While the two sleuth around the supposedly empty school, someone approaches Jughead in a bunny mask holding an axe, and because Betty and Jughead are seasoned in serial killers dressed in strange costumes, Betty does the rational thing and hits the bunny with a gold club. It turns out to be Brett and Donna (shocking, I know) and Jughead becomes determined to find out if they had anything to do with Mr. Chipping's murder suicide. Jughead notices a suicide note fall out of Brett's pocket, but he brushes it off as some kind of "secret assignment." The gang plays never have I ever as a way to find some answers. All we learn is that Betty is a badass and we are reminded of that legendary scene where Betty and Veronica kiss. Betty has to sneak around Donna's room to find any clues and ends up finding Mr. Chipping's pin. In a frenzy of emotion, Donna reveals that she was having an affair with the teacher, so that complicates things.
This saga ends with Donna telling the headmaster that Mr. Chipping had pressured and harassed her and his guilty conscience led to his death. Oh, and someone places a camera in Betty and Jughead's room as they get it on during the night. Contrary to popular belief, I had nothing to do with this, but it does make me nervous about the prospect of a sex tape plot because I am not sure I can handle that.
Image via Den of Geek
After Dodger's near death incident, his family start to target Archie and show up to the community center on Thanksgiving night to wreak havoc. And wreak havoc they do. They pull a gun on him and all the kids gathered there for a free, hot meal. Luckily, Molly Ringwald saves the day (as always) and surprisingly, Veronica helps. The group copes with their first Thanksgiving without Fred and honors him with a plague on the community center walls, which Archie refuses to shut down for good reasons. 
After murdering her girlfriend's uncle, Toni and Cheryl have to devise a plan to stop their lurking Aunt Cricket from finding out the truth while they dispose of the body. To do this, they tell the legend of cannibalism in the Blossom family at the Thanksgiving table and insinuate that they too participate in the ritual, claiming the meat pies they serve are garnished with Uncle Bedford's insides. It succeeds in freaking out her family members, who should be familiar with the strangeness of the Blossoms by now. Either way, the girls complete their mission and can spend a relaxing weekend at home. For now at least.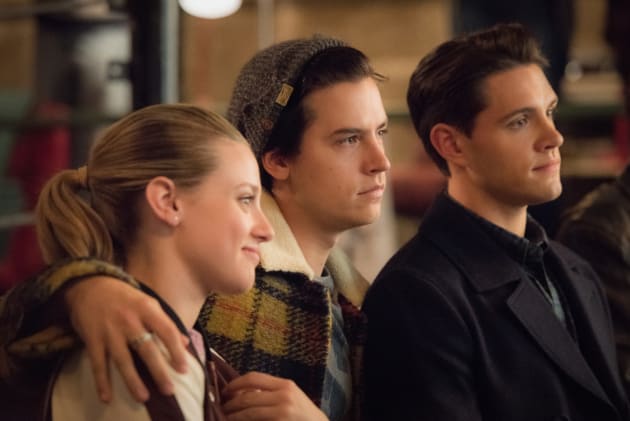 Image via TV Fanatic
Of course, the last thirty seconds of this episode shows all the characters together—something I have been wishing for all along. It is also our only glimpse at Kevin for the whole episode, which is sinful. I would guess that Jughead's teacher drama has not reached its climax yet, but any excuse for Betty and Jughead to work together is good with me. No ominous Jughead death scene this time around, which may be a good sign. Next week promises all of the characters talking to a therapist—something very, very long overdue. Hopefully, after that we can get some wholesome senior year normal student content. It's a long shot, I know. 
No Riverdale next week means a much needed breather from the chaos and some time to develop theories and escape from the confusion and stress that this show causes.
Featured Image via TVLine
Bookstr is community supported. If you enjoy Bookstr's articles, quizzes, graphics and videos, please join our Patreon to support our writers and creators or donate to our Paypal and help Bookstr to keep supporting the book loving community.
Become a Patron!