Let's face it, we're evaluating our lives every single day, so a holiday like "Evaluate Your Life Day" is null and void. However, how often do you really evaluate your bookish life?
To live the best life as a reader that we can, here are 5 tips to help reevaluate your bookish life.
1. Start On That "To-Read" List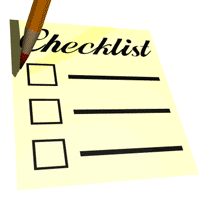 Image via gifer
As much as we love our books, some of us may not make an effort to actually read them. There's that daunting pile of books at home, passionately waiting, desiring to be read and serve their purpose in life. Feel bad yet? Good, now start reading those poor neglected books!
2. Create A "To-Read" List
Image via giphy
Some of us may be procrastinating on that list of books that's piling up, but others are simply floating along, waiting for the right book to just fall into their library. That's not going to happen! Take action readers! Search for books that may become your all-time favorites! You can speak to friends, ask well-read booksellers, or go online⁠—websites like Goodreads can help with finding new books for you.
3. Cut Out The Books That Just Don't Work
Image via giphy
As book lovers, no amount of books is too much, that is absolute. However, there are some that we take a gamble on, and reading them winds up being too much work. Granted, if you're an English major there will be books you are unfortunately forced to read, but that doesn't mean you have to hold onto them. Donate them, gift them to someone you know will love it, or even sell it⁠—the money you make from the sale can be used to buy a book you will actually love!
4. Read Something New
Image via giphy
Let's say you're a veteran among readers. You've read all the books, or comics, or romance novels. That can become rather boring, and if you find that none of the new books you're reading brings you much interest, then it's high time you shake things up! If you're a die-hard fan of action thriller, maybe try out crime mysteries. Or if you are more into the dramatic macabre, try supernatural romance.
And to those of you who have never picked up a graphic novel, I urge you to try it! There is something poetic about the visuals of some of these amazing comics. The same can be said for any comic nerds out there, the comics were inspired by these novels, and there are things that the written art can accomplish that visuals may not.
Overall, you never know what might spark a new interested.
5. Be More Social with Your Reading
Image via 24in48
Share a book, start a book club, there are many ways to be a more social bookworm. Don't go it alone!
Now go out there and change your bookish life!
Featured Image via Shutterstock