You read the title, now let's get going!
But first, let's set up one rule: all of the monsters on this list have to be fictional. No non-fiction real people. No, "I read a book on Manson and he was evil so why is he not on this list?" No. All these people are fiction, figments of an author's imagination.
With that said, let's start off with:
11-Carmelita Spats
Image Via Lemony Snicket Wiki – Fandom
I have nothing against children (that's a lie), but she's just plain EVIL! From the first pages of A Series of Unfortunate Events: The Austere Academy, you know this girl is trouble, and she is. Duncan and Isadora, two orphans already at the academy, are forced to live in a shack due to not having parents or guardians to sign the permission slip for the dorms. Carmelita begins referring to their shack as the Orphans Shack.
And that's before our trio, Violet, Klaus, and Sunny, make their way into the story.
When she and Violet have the same class, Carmelita takes it upon herself to poke Violet with a stick and whisper "orphan" every few minutes. Plus, she takes it upon herself to remind the orphans that, well, they're orphans. Even worst, she calls them "cakesniffers!", a confusing but still ultimately insulting jab at their…lack of cake?

Image Via Pinterest
Come The Slippery Slope, Carmelita  meets Olaf and Esmé Squalor face to face. Without a second thought, she abandons her parents and becomes their child.
Think about it. Her parents sent her to Prufrock Preporatory, a boarding school. I know rich people send most of their kids away for boarding school, but this just stinks that her parents don't even like Carmelita, and honestly, who could blame them?
When Olaf and Esmé have our trio in their grasp they discuss which Baudelaire to leave alive for the fortune, and Carmelita suggests keeping Violet so they can tie her hair to things.
In the Grim Grotto, Olaf shows his human side with his annoyance at this little monster. Who can blame him? Every moment she's on the page she just shows off how bratty she is.
You're a cakesniffer and she eats cake! / Image Via Lemony Snicket Wiki – Fandom
Come The Penultimate Peril we're on Olaf's side when he abandons her and Esmé, since Esmé refuses to discipline the girl and Carmelita needs to be taken out back and shot Old Yeller-style.
What does Carmelita do next? She submits a book about how wonder she is to be used as evidence in a potential trial against Count Olaf and the Baudelaires.
Disloyal, wicked, and evil, Carmelita is a true monster. Don't beleive me yet? Here's the song she sings over and over again in The Grim Grotto:
C is for 'cute'

A is for 'adorable'!

R is for 'ravishing'!

M is for 'gorgeous'!

E is for 'excellent'!

L is for 'lovable'!

I is for 'I'm the best'!

T is for 'talented'!

and A is for 'a tap-dancing ballerina fairy princess veterinarian'!

Now let's sing my whole wonderful song all over again!
10-The White Witch

Image Via Wikipedia
The main antagonist of The Magician's Nephew and of The Lion, the Witch and the Wardrobe, Jadis is cold hearted demon. Not only did she murder God (Aslan), she enslaved Narnia to a thousand year winter. That wouldn't be so bad, trees do annoy me, but she made it so it's never Christmas but always winter.
Meanie!
To make it worse, she persuaded Edmund to turn against his friends with Turkish delight.
I have the right mind to call Jadis Judas.
9-Tywin
IMage Via A Wiki of Ice and Fire – Westeros.org
This is hard, considering a lot of the characters in A Song of Ice and Fire are terrible people, but I say Tywin takes the cake. Yes, Joffrey is a psychopath, but Tywin is worse. Here's why:
He emotionally abuses Tyrion
He uses Cersei as a brood mare
He sends The Mountain off and "didn't know" that the Mountain would rape/kill Elia Martell and bash her two baby children against the wall.
Worst of all, Tywin is a perfectly rational person. This isn't an issue of "bad genes" or anything like that. He was disrespected as a child, and thus he intends to never be disrespected again. Now that he's an adult with the power he always dreamed of, he hasn't stopped. He's not bloodthirsty, he's apathetic. Family is everything, and he won't stop until he holds all the power over Westeros, no matter what the cost.
8-Dracula

Image Via Birth.Movies.Death
I know he's a vampire and that might be a good excuse for biting people, but going strictly off the Bram Stoker's Dracula, The Count is kind of a monster. Yes, he has to suck blood, but I'm not going to hold that against him. At his core he's a predator. There's no right or wrong that comes into play here because when you need to eat, you need to eat.
So he is even on this list? Well, let's look at what he does…
He imprisoned Jonathan Harker.
He impersonated Harker so he could commit heinous crimes in his name, despite the fact he can transform and quickly get away, not impersonation required
He slaughtered an entire ship full of men.
He preyed on Mina just to hurt Jonathan and her family
Dracula doesn't just feed because he needs to feed, he revels in his predator status just to terrify his prey because he finds it amusing. He's like a shark that tells you, "I'm going to eat you whole and you're going to want to scream but you'll be suffocating as you slide down my throat".
Dracula takes it a one step, and a couple more, from what his nature requires.
7-Morgoth

IMAGE Via ArtStation
Morgoth, Melkor, he's known by several different names, but either way he's a monster. We learn that in The Silmarillion that, after falling from glory, Morgoth corrupted all those in his wake. You think Sauron is bad? Sauron works for this monster.
It was only when Morgoth, after declaring war against the Elves and Men and slaughtering much of them during the First Age, that he was bound in chains and thrown into the void, leaving Sauron to trouble the world, as we see in The Hobbit and the Lords of the Ring trilogy.

Image Via Men of the West, Youtube
Worst of all, according to a prophecy, Morgoth will rise again.
Morgoth, Melkor, whatever you want to call him, he's the OG monster in Tolkien's leafy universe.
6-Patrick Bateman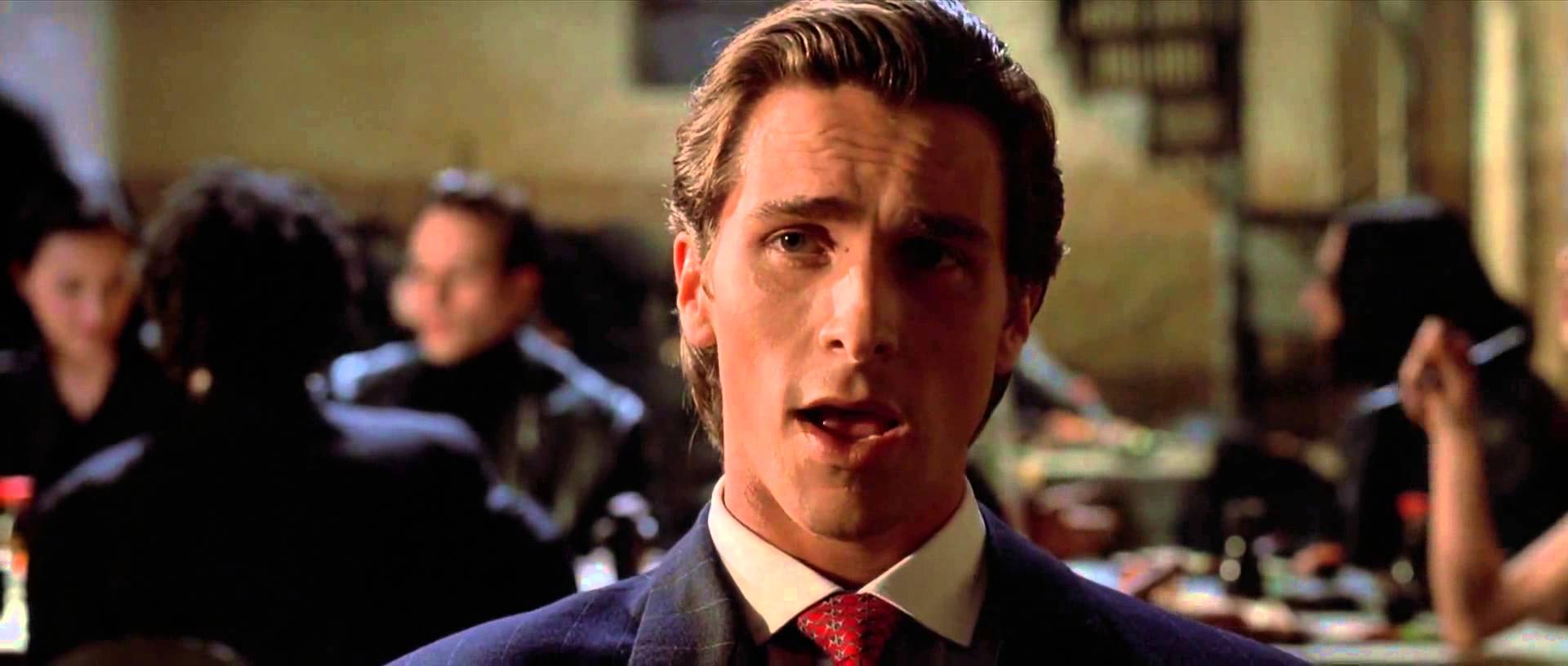 Image Via McSweeney's Internet Tendency
In a world where everyone doesn't listen to each other and people are routinely mistaken for others, Patrick Bateman fades into the background, and he loves that fact. But, subconsciously or otherwise, he leads a double life as a murderer.
Wealthy, materialistic, this Wall Street investment banker does less time working and more time going to parties. Plus, he tortures women and poor people and gays and children. Or maybe he doesn't, it's left very vague whether all his killings are actually happening.
As he loses his grip on reality, there's one pivotal scene in the novel, but not in the Christian Bale film adaptation, where Patrick Bateman gives his girlfriend a cake. Aww!
She eats it, calling it minty. Twist! Since he doesn't like his girlfriend very much, he given her a chocolate covered urinal cake.

Image Via Metro
Real or imaginary, that's…uh…ewwwww
5-Annie Wilkes
Image Via Bungalower
Annie Wilkes is the scariest character Stephen King ever created. Obsessive, psychotic, and worst of all…human.
She only appeared in Misery, and she certainly made an impression. The embodiment of every obsessive fan out there, Annie finds popular writer Paul Sheldon after a car crash. So she kidnaps him, ties him to a bed, and refuses to let him go until he writes a book. Paul is forced to indulge her every whim lest there be tragedy consequences.
When he tires to escape, he chops off his foot with an ax and cauterizing his ankle with a blowtorch. When his typewriter breaks down, she cuts off his thumb with an electric knife. When a state trooper comes to her house, she runs him over with her riding law mower.
4-Christian Grey
Image Via Inverse
The titular character of Fifty Shades of Grey, Christian is abusive, emotionally unstable, and an all around prick who the author doesn't think is problematic any way.
For one, he claims he's in BDSM but in reality he just likes hurting women who have brown hair. Like his mom "the crack whore". When Ana tells him she's a virgin, he stomps around the room before deciding that he has to 'take care of it'.
Yes, he was abused by an older woman, but he refuses to say she did anything wrong. Not only does he refuse to say she did anything wrong, but you better not tell him he's wrong or else…
He also gives Ana whine while she's signing a contract.
3-Victor Frankenstein
Image Via Wikipedia
Not the monster, the doctor who created him. This scientist is the true monster of the story.
After creating life itself, Victor looks upon his creation and sees something that is clearly not human. He sees something breathing, thinking, alive, but less than perfect, and so he rejects it, shuns it from the world.
Image Via Owlcation
The creature seeks revenge against him, but are we to blame the creature? Forced away from the one who gave it life into an unforgiving world, the creature could not thrive, only survive. His vengeance is not just wrath, it's justice for the mistakes Victor has created.
While he regrets creating the creature, Victor does not look upon the creature with understanding. Instead he calls the creature 'fiend' or 'demon' and pursues him to the Arctic, intend to kill it. He falls through the ice and dies, warning other not to meddle with life, but failing to teach them the lesson of empathy.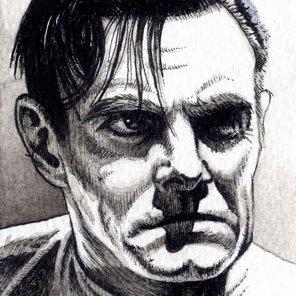 Image Via Twitter
Cold blooded, Victor Frankenstein is the monster, the only monster, in Mary Shelly's Frankenstein; or, The Modern Prometheus.
2-Humbert Humbert

Image Via Rhiannon Hart
Humbert Humbert uses language to seduce the readers, and he almost succeeds. But lest we forget: he's a pedophile, obsessed over a girl he calls Lolita. That's why the book is called Lolita.
For the record, her real name is Dolores.
Back to Humbert. He marries a woman to get closer to his daughter and, once the woman dies, he kidnaps her.
The worst of it is that Humbert Humber makes himself a sympathetic pedophile. He criticizes the vulgarity of American culture, establishing himself as an intellectual, and considers his sexuality to be a sign of his culture.
A monster, if I ever saw one, but nothing compared to our number one pick…
1-The Judge

Image Via AMazon
"The Judge" appears Blood Meridian very early on. We're following the kid who goes to a revival meeting when a man bursts into the tent and tells the crowd that the preacher up on stage isn't a real preacher, but a man wanted in three states.
The man who burst into the tent is "The Judge" and you might not know it, but he's one you have to watch out for.
But compared to the illiterate drunken rapists surrounded you, the Judge is a breath of fresh air. Just look at that first scene! He showed everyone who that 'preacher' truly was. He has morals.
If you think about it, that means you've put your trust into this monster.

Image Via PInterest
You see, when the Judge burst into that tent he saw the kid. He didn't just look at him, he saw into his soul. That's good. Cormac McCarthy never says who the Judge exactly is, if he has gone mad, but if they told me he wasn't human, if they told me he was the personification of evil, I'd believe it.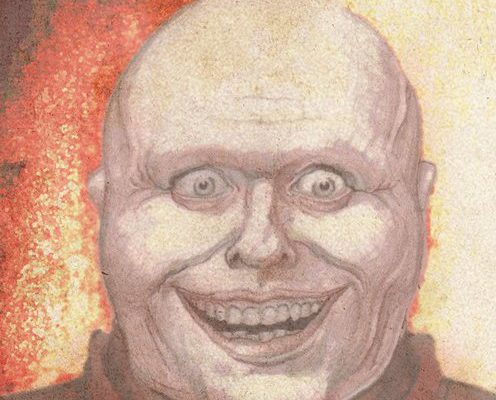 Image Via Texas Hill Country
Featured Image Via Youtube Channel Men of the West, Texas Hill Country, and Wikipedia