If you're a twenty-something like me, you've probably read New Adult novels before—maybe without even knowing it. 
New Adult is a genre that has only cropped up in recent years. St. Martin Press is credited with the term, using it in their 2009 contest seeking "great, new, cutting edge YA with protagonists who are slightly older and can appeal to an adult audience," according to a Writer's Digest post from 2009. St. Martin's Press described the work they were seeking as "kind of an 'older YA' or 'new adult'" (Writer's Digest).
While New Adult fiction has grown significantly since then, it can still be difficult to define and differentiate from other genres; it's muddled in between Young Adult and Adult genres, often drawing on tropes from the both of them. While the literary world is still trying to solidify the definition of the genre, there are a few ways to identify New Adult books right off the bat.
Character Age
According to Goodreads, New Adult protagonists usually fall between "the ages of 18 and 25 with the cap at 30ish" (Goodreads). This means that while Young Adult deals more with teenagers and a high school setting, New Adult follows characters through their college experiences and beyond.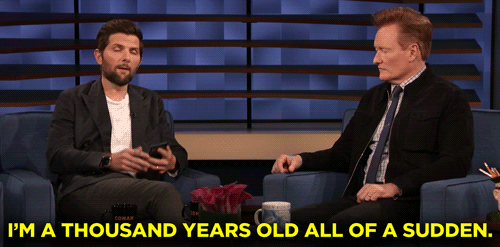 via giphy
But New Adult books still explore many of the same themes as Young Adult. Many New Adult books look at what it means to be an adult, whether this be transitioning to college, finding love, or attempting to get a job in the real world. Colleen Hoover's romance novels are a great example of this: many of her New Adult characters are college students or recent graduates. 
Still, there are some overlaps to the two genres. For instance, Rainbow Rowell's Fangirl follows Cath through her first year of college, but is marketed as Young Adult. Likewise, Leigh Bardugo's new Ninth House features a Yale freshman, but is marketed as Adult Fiction. Ultimately, age plays a factor in New Adult, but isn't the be-all-end-all of the genre. 
Profanity and Sexual Content
Just like anything, profanity and sexual content plays a big role in the New Adult genre. Think of movie ratings: where Young Adult is PG-13, New Adult and Adult are closer to Rated R. 
via giphy
There are certain things that aren't necessarily "acceptable" in Young Adult, and a large part of that is sex scenes. Any romantic encounters or sex scenes in Young Adult are typically hinted at, as opposed to written outright. But in New Adult, anything's fair game. A great example of this is Sarah J. Maas' A Court of Thorns and Roses—a series that has numerous sexual encounters (if you know, you know). 
Profanity also plays a role, but less significantly. Young Adult novels are pretty clean in terms of profane language, and if there are swears, they're often light ones, few and far between. New Adult, on the other hand, isn't constrained by this.
Subjectivity
Overall, New Adult can be hard to pin down, but most have defined it as Young Adult with a twist of more adult themes. Still, it's pretty subjective. At the end of the day, if you think something's New Adult, it probably is—even if it's not advertised that way. Some books on Goodreads are even shelved as both New Adult and Young Adult, showing that even the readers are having trouble differentiating the two. 
via giphy
We'll just have to wait for the literary world to define New Adult a little more clearly. In the meantime, here are some New Adult books to read (You can decide for yourself if they meet New Adult standards!):
Regretting You by Colleen Hoover
A Court of Thorns and Roses by Sarah J. Maas
The Boy Next Door by Meg Cabot
Again, But Better by Christine Riccio
Fangirl by Rainbow Rowell
Red, White & Royal Blue by Casey McQuiston
Featured Image via Good E-Reader
Bookstr is community supported. If you enjoy Bookstr's articles, quizzes, graphics and videos, please join our Patreon to support our writers and creators or donate to our Paypal and help Bookstr to keep supporting the book loving community.
Become a Patron!