There is only a month to go until the Game of Thrones' Season 8 premiere, and there are countless theories, teasers, clues and speculation about what's to come.
But of course, since this is Game of Thrones we're talking about, there's nothing hinting that a happy ending is in store!



A warning for anyone not caught up or trying to avoid spoilers! | Image via Imgur.

Here's everything so look forward to for Game of Thrones Season Finale!

This season might break you.
Actress Maisie Williams, who plays Arya Stark said in an interview with Entertainment Weekly, "There are moments you're just broken down as a human and just want to cry."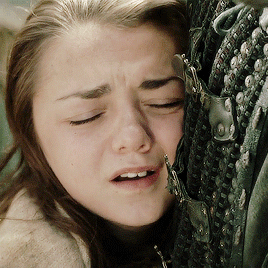 Image via aminoapps.

And we thought the series up to now was hard to swallow, but it seems like this season finale will end with a bit of heartbreak for all of us watching!

2. Jon Snow will learn the truth about his lineage.

In a Twitter post by James Hibberd, Entertainment Weekly's Editor, Kit Harrington is quoted revealing that the ice and fire power couple (Daenerys and Jon) will learn the shocking truth about one another.


We'll just have to see if dating your Aunt/Nephew is a deal breaker for either of them. And speaking of deal breakers, there's Jaimie Lannister, who left Cersei Lannister in order to uphold his promise in aiding the North in the battle against the White Walkers.

3. Jaimie Lannister finally breaking away from Cersei Lannister.
Image via Winter Is Coming.

While some fans may see this as his breakup with his sister (which will always be a cringeworthy topic for everyone), actor Nikolaj Coster-Waldau feels differently. In an interview with Indie Wire Coster-Walder says:
I think that you never finish with your family even if you want to…for Jaimie…[h]e'll never be able to not have Cersei be a part of what makes him what he is.

Chances are Jaimie and Cersei will cross paths again, as to what their relationship will be at that point is still a big question. A lot of paths crossing will be taking place in Season 8 as well.

4. Allies and Enemies will finally share screen time.
Image via Entertainment Weekly

Director David Nutter has revealed that "there's one scene where there's so many of them together it feels like you're watching a superhero movie." Does this mean that new alliances will be formed? Will petty disputes finally be put to the side? Or perhaps there will be more drama!
(I'd put my money on the drama.)

5. Another intense battle like "Battle of the Bastards" will take place.
Image via giffferplanet.

Emmy winner Miguel Sapochnik, who directed the episode "Battle of the Bastards", as well as the episode "Hardhome", was brought in to create a nonstop battle between the show's heroes and the Army of the Dead.
According to Entertainment Weekly in their First Look at Season 8, the battle is described as "unprecedented and relentless"

6. We Will Find Out Who Will Claim The Iron Throne.

Hyping up the premiere, HBO put out the Ad Campaign #ForTheThrone. It's been the question that everyone alludes back to for the end of the series, both for the show and the book. More recently, HBO shared a post on Instagram giving every main character a few seconds of time on the throne.


No clues have been given as to who will win in the end. Unfortunately we will have to sit, watch, and find out for ourselves.

7. Your favorite characters will probably die.
Image via The Wrap.

At this point we have to accept this one, whether we like it or not. It's what this series has been built on: tragic, and shocking, character deaths.
Every character is in danger. For crying out loud, even Sansa might be getting battle armor!
And let's not forget Arya's quest for revenge! That may either end in success or death for the young Stark.


Image via Junkee.

So remember to keep spare boxes of Kleenex close by, and a good glass of wine helps too.


Image via Twitter.

Then there's the even more pressing question that's on every fans mind! Even more important than who claims the Iron Throne! Is Tormund alive?!


Image via ballmemes.

Ok, maybe that's just me and it's not the "big question" that everyone wants answered. But that question and many more will be answered starting April 14th!

Winter is almost here.


Image via Giphy.


Featured Image via Medium.