Celebrate Toni Morrison's legacy with these powerful reflections on life and death.
Toni Morrison, celebrated author of at least 30 books, has passed away, the BBC reports today.
Image via People
Morrison's most famous novels include The Bluest Eye and Song of Solomon, and Beloved won both the Pulitzer Prize and The American Book Award in 1988. Morrison won more than 30 across her 40 year writing career, including the Nobel Prize for Literature, Commander of the Arts and Letters, Library of Congress Creative Achievement Award for Fiction, The Presidential Medal of Freedom, and honors from several prominent universities. Morrison is quoted, as well, on The National Memorial for Peace and Justice.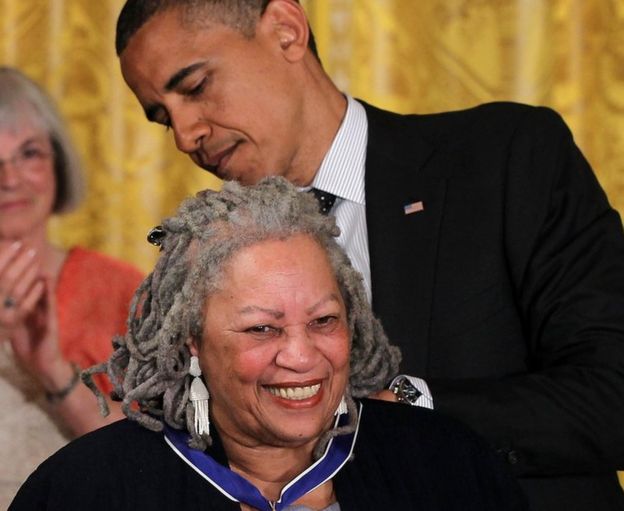 Toni receiving the Presidential Medal of Freedom from Barack Obama, April of 2012 | Image via BBC News
Toni Morrison was a senior editor at Random House for 20 years before becoming a professor at Princeton, and held teaching positions at many prestigious universities, including Yale, Bard, and Rutgers.
Morrison's death was confirmed by her family this morning, after a brief illness. She leaves behind a sorrowful family and a monumental legacy of massive contribution to the literary cannon. Toni's words were an inspiration for women and people of color across the world.
Morrison was 88, and passed away peacefully in her sleep. She will be missed dearly.
Image via CBC News
Featured image via Slate Magazine 
This insanely talented author has something incredible for us.
Or maybe it's a lot of things in one.
The award-winning Morrison recently released her new book The Origin of Others (The Charles Eliot Norton Lectures)
and we have no doubt it will be as classic as the rest of her work.
Image Via Amazon
It was back in the Spring of 2016 that Morrison delivered a series of Norton Lectures within Harvard University touching on subjects of race, literature, human fears, and social movements. Now those lectures have become six essays stitched together in one eye-opening volume.
Image Via CNN
Morrison takes a hard look at the concept of otherness within her own novels, such as Beloved
and Paradise
. She pulls from the rich history of setbacks and victories of race in America. She also looks at the nineteenth-century efforts to romanticize slavery in the literary world. By drawing on Harriet Beecher Stowe, Ernest Hemingway, and William Faulkner, among other authors, Morrison is able to provide various viewpoints a megaphone.
Once again she gives us something that will launch our thoughts back in time while still firmly aware of contemporary issues.
Feature Image Via Highbrow