Martin Casas has been collecting comic books for a long time. A long enough time to acquire over 3,000 of them.
We can only imagine the devastation when all 3,000 of these comic books were stolen from Casas' storage unit one night, leaving only a destroyed padlock behind.
The Riverfront Times reported on the story, and said that while Casas was deeply upset by the loss of comics that held great sentimental value, he never lost faith that the comic books would find their way back to him.
Casas owns a comic book shop of his own, Apotheosis Comics and Lounge, and he asked his employees to keep their eyes peeled for anyone selling a large amount of comics.
The inside of Apotheosis Comics and Lounge/Image via St. Louis Magazine
Within days of the comics being stolen, Apotheosis Comics received a call from a woman looking to sell a box of comics. The box was brought in for review, and the Riverfront Times reported that Casas knew the box belonged to him the moment he saw it.
[Casas] had written 'Cap' on the side, designating it as a box of Captain America comics. Inside, he searched for one particular comic, the third installment of the Captain America Truth series. He had gotten it years ago and knew his copy had a small red mark on the corner.
Casas found what he was looking for, and immediately informed the police. Casas also called the woman who brought the comics, and offered to buy them for a couple hundred dollars, an exchange she would have to come to the shop to complete.
Save for a slight delay, the woman arrived in the shop as planned. Unbeknownst to her, there was a cop hiding in the attic, another in the basement, and one more ready to arrest her boyfriend who had driven her to the shop. The couple were quickly taken into custody, with Casas waving unassuming customers the whole while.
Casas felt somewhat bad for the pair of burglars, the Riverfront Times reported. He stated:
No one ever wakes up and says, 'I want to grow up and break into storage units…
Casas' was simultaneously relieved however, when the pair told police where they could find the other boxes of comics that were stolen from the storage unit.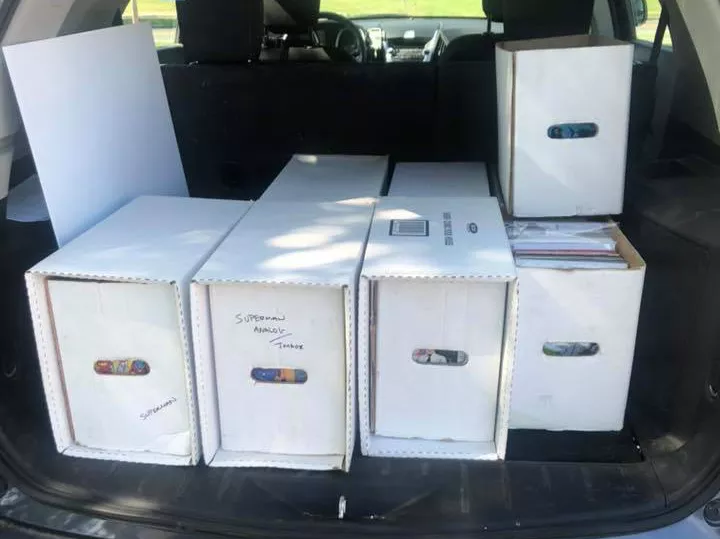 The recovered comics/Image via Riverfront Times
He was told to pick them up from the precinct, and all was right with the world, though Casas did state:
It was absolutely the most bizarre 24 hours of my life.
Featured image via KiwiReport