Game Of Thrones is ending this year, and all the sadness we've endured over the years watching our beloved characters perish will be nothing compared to the realization that we won't be able to see them again on the small screen.
But while our favorite knights and direwolves will leave us, their legacy will live on in some awesome and awkward merchandise.
WARNING: Minor spoilers ahead
---
Image Via Amazon
The King of the North will save us from the White Walkers, and he'll also save you computer data from being erased. A Ghost version is also available along with several other characters.
Image Via Amazon
Put it over your toilet and rule the porcelain throne. There are other places you can put it, but it looks so much better in the privy.
Image Via Amazon
A tragically hilarious collectible. Still too soon?
4) House Sigil Christmas Lights
Image Via Amazon
Raise your Christmas trees for House Stark. Adorn your tree with these beautiful lights with all of the house sigils on them.
Image Via Amazon
A set of three candles, one for each dragon, to really make you feel like Targaryen royalty.
Image Via Wine.com
"Because that's what I do. I drink, and I know things." Also available in Chardonnay and a red blend.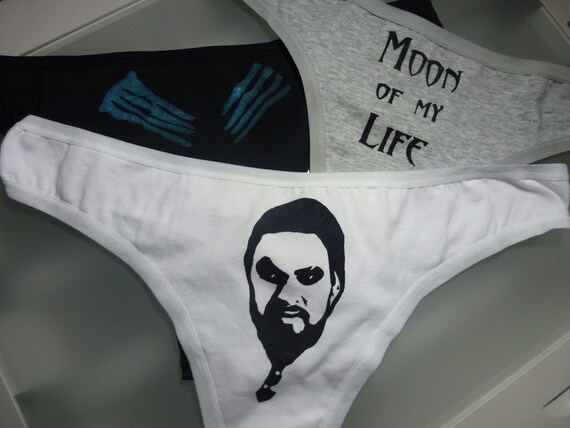 Image Via Etsy
Available on Etsy, this questionable article of clothing also comes in a Daenerys version. Out of all the Khal/Dany couples merchandise out there, this one is definitely the strangest.
Image Via Amazon
Feel like a KingSlayer every time you open a letter with neat little letter opener. They're very rare, so snatch one up quickly.
9) Adidas Sneakers
Image Via SneakerNews
These won't be ready until Spring, but Adidas released images of six different shoes themed around the various houses.
Anything here suit your fancy?
Featured Image Via Nerdist