In celebration of Lovecraft's birthday (August 20th), we're posting some Lovecraft related horror goodness!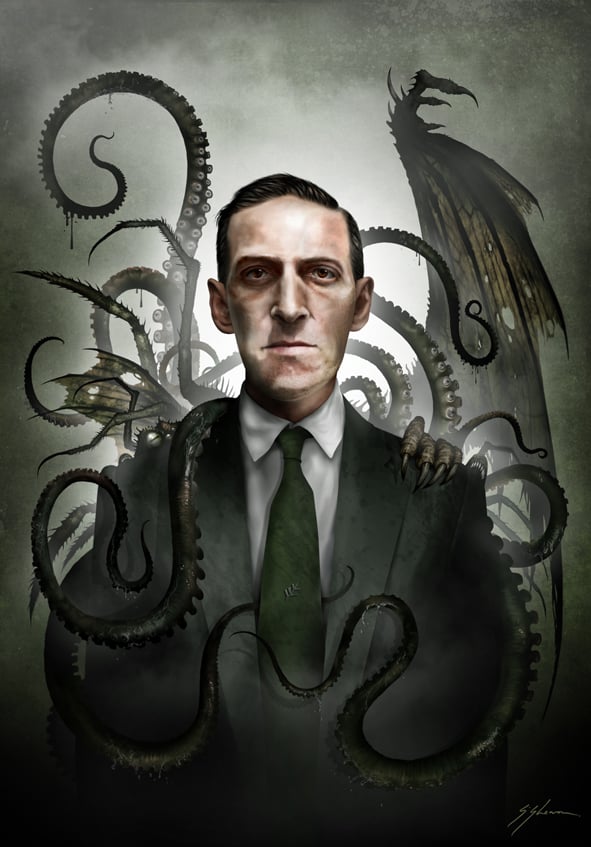 Image Via Mr. Sam Shearon-Big Cartel
Often with Lovecraft, a lot of his work tends to boil down to his most infamous creation: Cthulhu. Yes, Cthulhu is quite memorable, being an octopus-headed alien sea monster with giant wings, but there's tons of other Lovecraft stories out there beyond Call of Cthulhu, each with their own weird, terrible, and petrifying monsters.
So, let's celebrate Lovecraft's work through going over some of his other creations and let old Cthulhu have a rest! Brace your mind, here are the varied creations of the Lovecraft Mythos!
Image via The H.P. Lovecraft wiki
10. Kassogtha 
This writhing mass of tentacles is said to be Cthulhu's sister and mate (yuck). She's describe as literally just a big pile of tentacles and in turn gave birth to Nctosa and Ncothlu, Cthulhu's daughters. Incest seems a minor horror in the Lovecraft universe but its pretty gross nonetheless and shows that Great Old Ones' family trees are messed up. As for Kassogtha herself, her abilities are ill defined but she can grab her victims with her tendrils and yank them in to devour them whole. She's also noted for particularly bad tempered and violent, causing other Old Ones to tread carefully around her.
Image via Pininterest
9. Ghast
Hailing from Lovecraft's surreal Dream Cycle, ghasts are humanoid creatures that live in the vaults of Zin. They have a vaguely human face, but lack noses or ears. They also have kangaroo-like legs which they use to hop around on and are very swift, strong, and agile. They hate sunlight and thus dwell in complete darkness, with sunlight capable of destroying them. Hunting in packs, they are fearsome hunters who will practice cannibalism if they get too hungry.
Image via H.P. Lovecraft wiki
8. Mi-go
Aliens that looks like a cross between fungus and lobsters, mi-gos sure are strange. They fly through vacuum of space, zooming between Earth and Pluto with the aid of their supernatural wings. They worship other Lovecraft gods, acting as servants to them, being classified as a hostile and rather vicious alien species. In ancient times, they waged a war against the Elder Things on Earth before humans came into existence.
Image via Wikipedia
7. Shoggoth
The Shoggoths were created by the Elder Things as a slave race, taking the form of grotesque blobs covered in dozens of eyes. They have tremendous strength and are nearly invincible against forms of physical attack. Eventually, they developed a consciousness of their own and rebelled against the Elder Things, resulting in them roaming the dark spaces of the world in the modern day. Pray you don't need one.
Image via The H.P. Lovecraft wiki
6. Dagon
A deity who rules over the Deep Ones, Father Dagon, as he's called by his worshippers, is gigantic sea creature that dwells in the seas. Worshipped by a devout cult of humans and Deep Ones, Dagon only appears physically in a short story named after him, where he erupts from the ocean to embrace an unholy monolith but his presence casts a long shadow over the series, with his children being extensively featured.
Image via Lovecraft wiki
5. Azathoth
"The Blind Idiot God', Azathoth is basically a sentient singularity, sitting at the very center of the universe. Azathoth lies constantly in a deep slumber, kept there by other powerful deities who constantly sing to the creature to keep him in his induced, eternal hibernation. For if Azathoth were to ever awaken, the entire universe would end just like that. All it would need is a moment where it opens its eyes and boom! Everything just gone.
Image via Lovecraft wiki
4. Night-gaunts
Nightgaunts serve many gods and sometimes capture people climbing the mountains in the Dreamlands. They were inspired by nightmares Lovecraft had in his youth. Slithering through the Dreamlands, they collectively gave birth to the human conception of demons, with their long tails, closed feet, horns, and great bat-like wings. They're said to have been inspired by nightmares Lovecraft himself suffered from.
Image via Lovecraft wiki
3. Y'Golonac 
Y'golonac is a god of pure evil and sadism, who gets his kicks from torturing humans. He gets off on dozens of perversions that can barely be conceived by human imagination and perception, his acts stretching the limits of human comprehension. He takes a physical form through possessing human hosts, manifesting as a obese man without a head or neck, with a mouth in the palm of his hands. He seeks humans with similar perverse tastes to become his servants, coming to them when they read forbidden literature. His true form is sealed behind a wall of bricks, deep in ancient ruins beneath the earth.
Image via lovecraft wiki
2. Yog-Sothoth
Yog-Sothoth is another incomprehensible being. It defies visualization. Although it does appear to humans usually as a mass of glowing orbs or other strange tendrils reaching out from the abyss. There is an agreement between many writers and fans that Yog-Sothoth is an omniscient being outside of the material realm, meaning that it is ultimately a god that knows all.
Image via Lovecraft wiki
1. Nyarlathotep 
Nyarlathotep is also known as the crawling chaos. It is an evil god that can shape-shift into over a thousand different forms. The character was first found in Lovecraft's poem titled Nyarlathotep. It was published in 1920 and is part of the original Lovecraftian canon. This being also appeared in a few other stories published throughout the years. This beast is so scary that like the sight of a basilisk, one glance is enough to drive a man insane. When it assumes the form of a human, it turns into an Egyptian Pharaoh. Under the auspices of humanity, this sinister man reels in followers with his slick tongue and turn of a phrase.
Featured Image Via Reddit/Cthulhu by Andrée Wallin