The end of 'Game Of Thrones' brought an onslaught of criticism and bitter backlash from fans, now the Meme Lords have risen with a vengeance to share their memes.

Behold the all-powerful Stark family in all their glory

https://twitter.com/sxmslick/status/1130836673581985792


2. All the major villains throughout Game Of Thrones.
The most hated villains in Game of Thrones 😂 #GameOfThrones pic.twitter.com/kit0MIY4qC

— Game of Thrones Memes (@Thrones_Memes) May 21, 2019
3. This sums up the series end pretty well for the Stark siblings.
Image via Twitter
4. The first rule of Game Of Thrones, don't get your hopes up.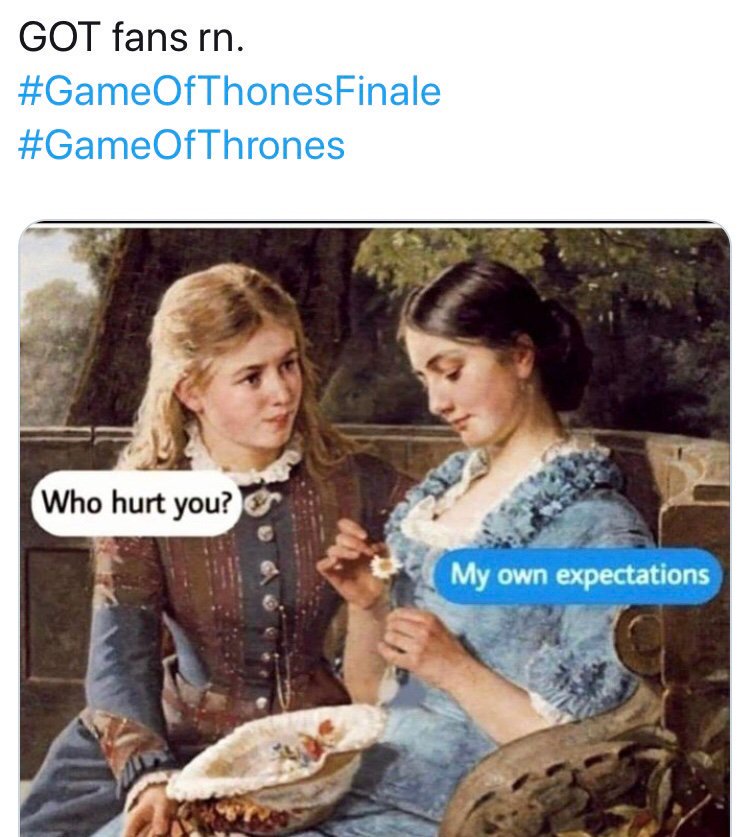 Image via Twitter
5. The dream job.
Image via ebaumsworld
6. Jon trying to be a good hype man for Danny.

https://twitter.com/GOTwasRushed/status/1130757599543025664


7. The perfect sequel to Game Of Thrones.
Image via Instagram
8. Drogon's awkward scene.
Image via Know Your Meme
9. What was really going on in Drogon's mind during that scene.


Featured Image via News18