Shirley Jackson (December 14, 1916 – August 8, 1965) wrote six novels, two memoirs, and more than 200 short stories. Her work remains some of the most iconic in the horror and mystery genres, and has inspired many adaptations. Here are some you should definitely watch to  celebrate her life and work:
 Lizzie (1957)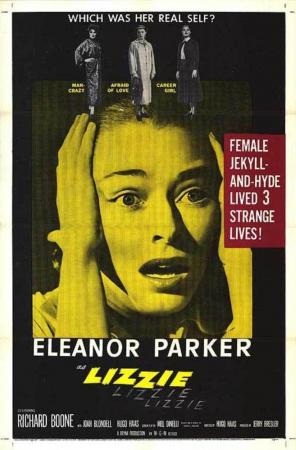 image via filmaffinity
Based on Shirley Jackson's novel, The Bird's Nest, Lizzie follows Elizabeth, who has reccurring headaches and trouble sleeping. Elizabeth receives threatening letters signed by Lizzie, but she does not know anyone who goes by that name. As her situation deteriorates, she goes to a Dr. Wright who hypnotizes her. Deep in her subconscious, Dr. Wright finds three personalities; Elizabeth, the shy one that everyone knows; Lizzie, the wild one like her mother; and Beth, the good one she should have become.
We Have Always Lived In The Castle (2018)
image via amazon
Based on the novel of the novel of the same name, We Have Always Lived in the Castle, starring Taissa Farmiga, Alexandra Daddario, Crispin Glover and Sebastian Stan follows Merricat, Constance and their Uncle Julian who live in isolation after experiencing a family tragedy six years earlier. Then, cousin Charles arrives to steal the family fortune and threatens a dark secret they've been hiding.
The Haunting Of Hill House –  Season One (2018)
image via imdb
One of three adaptations of Shirley Jackson's novel of the same name. Loosely based on the novel, The Haunting of Hill House (2018) created by Mike Flanagan, follows the Crain family across two timelines, one in the past during when they move into Hill House and attempt to renovate it, and one in the present while they reckon with the terrible things that happened in it.
The Haunting (1963)
image via film reviews 101
In this adaptation of the novel, directed and produced by Robert Wise, Dr. Markway, doing research to prove the existence of ghosts, investigates Hill House, a large, eerie mansion with a lurid history of violent death and insanity. With him are the skeptical young Luke, who stands to inherit the house, the mysterious and clairvoyant Theodora and the insecure Eleanor, whose psychic abilities make her feel somehow attuned to whatever spirits inhabit the old mansion. As time goes by it becomes obvious that they have gotten more than they bargained for as the ghostly presence in the house manifests itself in horrific and deadly ways.
Shirley (2020)
image via wikipedia
While not an adaptation, this biographical drama directed by Josephine Decker stars Elizabeth Moss as Shirley Jackson. Shirley follows a young couple that moves in with Shirley Jackson and her Bennington College professor-husband, Stanley Hyman, in the hopes of starting a new life. Instead, they find themselves fodder for a psycho-drama that inspires Jackson's next major novel.
Featured image via letterboxd