According to Sesame Street Magazine, October 15th is National Grouch Day—a day for all Grouches to celebrate their way of life.
Image Via Facebook
Since Sesame Street Magazine taught me everything I know, we're going to celebrate National Grouch Day the only way we here at Bookstr know how—by making lists.
6-Ebenezer Scrooge
Image Via The Imaginative Conservative
The quintessential grouch, Ebenezer Scrooge is a cheap old miser who brings misery wherever he goes.
The cold within him froze his old features, nipped his pointed nose, shrivelled his cheek, stiffened his gait; made his eyes red, his thin lips blue; and spoke out shrewdly in his grating voice
That's a nice way of saying he's a grouch. A miserable, old, grouch. Literally A Christmas Carol is about him "warming his cold heart", a poetic way of saying him becoming less a dick.
Image Via Your WDW Store
A less talented writer would make A Christmas Carol an anatomy lesson about Scrooge getting that stick out of his butt, but (pun intended) luckily Charles Dickens is a talented writer. He gives us a wonderful story, retold countless times, about this cold-hearted grouch warming up into a bright happy person during one of the coldest nights in winter.
5-The Grinch
What is it with stories about grouches becoming better people being set on Christmas? Is it because Christmas is so cold and authors can't resist the irony of a grouch shedding their cold heart on one of the coldest days in the year?
Either way, the Grinch is a Grouch. In fact, he looks like Oscar the Grouch!
Image Via Elise Skidmore
And don't blame his grouchiness on the face he has a medical condition—his heart is literally "too sizes too small"—and don't give me that nonsense that the Whos were mean to him. That's only in the Jim Carrey movie, and we're talking about Dr. Seuss's How The Grinch Stole Christmas here, so you can…
His hatred of a holiday stems from one fact and one fact only: he hates seeing other people happy. Talk about a grouch!
4-Argus Filch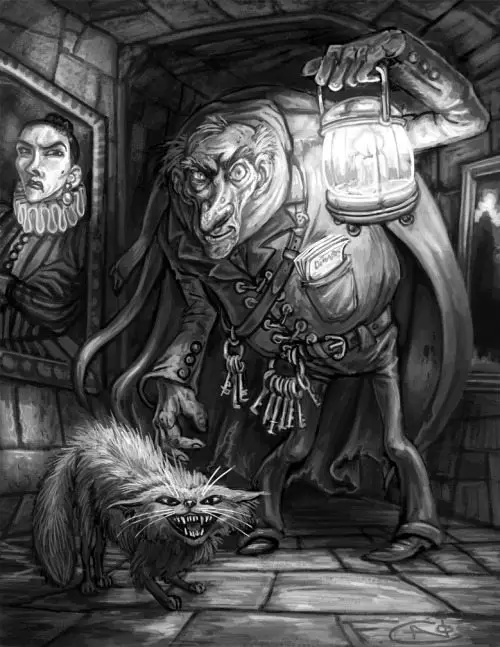 Image Via The Harry Potter Lexicon
For all you Harry Potter fans and all you Hermione fans and all you David Bradley fans.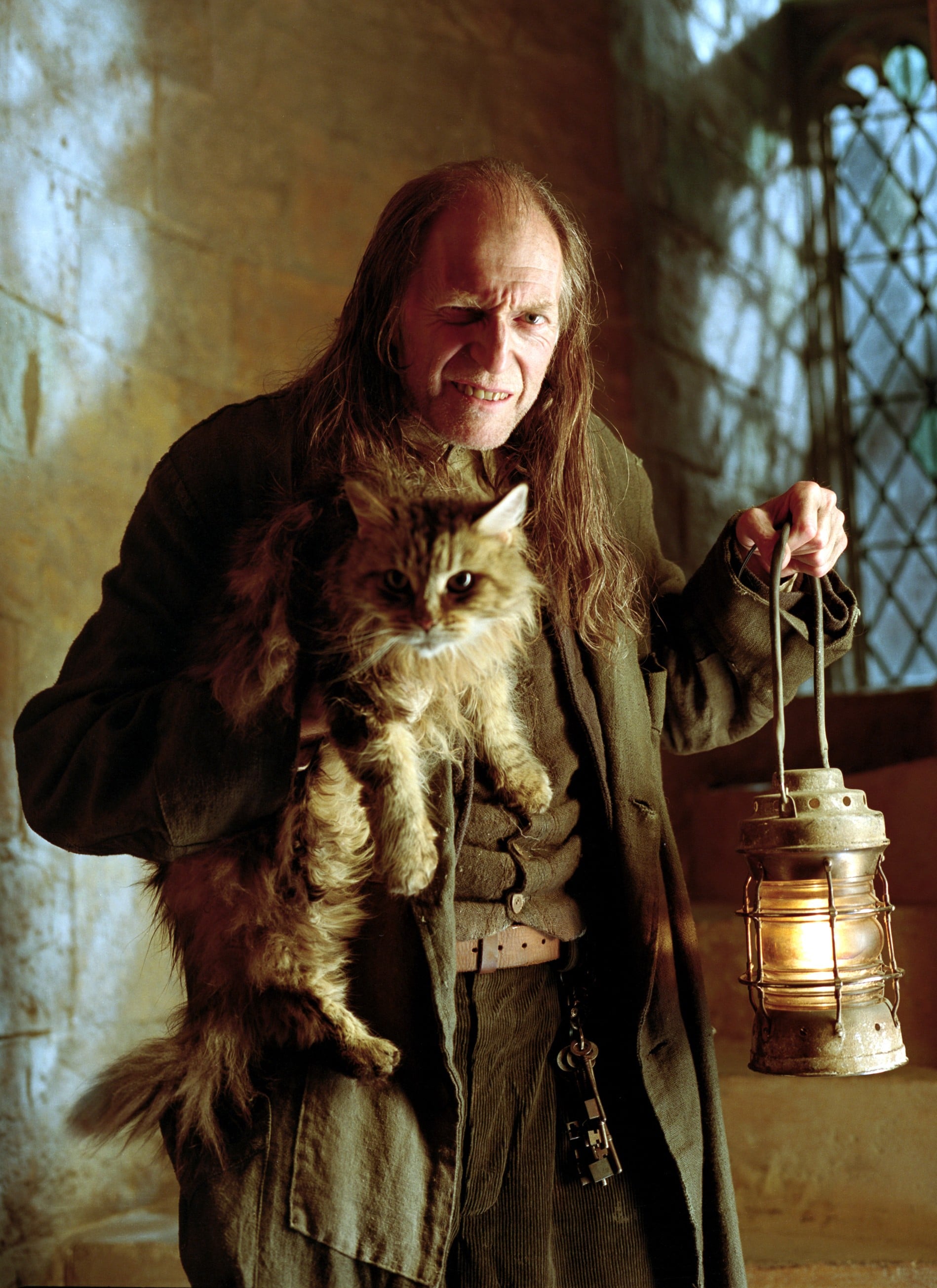 Image Via PopSugar
When we first meet Filch, he's quite an unpleasant person. He hates children, students in particular, and it's quite a strange hatred seeing as he works in a school. I don't know, maybe the pay is good.
Still, he barks "What are you doing?!" so much you'd think he'd have ground that gravelly voice of his into dust. Be wary, from the students who sneak out at night to the ones who forgot to wipe their feet! Actually, revise that, even if you're not doing anything wrong, you should still avoid him.
Miserable all the time, he's rather sadistic, taking this unnerving delight in dishing out punishment to the students of Hogwarts. Look, and re-read, how much he enjoyed punishing young Harry in the first book when Harry was only eleven!
The only thing he seems to love is his cat, Mrs. Norris, but everyone loves cats.
Image Via Odor Klenz
Granted, as we learn more about him, his grouchiness becomes more understandable. He's harassed by Peeves, the Poltergeist, and he's a squib, meaning he can't perform magic. He also evacuated all the students in the Battle of Hogwarts and, despite being unable to perform magic, fought against the Death Eaters. So you know what? Maybe he's not too bad…
Image Via Reddit
He's actually pretty cool, but still a major grouch.
3-Walder Frey
For all you Game of Thrones fans and all you David Bradley fans, Walder Frey.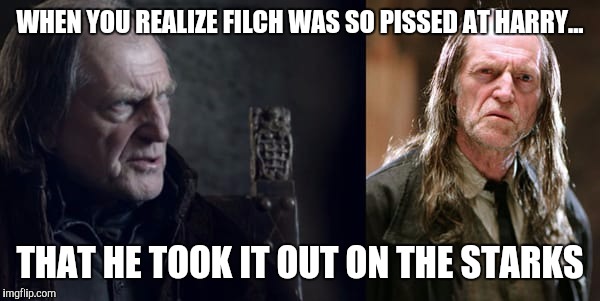 Image Via ImgFlip
Ignoring his part in the Red Wedding, Walder Frey is still a prick.
After farting his way after Ser Edmure Tully's call to arms because he wants to arrive when the battle is done, Walder Frey is immediately a prick and it only gets worse from there. When Catelyn Stark meets with him, we find that he's not a nice old man at all. Toothless and wrinkled, he sits in his chair and brags about how he is still sexually active. With 28 kids roaming around, you'd think he'd care about at least one of them.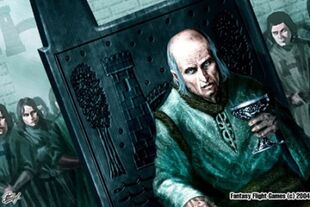 Image Via A Song of Ice and Fire Wiki
Not a chance. Even at the age of 91, Walder Frey is as self-serving as ever. Being the leader of his house, no one trusts him or his family. Thus, instead of making amends, Walder sees fit to complain about this and continue to deserve the contempt of noble houses throughout Westeros.
He's a miserable person to be around. A real grouch.
And you know what? I'm not going to ignore the Red Wedding.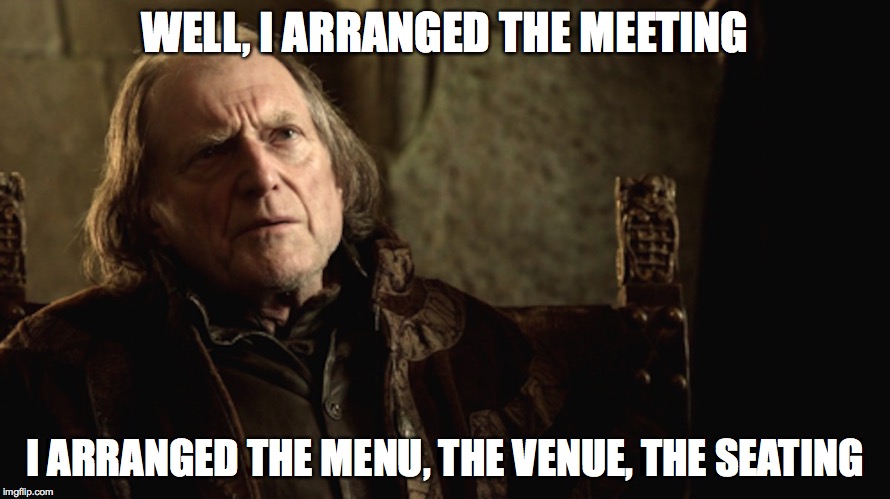 Image Via Imgflip
This man orchestrated it because some dude snubbed his ugly daughter and he wanted to get ahead in life. Screw you, you miserable old fart.
2-Smaug

Image Via Smithsonian Magazine
Smaug is small. He's a tiny dragon, but that's no excuse for being such a grouchy ball of flames.
HE'S ALSO LAZY / Image Via The One Ring.Net
After destroying a kingdom just for the money, he then spends the next 150 years in a mountain. Mass murder for money he doesn't plan to do anything with? Talk about a miser!
Image Via Pipedia
I think we can all agree that Bilbo is the happiest man in the world, at least in The Hobbit!
Someone drew this! / Image Via PInterest
When Bilbo visits Smaugh, what does Smaug do? Well, he's amused by him, but ultimately he just wants to be left alone. What a grouch.
And then he burns a town down because he wants to be alone. What a grouch. A mass-murdering grouch.
1-Captain Ahab

Image Via The Guardian
A megalomaniac fanatic, Captain Ahab is obsessed with capturing a whale because on a previous voyage the whale bit off his leg.
That's it. Moby Dick, a book big enough to break someone's jaw, is about how instead of calling it quits, instead of moving on, Captain Ahab wears a prosthetic leg made out of whalebone and intends to turn the whale who bit him into bones.
Get over it dude.

Image Via Shmoop
And it wouldn't be so bad if Ahab was the least bit likable. But he isn't. His only drive in his life to find and kill the Whale. He forces his crew to support his insane mission just so he can kill a whale.
Three hundred pages just looking for a whale while his crew suffers, and he doesn't stop and think "Maybe I should be considerate to the crew who is risking their lives for my stupid obsession". That thought doesn't even pass through his head.
GET OVER IT DUDE / Image Via Consortiumnews
Even when his ship is destroyed and he and what's left on his crew is on the boat, he's still chasing after a whale. GET OVER IT DUDE!
You weren't even nice, Ahab, you were just a real grouch. You're going to jump for joy when this grouch is dragged to the bottom of the sea by the very thing he's been trying to kill.
DIE YOU GROUCHY GROUCHY MAN!
…HAPPY GROUCH DAY!
https://twitter.com/Illy1Silly/status/1184110553574334464
Image Via Muppet Wiki – Fandom