Studio Ghibli films have a special sort of magic that is hard to find in other movies. The stories are immersive, the worlds whimsical, the characters lovable, and the animation just so aesthetically pleasing (can we talk about Studio Ghibli food?). All the movies from this studio are iconic, but here are some books, similar to some of the most well-loved films, where you'll be able to find the same kind of magic.
My NEIGHBOR totoro
Image via Giphy
Image via Amazon
Not only do the creatures from the land of Wild Things look similar to the forest spirit Totoro, but both of these stories are wholesome and imaginative. They're both sure to give you a warm feeling in your chest, and they're both great stories for adults and children alike.
Bonus: My Neighbor Totoro: The Novel by Tsugiko Kubo
Princess Mononoke
Image via Gfycat
image via amazon
Dark and gritty and full of war and magic. Princess Mononoke and Rin are strong and badass female characters that deliver an incredible story. If you like the darker side of Studio Ghibli films and want an epic story that will keep you on the edge, this is the book for you.
Spirited Away
Image via giphy

Image via amazon
Though Chihiro and Lei's journeys are very different, they both follow their own difficult path to achieve their goals. The worlds also have some parallels with demons/spirits and humans having rivalries with the other.
Trigger warning: Girls of Paper and Fire deals very heavily with sexual assault, so if you are sensitive to that topic I'd recommend proceeding with caution.
Castle in the Sky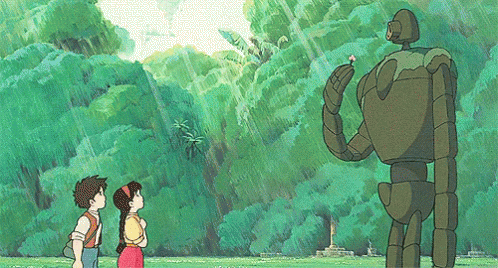 Image via tenor
Image via amazon
Floating cities and family loss, need I say more? Both these stories have very similar settings and deal with some of the same themes. While the kids from Castle in the Sky are orphans, Trei from Floating Islands loses his family on a tragic accident. This book also has a very beautiful prose that is sure to give you that Ghibli film vibe.
Howl's Moving Castle

image via pinterest
Image via Alchetron
War. Magic. Sorcerers. This series has it all! Like Howl in Howl's Moving Castle, Sabriel has lived outside the Kingdom for a while and both are running from their destinies until they are forced to reconcile with them and use their magic to save the land. While the books in the series follow different perspectives, they all have similar vibes to Howl's Moving Castle with their magical world building.
Bonus: Howl's Moving Castle by Diana Wynne Jones
Kiki's Delivery Service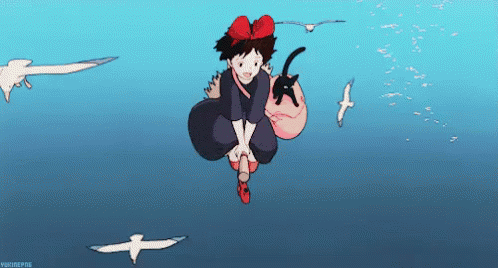 Image via Tenor
Image via amazon
Clever and kind girls with special magical abilities going on magical adventures. Both Kiki and Alice go on journeys that not only help them with their powers, but also in gaining confidence and independence. Bonus points for a cute animal sidekick!
Other books with the studio ghibli feel 
While I couldn't really compare any of these books to a particular Ghibli movie, I think that the atmosphere in these books is very similar. There's magic, creatures that come from the forest, demons, love, friendship, and everything you could possibly want from a book or a Studio Ghibli movie.
Image via Amazon
Agnieszka loves her valley home, her quiet village, the forests and the bright shining river. But the corrupted Wood stands on the border, full of malevolent power, and its shadow lies over her life.

Her people rely on the cold, driven wizard known only as the Dragon to keep its powers at bay. But he demands a terrible price for his help: one young woman handed over to serve him for ten years, a fate almost as terrible as falling to the Wood.

The next choosing is fast approaching, and Agnieszka is afraid. She knows—everyone knows—that the Dragon will take Kasia: beautiful, graceful, brave Kasia, all the things Agnieszka isn't, and her dearest friend in the world. And there is no way to save her.

But Agnieszka fears the wrong things. For when the Dragon comes, it is not Kasia he will choose.
Image via Amazon
Miryem is the daughter and granddaughter of moneylenders, but her father's inability to collect his debts has left his family on the edge of poverty—until Miryem takes matters into her own hands. Hardening her heart, the young woman sets out to claim what is owed and soon gains a reputation for being able to turn silver into gold. When an ill-advised boast draws the attention of the king of the Staryk—grim fey creatures who seem more ice than flesh—Miryem's fate, and that of two kingdoms, will be forever altered. She will face an impossible challenge and, along with two unlikely allies, uncover a secret that threatens to consume the lands of humans and Staryk alike.
Image via Amazon
The circus arrives without warning. No announcements precede it. It is simply there, when yesterday it was not. Within the black-and-white striped canvas tents is an utterly unique experience full of breathtaking amazements. It is called Le Cirque des Rêves, and it is only open at night.

But behind the scenes, a fierce competition is underway: a duel between two young magicians, Celia and Marco, who have been trained since childhood expressly for this purpose by their mercurial instructors. Unbeknownst to them both, this is a game in which only one can be left standing. Despite the high stakes, Celia and Marco soon tumble headfirst into love, setting off a domino effect of dangerous consequences, and leaving the lives of everyone, from the performers to the patrons, hanging in the balance.
Image via Amazon
In a Tokyo suburb, a young man named Toru Okada searches for his wife's missing cat—and then for his wife as well—in a netherworld beneath the city's placid surface. As these searches intersect, he encounters a bizarre group of allies and antagonists. Gripping, prophetic, and suffused with comedy and menace, this is an astonishingly imaginative detective story, an account of a disintegrating marriage, and an excavation of the buried secrets from Japan's forgotten campaign in Manchuria during World War II.
Image via Amazon
"A man returns to the site of his childhood home where, years before, he knew a girl named Lettie Hempstock who showed him the most marvelous, dangerous, and outrageous things, but when he gets there he learns that nothing is as he remembered."
Image via Amazon
Winter lasts most of the year at the edge of the Russian wilderness, and in the long nights, Vasilisa and her siblings love to gather by the fire to listen to their nurse's fairy tales. Above all, Vasya loves the story of Frost, the blue-eyed winter demon. Wise Russians fear him, for he claims unwary souls, and they honor the spirits that protect their homes from evil.

Then Vasya's widowed father brings home a new wife from Moscow. Fiercely devout, Vasya's stepmother forbids her family from honoring their household spirits, but Vasya fears what this may bring. And indeed, misfortune begins to stalk the village.

But Vasya's stepmother only grows harsher, determined to remake the village to her liking and to groom her rebellious stepdaughter for marriage or a convent. As the village's defenses weaken and evil from the forest creeps nearer, Vasilisa must call upon dangerous gifts she has long concealed—to protect her family from a threat sprung to life from her nurse's most frightening tales.
Featured image via Eteknix