Calling all wine lovers! Our time has come. To properly celebrate National Drink Wine Day, there is no better excuse to curl up on the couch with a glass of wine in one hand and a book in the other. Now you may be wondering: what book out there is just begging to be read with wine? Well, you're in luck, as I've compiled a list of books and book series that, when paired with wine, will either enhance your reading experience—or at the very least make it more tolerable.
I feel like this needs no explanation other than the fact that it's basically The Bachelor in book form. Wine makes the show more enjoyable, so why can't the same be true for its book counterpart?
This is by no means a diss at the series. I consider this to be one of my favorite book series of all time, with A Court of Mist and Fury being a particular gem. It is because I love it that I say wine will only enhance the overall reading experience.  I mean a Reddit user even put together a Sarah J Maas drinking game, so I feel it's only right that we give it a shot (no pun intended… or was it?) You know…for science.
Along with pretty much the entire world, I'm now obsessed with Bridgerton. So, as soon as I finished binge-watching the Netflix series, I decided to start reading the books. Now I'm an anxious human being in general and I've found that wine is good to relax not only my body, but my mind as well. I've been reading the books with a glass of wine at my side, and let me just say, it's a lot more enjoyable. I'm able to more-fully get sucked into the story and the various romantic entanglements surrounding the Bridgerton siblings when my mind is clear of stress. Plus, it never hurts to take a sip of wine when Lady Whistledown gets involved. Because as we all know, it's about to go down.
I think we all know why this one made it onto the list. I mean, is there really any other way to read Fifty Shades than with a glass of wine? I think not.
Now this one was truly just painful for me to get through. Maybe I just read it at the height of my dystopian fatigue, but looking back all I can think is that it would have been so much better if I had wine. Then I probably wouldn't have hated myself quite so much if I had my trusty comfort drink to numb the pain.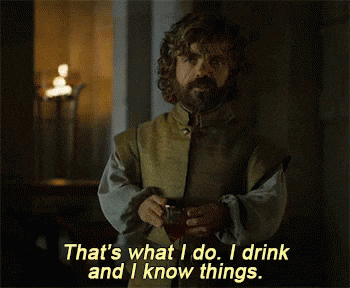 And that concludes my list! Let me know if I missed any of your favorites as any excuse to expand this list will be greatly appreciated. Happy National Drink Wine Day! Please drink safely and responsibly!
featured image via forbes