One of the major themes of books and movies this year seems to be nostalgia. Everyone is constantly looking for a hint of that childhood magic and mystery, and with Halloween coming up, it's a perfect time to revisit some of our favorite scary stories reminiscent of elementary and middle school Halloween parties. Here's a list of seven of our favorite childhood spooks.
1. The Black cat by edgar allan poe
Image via dreadcentral
There are so many perfectly disturbing Poe stories that are suitable for Halloween, most of which feature themes of delusion, madness, and all-around creepy vibes. The Black Cat is one such story about a normally docile man who lashes out at his pet cat in a fit of rage while under the influence of alcohol. Poe describes the man cutting out his cat's eye in horrific detail, and after the man comes back to his senses, a combination of alcoholism and guilt continue to drive him to madness. The man finally snaps and attacks his cat once again, but his actions lead to an even more gruesome, unexpected death. In typical Poe fashion, the man tries to bury his guilt until it returns to him in the form of the supernatural. This one's sure to send shivers down your spine and may have traumatized you as a kid. It's definitely not for cat fans!
2. The Monkey's paw by w.w. jacobs
image via comingsoon.net
If you remember The Monkey's Paw from elementary or middle school, you probably remember being seriously spooked. The monkey's paw is a charm from India that has the ability to grant three wishes to three different people. It had two other owners, the first of which used his final wish to take his own life before it ended up in Mr. White's hands. But every time the White family makes a wish on the monkey's paw, there's a horrible catch. Their first wish for money results in the death of their son, Herbert, and the White family receives money as compensation for his death. In the midst of her grief, Mrs. White demands that her husband wish her son back to life. Just after he does, there's an ominous knocking at the Whites' door. This creepy story reawakens our childhood imagination and teaches us the ultimate lesson: Be careful what you wish for.
3. The Legend of sleepy hollow by Washington Irving
image via fantasy & world music by the fiechters
The Legend of Sleepy Hollow is a classic short story that tells the tale of Ichabod, a teacher living in smalltown Sleepy Hollow. Hoping to win the hand of Katrina Van Tassel, the daughter of one of the richest farmers in Sleepy Hollow, he goes to her father's farm to win her over. But Brom Van Brunt, one of Katrina's other potential suitors, is known for physically imitating anyone who tries to woo Katrina. Brom plays pranks on Ichabod until he gets frustrated, and as he's heading home he runs into a creature far more terrifying than Brom. A dark figure riding a horse begins to follow Ichabod on his path home, and Ichabod notices—with utter horror—that the man's head is detached from his body. The Headless Horseman throws his detached head at Ichabod, knocking him off his horse. The Legend of Sleepy Hollow is spooky in a comforting kind of way. The world can't be all bad as long as we have Sleepy Hollows with legends of Headless Horsemen. Or middle school legends of Bloody Mary hiding in the bathroom.
4. In a dark, dark room and other scary stories by Alvin Schwartz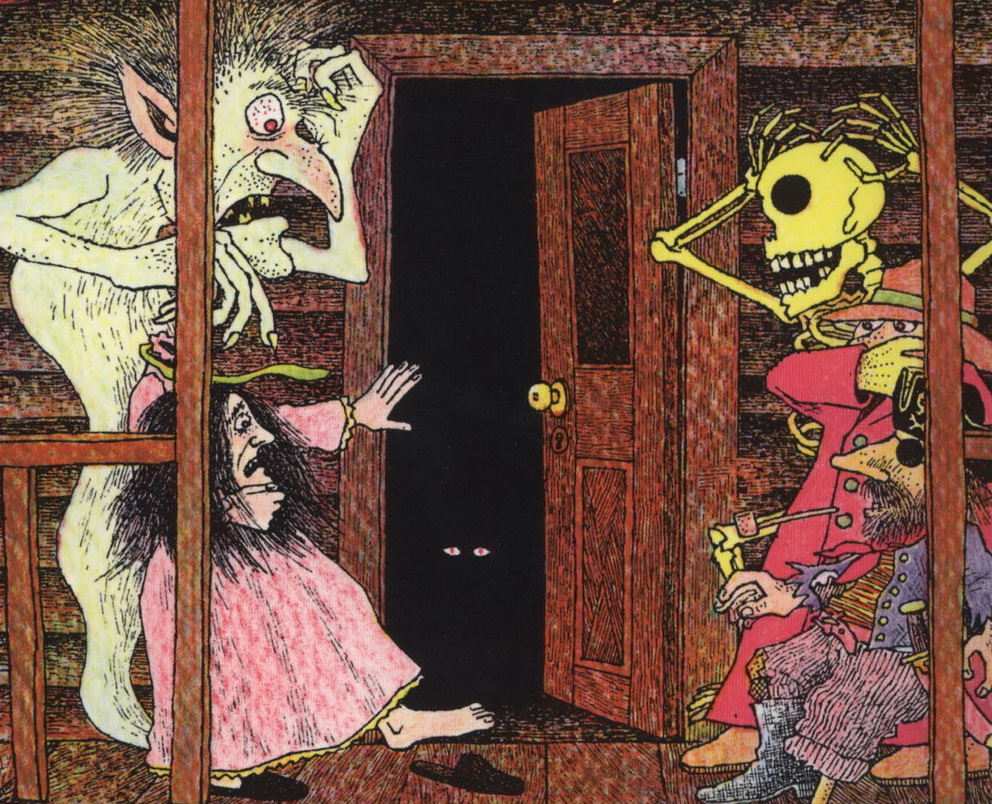 image via the paris review
In A Dark, Dark Room is a book to be read and chanted aloud, classroom-style. In the title story, things just keep getting darker and darker and spookier and spookier. Another memorable story in this collection is The Green Ribbon. It's about a little girl named Jenny who always wears a green ribbon around her neck. When she grows older, her husband, Alfred, asks about the ribbon but she refuses to tell him. Once Jenny had grown old and was nearing her death, she removed the green ribbon and her head fell off. Jenny and her green ribbon are absolute proof that we pretended to be the bravest children ever (even though most of us were probably terrified.)
5. High beamS (Scary Stories To Tell In the Dark by Alvin Schwartz)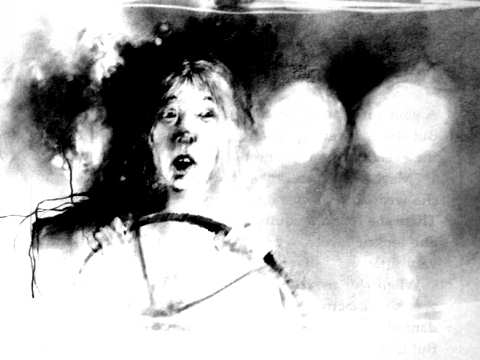 image via scaryforkids
Scary Stories To Tell in the Dark is possibly the most nostalgic collection of spooky short stories of all. The movie was released this past month, but it's worth revisiting the short stories and the movie in celebration of Halloween. There are three stories in the collection that are particularly terrifying, one of which is "High Beams," a story about a woman driving home and paranoid about a man following her and flashing his headlights behind her. Once the woman gets home and runs inside calling for her dad, the man who had been following her explains he was trying to warn her about the person hiding in her backseat and holding a knife. This story is definitely shiver-inducing for anyone who's ever driven alone in the dark.
6. "The red spot" (Scary Stories To Tell In the Dark)

"The Red Spot" is serious children's—or adults'—body horror. In it, a girl gets a red boil on her face that turns out to be a bunch of spider eggs that hatch. Anyone will arachnophobia or a general disgust of eight-legged creatures has to shudder at that one, not to mention the horror movie-level illustration included with it.
7. "Harold" (Scary Stories To Tell In the Dark)
image via refinery29
Finally, we have "Harold," which might be the creepiest of all. It's about two cowherds who hate a particular farmer and create a scarecrow imitation of him to taunt and spit at only to find that the scarecrow comes to life at night. One of the cowherds goes missing and when the other goes looking for him, he sees a giant version of Harold stretching out the bloody human skin of his friend. Serious childhood trauma right there.
Featured image via Dread Central