The much discussed, sometimes controversial, era of Ben Affleck's Batman is officially over. He ended up swaying a lot of non-believers, but apparently, it wasn't enough. For those of you Fleckies (Ben Affleck fans) who were hoping to see Chuckie from Good Will Hunting don the cape one last time whilst reminding us of our potential as mathematicians will just have to bury that dream. Warner Bros. has officially set a June 25th, 2021 release date for Matt Reeve's The Batman and Ben of the clan Affleck will not be reprising the role. This is apparently because the film wishes to focus on the story of a younger Batman, or maybe Ben Affleck just has a lot going on these days.
Image Via Thecut.com
It would seem Affleck's exclusion from the film has not dampened his excitement for the Batman franchise:
Excited for #TheBatman in Summer 2021 and to see @MattReevesLA vision come to life. https://t.co/GNgyJroMIO

— Ben Affleck (@BenAffleck) January 31, 2019
But who will play the caped crusader/Bruce Wayne now? Personally, I really hope Warnes Bros. throws a curveball and casts Timothee Chalamet; the kid is all the rage right now and with the right amount of protein and pushups, I believe he could do it. Not really. The smart pick is to go with someone like Michael B. Jordan or Ryan Gosling… Let's just bring back Christian Bale in all his hide and seek glory.
Image Via Comicvine.gamespot.com
A more important question is the question of story. What will this new dark knight flick be about? In the spirit of opinionated nerdgasms, the following list compiles some interesting comic book storylines that could and should be depicted on the silver screen.
Batman: The Long Halloween (1996 & 1997)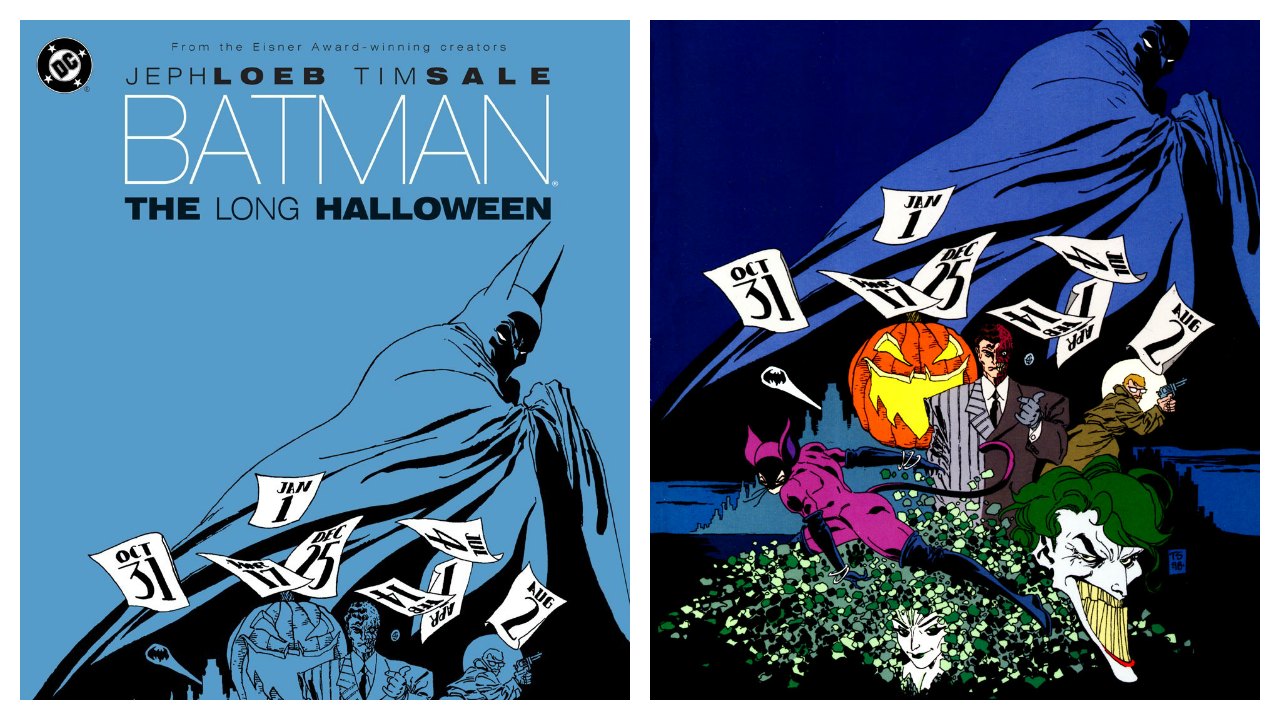 Image Via Nowverybad.com
This thirteen-issue series was written by Jeph Loeb and drawn by Tim Sale. In line with the concept of a "younger Batman," this story follows the caped crusader during his early days of crime fighting; a mysterious killer named Holiday murders people on holidays…our bat-dressed friend has to rush against the calendar each month as he tries to stop the killer. There's also a crime war going on between the Maroni and Falcone families going and a cool introduction to a classic Batman foe.
Batman: Knightfall (1993 & 1994)
Image Via Mycomicshop.com
This storyline consists of a trilogy worth of content and takes place over the course of six months. Written and drawn by…a bunch of people; this is the story of Bane breaking Batman's back—previously the inspiration for that scene in Christopher Nolan's The Dark Knight Rises. After the back-breaking, Batman chooses a replacement, who turns out be a crazed and violent "New Batman" who tarnishes the dark knight's reputation. A lot of the themes in this storyline are vaguely like Christopher Nolan's Franchise but it's still worth considering.
3. Batman: Hush(2002 & 2003)
Image Via Amazon.com
This twenty-two-issue series was written by Jeph Loeb and drawn by Jim Lee, Scott Williams, and Alex Sinclair. The villain of this story is the not so friendly neighborhood stalker named Hush, who is hell-bent on sabotaging Batman. The storyline includes appearances by a hand full of classic Batman villains and explores the romantic relationship between Batman and Catwoman. A lot of casting and awesomeness would need to happen, so it probably won't.
Batman: Death of the Family (2012 & 2013)
Image Via Vertigology.net
Twenty-three issues, an obtuse number of artists, and featuring pretty much every Batman supporting character ever: Batgirl, Robin, Catwoman, Nightwing, Red Hood, the Teen Titans, and Suicide Squad. In this storyline, the Joker goes HAM (forgive me for this awful acronym) and attempts to destroy everyone Batman has ever relied on. The title is a reference to Batman: A Death in the Family (1988) where the Joker kills Robin. Both are good ideas; the former makes sense given the characters that have already been introduced in the DC universe and the latter because a flashback movie would keep Ben Affleck as Batman, in a way. It was hinted in Batman V. Superman that the Joker killed Robin.
Batman: Zero Year (2013 &2014)
Image Via Amazon.com
This year-long crossover event was written Scott Snyder and James Tynion IV and drawn by Greg Capullo, Rafael Albuquerque and Danny Miki. Basically, a reboot, this storyline attempts to retell Batman's origin in a unique and exciting way. I guess only fanatics would call it new—thematically it's pretty much the same. There's flood and flashbacks; similar yet fresh. Frank Miller's Batman: Year One (1987) would also be an obvious choice regarding "young" and "origin story."
Arkham Asylum: A Serious House on Serious Earth (1989)
Image Via Amazon.com
This graphic novel was written by Grant Morrison and drawn by Dave McKean. The story follows Batman as he attempts to calm a riot taking place in Arkham Asylum, which is, of course, the psychiatric hospital home to many of Gotham's most sinister inhabitants. Batman encounters many of his classic villains who have changed from their well-known personas. This one is a bit of an origin story for the Asylum instead as we find out about the establishment of the hospital and the mysteries surrounding it.
Batman: Year Two (1987) /Batman: Mask of the Phantasm (1993 film)
Image Via Youtube.com
Written by Mike W. Barr and drawn by Alan Davis, Alfredo Alcala, Mark Farmer, Paul Neary, and Todd McFarlane this story arc deals with Gotham's original vigilante The Reaper. Batman develops a relationship with the daughter of The Reaper and a "don't date my daughter" pissing match ensues. Really though, it's better than that. The 1993 animated film was inspired by this storyline; it follows a similar vigilante who murders Gotham's crime bosses but is named Phantasm instead of The Reaper.
Honorable Mention: JLA: Tower of Babel (2000) as a Justice League movie.
Image Via Media.comicbook.com
Yeah.
Featured Image Via Polygon.com