Fall and cold weather are just around the corner, and soon book lovers will be hoarding up their books, blankets, and warm drinks. Before the autumn winds start blowing, why not stop at your local craft store and pick up paints, brushes, and artsy odds and ends to make some bookish crafts? Here's a list of six easy DIY bookish crafts to decorate your home or your shelves.
1. Painted Brick BookENDS
IMAGE BY https://www.myfriendshouse.co.uk/books-and-mortar/
All you need for these easy, vintage-looking books is some bricks, acrylic paint, and your favorite book cover designs. These bricks can be used as bookends on your shelves or as a literary touch to your garden. Check out this YouTube video for more specific instructions.
2. Teacup bookmarks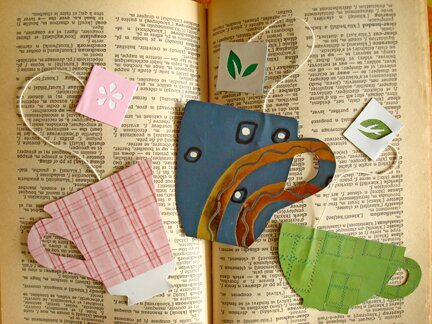 Image by genuine mudpie
You can use or reuse any type of colored paper for these cozy teacup bookmarks, and the tea bags are easily attached with string. If you're a fan of Lewis Carroll, you could even design one that says "Drink me" and include some "Eat me" cookies. This blog provides some easily traceable teacup templates as well as detailed instructions.
3. Book page Pendants
Image by www.Happyhourprojects.com
These book page necklaces put your favorite book scenes on display with a tiny frame and some decorative beads. By replacing the necklace cords with a keychain or phone charm, you can easily wear your books in a multitude of ways. If you're a Potterhead, you can even coordinate the colors of the beads with your House colors.
4. Miniature book worlds signpost
image by indigoamethyst.blogspot.com
If you always find yourself wandering off to fictional worlds in your head, why not give yourself a bit of direction with this miniature bookshelf signpost? You can use stencils to trace the names of your favorite fictional places onto paint sticks or small pieces of wood, and even arrange the signs according to the location of the books on your shelves.
5. BOok page candle
IMAGE BY Hubpages
This candle is a perfect piece of bookish decor to complement those teacup bookmarks. You can cut any silhouette shape into a favorite book page to outline the flame, whether it's a heart, a book, or even a dragon.
6. BOOK-Lover NECKLACE
image by Handmade Jewelry products
If you can't choose just one book page to wear as a necklace, you can wear a bundle of books instead! Using three dollhouse size books, some glue, string, and a necklace chain, you can show off your love of books in miniature form.
Featured image by freepik.com