Books are weird. We have books about children who don't grow, books about evil jewelry, books about people who really want to sit in uncomfortable chairs, books about cats who wear hats for reasons that are  never explained, and books about orphans. It's a lot to take in, but you know what makes it so much easier? Humor.
Image Via Amazon
And SNL is funny. It's had its up and downs, but when your show is over thirty years old, of course there are going to be some duds. But when it's good, it is amazing.
So, in honor of our love of SNL and our love of books, here are five times SNL paranoid classic books.
Peter Pan is back and Wendy and the gang are ready to go to Neverland. What could go wrong?
Well, Tinkerbell ain't around. She was always kind of obnoxious with that I'm-going-to-sell-out-a little girl-to-a-one-handed-pirate thing she had going on, but that was a phase. Luckily, we can avoid bringing out dirty laundry because Peter Pan brought a new fairy.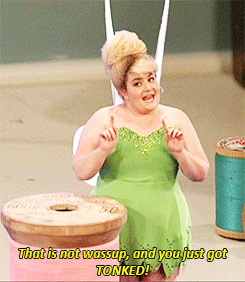 Image Via Gifer
Tonker Bell.
She's gross. And lazy. And a whole other list of negative character traits. At least she's not cruel though. That goes to Peter Pan himself.
Yes, Tonker Bell may be unpleasant, but in the book Peter was a devil! Really. J. M. Barrie and the Lost Boys: The Real Story Behind Peter Pan notes that when Sir George Frampton sculpted this masterpiece…
Image Via 
The Second Website of Bob Speel
…author Barrie noted, "It doesn't show the devil in Peter."
Let's be honest: Peter Pan cut off a pirate hand and threw it to a crocodile. Why not just kill him? Why throw his hand to a crocodile? Was it because his last name was hook? That's not funny, that's just mean.
If you want more examples, pick up J.M. Barrie's 1911 book Peter and Wendy.
Charles Dickens' classic Oliver Twist follows the titular character who is born into poverty and grows up being forced to toil in the workhouse. It's dark, it's depressing, and it's kind of fun.
It's a match made in heaven for SNL.
Image Via Amazon
In this sketch, the cowardly Oliver is told to ask for more food because the poor orphans are hungry. Shaking, Oliver goes up but is…
Image Via Variety
…interrupted by a full grown woman who comes out of nowhere begging for food she doesn't need. How selfish!
When Oliver gets the bowl, the woman insults him. Oliver, the pinacle of human goodness, offers to share because of course he does. But unfortunately for him, the woman takes the whole bowl. If you thinks that's depressing, you should read the book.
Just like the Seuss' book, this sketch opens up in rhyme. The twist? The Cat comes in just a bit too early. And turns out he knows the children's mother!
The whole sketch builds from there. Why is the Cat in the Hat cut out from the pictures? The daughter can dance? And who is the children's father? And will Thing One and Thing Two make an appearance?
This sketch, like the book, is a classic.
The Lord of the Rings and The Hobbit have much of the same characters, and the film adaptations have much of the same cast, so it's only naturally we'd want to see them together. But how?
The Office is a good place to start. It's a match made in heaven. Tolkien intended The Hobbit to be a children's story, and The Office is basically a room full of children.
It might just be the best sketch yet, but that could because of Martin Freeman reprises his role as Bilbo Baggins.
Image Via 
Rebloggy
He's basically Michael Scott. But that's not the best part.
The best part is this…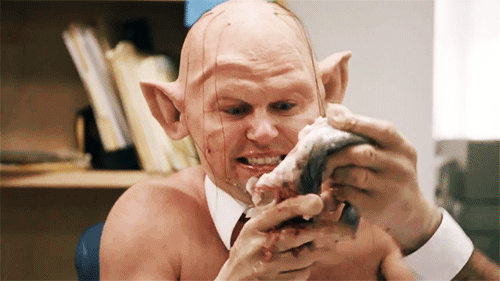 Image Via Giffer
Before the premiere aired, we already knew that more Game of Thrones spin offs than we could count were coming.
In case you wondering, we already know the details of two confirmed spin offs! Two! That's almost the majority of my fingers on my writing right hand.
Image Via Deadline
But this sketch is a gem. It's big, it's long, it goes everywhere and does everything we want. The best part? We got SVU stars Mariska Hargitay and Ice-T investing the death of Oberyn Martell. Who could have crushed his death?
If you want to look at my thoughts when this sketch came out, you can read it here! And if you want more Game of Thrones parodies (and I know you do!), you can see my list here!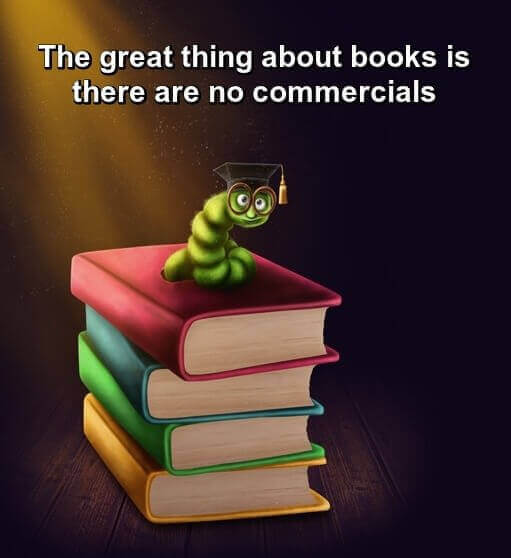 Image Via 
Funny Jokes. Funny Quotes. Funny Sayings.com
Overall, these classic sketches based on classic works will make you laugh, cry, and then you'll realize you're crying because you're laughing so much.
Featured Image Via SNL