In their explanation as to why Bran won the throne, Vox wrote that
….after a full season of people talking about how maybe the right person to sit on the Iron Throne is someone who doesn't want it, Bran said in the season's fourth episode that he basically doesn't want anything anymore. Stark/Snow 2020: They don't want anything!
While this line might be the funniest thing ever written, it might not be exactly true. Hear me out: I think Bran planned this.
Don't believe me? Luckily I've got Twitter on my side.
entire season Game of Thrones in a nutshell. Bran played everyone. pic.twitter.com/56qylmSTja

— tom (@smokingkillz_) May 20, 2019
Okay, Twitter might not be the best 'person' to have on my side, but the theory makes way too much sense. Let's break it down.
4. If he can see the future, why isn't more helpful?
"I'm the Three Eyed Raven" isn't a sufficient explanation about what he's doing. He sees the future, but doesn't say anything. He doesn't even tell them he had this vision….
Image Via Floor8.com
….which ends up looking a lot like this, when Dany was burning King's Landing to the ground.
Image Via Cosmopolitan
So for someone who sees the future, he fails to mention that:
A. Euron is planning to ambush Dany and kill her dragon.
B. Dany will murder everyone
Something's fishy here.
3. Battle of Winterfell
Right before the Battle of Winterfell, Bran doesn't do anything; he just stays by his favorite tree. He doesn't try to leave, and he never asks, "Hey, Theon! Can you wheel me closer to my sister? It's cold out here!"
Why?
Flash forward to the Battle of Winterfell and what does Bran do? He wargs into…what exactly?
"As far as I understand it, he's just in the ravens," Isaac Hempstead Wright told The NY Times. I guess he wants to watch the battle.
#BranStark watching the whole battle unfold… #GameofThrones pic.twitter.com/IkfQqoQHVM

— David Barton (@davesbarton) April 29, 2019
Why? Is he that curious to see how trash Jon and Danny's tactical plans actually were? Or he is looking for something?
He's watching the Night King.
The Night King comes up to Bran and is about to murder him and Bran, well, he just stares at his would-be killer. Like he does to everyone now. He doesn't scream, he just looks him.
Image Via TVLine
That's a very different reaction from where first saw the Night King and looked scared, like a normal human.
Image Via The Telegraph
Upon meeting the Night King again, Bran's knows something. We already know that the Night King "was once just a normal guy who… didn't ask to become this raving, crazy ice killer…" but Bran knows something else.
If he really sees the future, then he knows at that moment that Ayra will come and slay the Night King like she's playing on easy mode.
Did Bran know that the Night King was going to die?
2. Jon's Parentage adds chaos to the mix
The Night King is on his way, Cersei just pulled out of helping Dany and Jon, and what does Bran do? He tells Sam that Jon's mother was Lyanna Stark and his father was Rhaegar Targaryen just when Sam happened to have the marriage certificate, thus giving Jon a much better claim to the throne that Dany.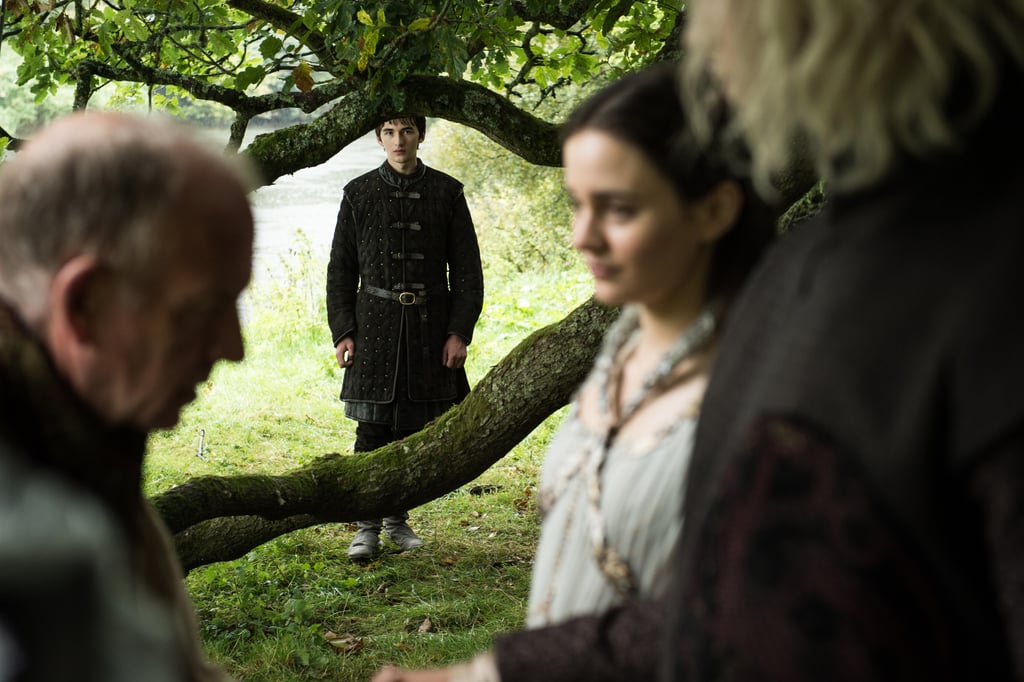 Image Via Pop Sugar
What does this add up to? Making Dany paranoid, giving people an excuse to betray her  (i'm looking at you Varys), and….nothing else. It just adds chaos to the mix and makes things worse. Why? Well, you know what they say…
Image Via IGN
1. Bran is Crowned King
He lets Dany, Jon, Tyrion and Jaime all go to King's Landing. Dany goes crazy, Jon kills her, and guess who just stopped by? Bran. As if this gigantic stretch of half continent was just a block.
Bran left last, but he obviously left before Jon killed Dany. He might have even left before Dany lost her mind.
And he comes just in time to be at the meeting in which they decide who should be King. Remember that when Jon apologizes for not being there when Bran needed him, Bran says, "You were exactly where you were supposed to be."
He totally planned for this to happen.
Why?
Okay, so Bran might have added some chaos, made sure important people were impossible to move upwards (Jon can't be King, he murdered the Ruler of the Unsullied and Queen of the Dothraki!), and went at the right place at the right time and became King.
All hail Bran the Broken! But why? He doesn't care about anything, so why be King?
He has an ulterior motive beyond 'I'll be a good king so make me King'. Plus, if you were trying to keep everyone after the devastation, why make Sansa the exception, even if she is his sister. For the good of the realm, Bran should be King of the Seven Kingdoms, but his first order as King is "Make it Six Kingdoms instead".
Being the king is only a rung in the ladder. Don't believe me? Re-watch that scene with Bran at the small council table.
Image Via Cnet
Bran: And Drogon? Any word?
Sam: He was last spotted flying East.
Bron: The further away the better!
Perhaps I can find him. Do carry on with the rest.
Image Via ABC News
Excuse me, King Bran the Broken, why do you want to find Drogon? Why not just leave the grieving animal in peace? He won't come back to the place his mother died, so why go after him?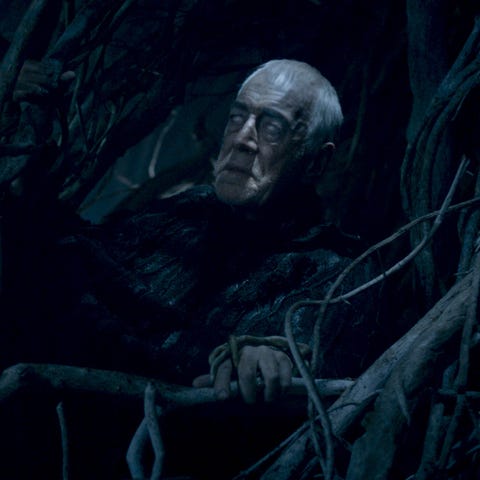 Image Via Cosmopolitan
Bran met the original Three-Eyed Raven, who became a tree. I don't know about you, but I wouldn't want to become a tree even if it meant extended my life. But you know what lives longer than most humans?
Image Via Quora
Featured Image Via Reddit