Cringey writing is nothing new for the wildly popular CW teen drama, Riverdale, and viewers cannot help but love to hate it. Writers love to script completely otherworldly lines for Riverdale's sixteen-year-old characters that are packed with obscure references and SAT-level vocabulary words. In the same way, many of the characters retain a surprising amount of knowledge of famous literary works, because what high schooler doesn't quote Jane Eyre on the daily?
Abundant literary references make a lot more sense considering individual episodes of Riverdale are categorized as "chapters," usually followed by a famous literary title. Also, the entire series is narrated by Jughead who is apparently working on a novel about the town and its secrets. Here are some of our favorite highlights from Riverdale's literary reel.
Image via Giphy
"The Yellow Wallpaper" by Charlotte Perkins Gilman
A very important moment for Bughead (Betty + Jughead) shippers, this scene takes place in the sixth episode of Season 1 when the two characters kiss for the first time and the ship is born. In very literary fashion, Jughead uses a ladder to climb through Betty's window to reach her while she is grounded. The scene makes two clever literary references. When Jughead reaches Betty's window, he affectionately calls her "Juliet," an easy nod to Romeo and Juliet.
Later, when referring to Betty's house arrest, Jughead asks if Betty "has gone all Yellow Wallpaper on [him]," referencing the short story's main character who, after being trapped in a room, begins succumbing to a debilitating mental illness that causes her to hallucinate and climb the walls. The scene is a sweet one for fans of the literary and actual couple alike — Bughead, and its real-life counterpart, Sprousehart, both came out of the series and stole our hearts.
Image via Giphy
2. In Cold Blood by Truman Capote
Capote's journalistic novel following the murder of an innocent family seems obvious when considering the sinister subplot of the show's first season; the foreshadowing reference occurs during the pilot of the show. Our resident posh chick Ronnie comments about the nature of the town as soon she steps out of her ride from New York. She proclaims herself to be much more Breakfast at Tiffany's, the bright, city-centric novella by the same author about a dazzling female neighbor, while the town of Riverdale is much more In Cold Blood. She's not wrong, but she sure is pretentious.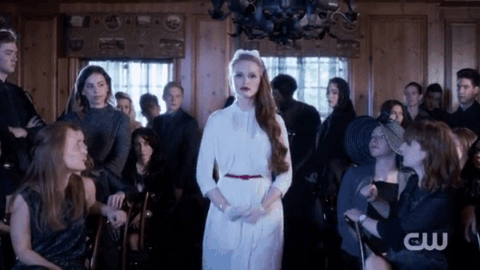 Image via Amino Apps
3. Heart of Darkness by Joseph Conrad
The writers borrow this title of Conrad's 1899 novel about English colonialism for the show's fifth episode. This episode features Jason's long-awaited funeral. Following the novel's theme of people going where they don't belong, Betty and Jughead sneak away during the event to lurk around the Blossom household searching for clues about Jason's death. Here, they run into Cheryl's grandmother who utters a famous phrase from the novel, "The horror, the horror!"
Featured Image via Meaww