It's impossible to read all the books ever written, but lucky we don't need to. We just have to read these books coming our way!
And the books we already own but haven't read…but book problems, am I right?
Image Via Pencil Pocket
3: Horse Museum by Dr. Seuss
Image Via Publishersweekly
A new Dr. Seuss book is going to hit shelves on September 3, 2019, marking the second time a Dr. Seuss book has been published posthumously since 2015's What Pet Should I Get? 
The manuscript and sketches for book appear to have been discovered in the late author's La Jolla home around the same time What Pet Should I Get? was discovered, but now illustrator Andrew Joyner is set to complete the author's unfinished sketches.
A statement by Random House reveals that the story will take younger riders on a journey with a friendly horse touring an art museum with illustrations "combined throughout with full-color photographic reproductions of famous horse artwork by Pablo Picasso, George Stubbs, Rosa Bonheur, Alexander Calder, Jacob Lawrence, Deborah Butterfield, Franz Marc, Jackson Pollock…" and will features "[c]ameo appearances by classic Dr. Seuss characters (among them the Cat in the Hat, the Grinch, and Horton the Elephant)…"
With a first printing of 250,000 copies, this fall many readers, both young and old, will return to a Dr. Seuss's world as it grows just a little bit larger.
2. Furious Hours: Murder, Fraud and the Last Trial of Harper Lee by Casey Cep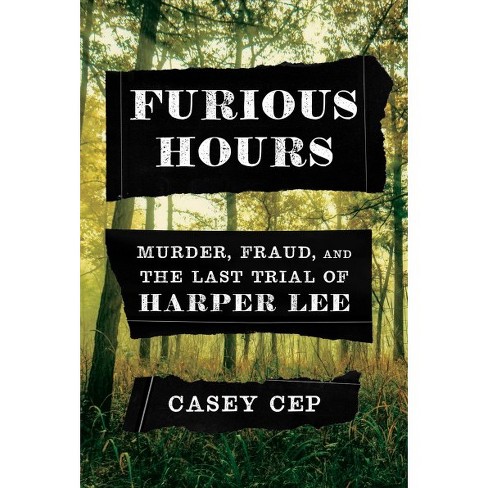 Image Via Penguin Random House
In the vein of In Cold Blood, Casey Cep's Murder, Fraud, and the Last Trial of Harper Lee is about what Goodreads describes as "[t]he stunning story of an Alabama serial killer and the true-crime book that Harper Lee worked on obsessively in the years after To Kill a Mockingbird".
It is known that Harper Lee never wrote another book after To Kill A Mocking Bird. Go Set a Watchmen was confirmed to be the first draft of her literary classic, so this book has the potential to both dispel myths and paint a clear view on Harper Lee's life post-publishing this May 7th, 2019.
Ironically, the novel is going to shed light on Harper Lee's trying to write her next great American novel – a Gothic crime drama – but never succeeding.
Cari Mora by Thomas Harris
Image Via Goodreads
With his last book published in December of 2006, Thomas Harris has been quiet on us. Now he returns on May 16th with Cari Mora. His second novel not featuring his infamous Dr. Hannibal "The Cannibal" Lecter (his first novel, Black Sunday, didn't feature the character when it debuted in 1975), Cari Mora is described by Tampa Bay as being about "Cari Mora, caretaker of the house, has escaped from the violence in her native country. She stays in Miami on a wobbly Temporary Protected Status, subject to the iron whim of ICE. She works at many jobs to survive. Beautiful, marked by war, Cari catches the eye of Hans-Peter as he closes in on the treasure. But Cari Mora has surprising skills, and her will to survive has been tested before."
With its titular female character and themes of immigration, we can't wait to read the sixth novel from the man whose kept us up late at night since the mid-seventies.
Featured Image Via Pencil Pocket