Whether you learned about environmentalism for the first time with The Lorax or enjoyed a day in with The Cat in the Hat, Dr. Seuss has impacted children for generations. From the publication of his first children's book And To Think That I Saw It On Mulberry Street in 1937, it was clear that Dr. Seuss was going to be a mainstay in children's literature. Seuss' birthday is one of the biggest birthday celebrations in schools and libraries across the country. For those who are out of school, these lesser-known Dr. Seuss facts are not likely to be celebrated at the kids section of your local library.
Why Seuss Added the Doctor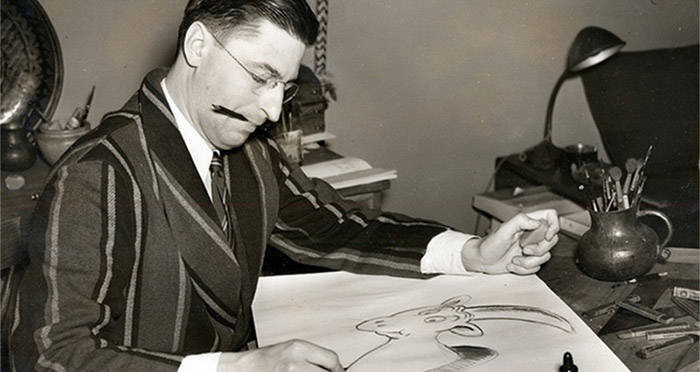 image via all that's interesting
By now, most people know that Dr. Seuss was a pen name for Theodore Seuss Giesel. Giesel began using the name Seuss while he was in college, but didn't add the doctor until later. His father had always wanted him to be a medical doctor, but Seuss clearly knew that wouldn't happen. Rather than let his father down completely, Dr. Seuss became one of the most famous doctors of the past hundred years, whether or not he practiced medicine.
Dr. Seuss' Dad might be even more interesting
image via HarperCollins uk
Even though Giesel's father wanted him to become a man of medicine, he had his own unique career path. Giesel's father was a professional beer brewmaster and was also a competitive marksman. Because of Prohibition, Seuss' father had to change career paths pretty quickly. Maybe this is why he wanted his son to be in a more steady profession.
Political Statements in Doctor Seuss (or not)
image via Ez learning
Lots of Dr. Seuss books are clearly political, from the environmental messages in The Lorax to the anti-fascist antics of Yertle the Turtle.  The famous line "a person's a person, no matter how small" from Horton Hears a Who! has been used to support some controversial political causes.  Although this line was originally intended to help young readers understand that all people are important, the quote was used by a variety of pro-life groups to support their views. Dr. Seuss never made any statements about his stance of pro-life vs pro-choice, but he did threaten to sue one anti-abortion group for using the phrase on their letterhead. Seuss and his wife Audrey have both expressed that they don't appreciate when famous Seuss quotes are taken out of context to support causes that they were never intended to support.
Seuss is Not the Only Pseudonym
image via blogspot
In addition to publishing more than sixty books under the name Dr. Seuss, Giesel also published a number of books under the name Theo LeSieg. His famous book Ten Apples Up On Top was not originally a Dr. Seuss book because it was published under a Theo LeSieg, even though now the book bares the name Dr. Seuss. In 1975, Giesel even wrote a book called Because a Little Bug Went Ka-Choo! under the name Rosetta Stone.
Even Dr. Seuss Had His Fun!
image via blogspot
While attending Dartmouth, Seuss was editor-in-chief of their humor magazine Jack-O-Lantern. Not unlike many other rowdy college students, Seuss and his friends were caught drinking in their dorm room one night, which got him kicked off the publication. Now, that might seem like a harsh punishment for a few beers, but Prohibition was still in effect when Seuss was in college. Giesel got his the best of them as he kept contributing to the publication under the name Seuss.
Work during World War II
image via brain pickings
Even if Giesel was too old to be drafted for the second world war, he certainly was working hard. In the early 1940s, he started as a cartoonist for PM, a magazine produced in New York. Giesel made over 400 cartoons for the newspaper, most of them propaganda. In 1942, he began working for the US Army in their documentary film division. One of the films he wrote, Your Job in Germany, was even directed by Frank Capra (the same guy who directed It's a Wonderful Life and Mr. Smith Goes to Washington).
Seuss' More Salacious Side
Image via random house
Dr. Seuss, ever the pessimist about the publishing industry, wanted to make sure that his editors were paying attention. Apparently, Seuss used to slip in dirty images or swear words into his first drafts to keep everyone on their toes. Giesel even published a book called The Seven Lady Godivas: The True Facts of America's Barest Family, which featured many nude drawings to illustrate the text. After its initial failure, as Seuss' fame grew it was republished in 1987.
Featured image via Crushing Krisis
Enjoying Bookstr? Get more by
joining our email list!
Bookstr is community supported. If you enjoy Bookstr's articles, quizzes, graphics and videos, please join our Patreon to support our writers and creators or donate to our Paypal and help Bookstr to keep supporting the book loving community.
Become a Patron!