Everyone knows that cats are the best part of Halloween, and that book lovers are partial to both felines and the celebration of All Hallows Eve. So we've put together a comprehensive list of amazing cats wearing literary Halloween costumes.
1. The Cat In the Hat from the Dr. Seuss book
Image via Pinterest
Adorable because it's a cat. Adorable because it's in a hat!
2. Edward Cullen from The Twilight Series by Stephanie Meyer
Image via Book Riot
Edward, you're as brooding as ever. Even on all fours.
3. Raggedy Ann from the children's book Raggedy Ann by Johnny Gruelle
Image via Book Riot
This cat is so cute it even has a paparazzi!
4. The Mad Hatter from Alice in Wonderland by Lewis Carroll
Image via Book Riot
We're going mad over how cute this is!
5. A Satyr from The Chronicles of Narnia by C.S Lewis
Image via Book Riot
This costume based of the goat-humanoids from Narnia is so cute I feel like singing and dancing!
6. Paddington Bear from the book by Michael Bond and Peggy Fortnum
Image via Buzzfeed
 Look after this one! It's adorable!
7. Harry Potter from the Harry Potter series by J. K. Rowling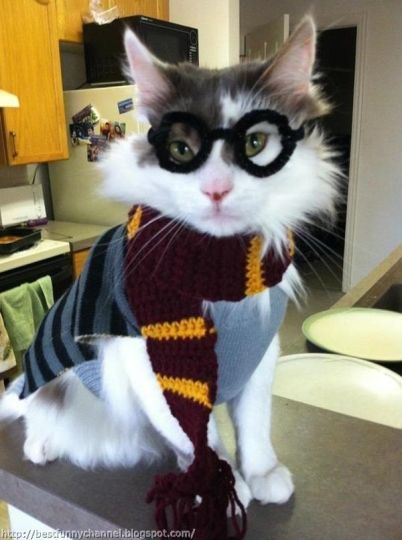 Image via Best Funny Channel
The cat who lived!
8. Dracula from the Brom Stoker gothic
Image via meningrey.net
I think this one is staring down his next victim. Somebody get some garlic!
9. Puss In Boots from the Children's Book by Charles Parrault
Image via inventorspot.com
This little adventurer has some style! Those boots are just purrrfect!
10. and 11. Batman and Joker from the Batman Comics
Image via Dog Gone Walking
Why so serious?!
Featured Image Via Dog Gone Walking