Of all books we know and love, these publications were almost never known at all. Each of these faced multiple rejections, and some were almost physically destroyed forever. Take a look below and see which of these famous novels surprises you the most.
1. A Wrinkle in Time by Madeleine L'Engle
While the tesseract would be great for a bunch of things, roughly 26 publishers made a major mistake that no amount of time travel will fix. They said "no" to this beloved tale by Madeleine L'Engle. It was eventually a publisher that did not even publish children's books at the time who took on the project after L'Engle was connected through a friend.
2. M.A.S.H.: A Novel About Three Army Doctors by Richard Hooker
GIF courtesy of GIPHY
The book that brought to life one of the most beloved TV series of all time was once upon a time rejected… by 21 different publishers! Where would we be without the breathtaking perspective on the Korean War that this book gave? What would Alan Alda be doing right now? The world may never know.
3. Lord of the Flies by William Golding
Image courtesy of goo.gl/JP1Vvx
This book was published on very treacherous ground. Out of fear by the publisher, the staff at Faber and Faber hid it from their Literary Advisor, T.S. Eliot. The famous poet was not kept from the book forever though. After hearing about Goulding's novel at a party, Eliot ended up actually enjoying the work! Faber and Faber was wrong…
4. The Princess Diaries by Meg Cabot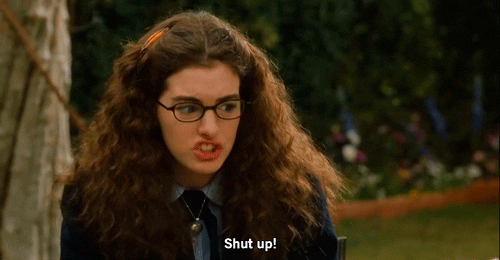 GIF courtesy of GIPHY

For three years, Cabot received refusal after refusal of her first of the many tales of Mia Thermopolis, Princess of Genovia. Apparently, Cabot kept all those letters and likes to keep them around as a reminder of her almost non-success. The stack is too heavy to lift.

5. CATCH-22 by Joseph Heller
The same book that spawned a phrase used in every household almost never came to a bookstore near you. One response referred to the book as "not funny on any intellectual level." The ultimate success of the novel as we know it shows how clearly wrong that publisher was.
6. The Tale of Peter Rabbit by Beatrix Potter
Image courtesy of https://goo.gl/t9hPgy
After being shot down by multiple publishers, Potter had to publish the story herself. Using a private publisher in 1901 to distribute to loved ones (one of which was Sir Arthur Conan Doyle), the tale was not picked up for commercial distribution until 1902.
7. Dances with Wolves by Michael Blake
Featured image courtesy of https://goo.gl/39Fyp9
Michael Blake ended up finishing the initial draft of Dances with Wolves while living out of his car. His response from publishers was also difficult as he received many negative responses. Things, however, began to look up when a certain Kevin Costner found the work and encouraged Blake to keep writing after they turned the under-loved book into an award-winning film.
8. Carrie by Stephen King
The story goes that Stephen King got so fed up with his this now iconic book-turned-movie that he threw it in the garbage. Luckily, his wife saved the day and fished the draft out the trash. She kept encouraging him through the heap of rejections. Inevitably the novel that began King's illustrious career was born.
9. Harry Potter and the Sorcerer's Stone by J.K. Rowling
Featured GIF courtesy of GIPHY

Literally, where would the world be without this book? The first novel of the franchise giant that shaped millions of lives (and made billions of dollars). Considered too long for child readers, several major publishing companies turned down the drafted book.
10. And to Think That I Saw It on Mulberry Street by Dr. Seuss

The most extreme on this list, Dr. Seuss was so frustrated with getting this work published that he had vowed to torch it. However, before getting the opportunity to watch it burn, Seuss ran into the friend who agreed to publish the first work of many. Without that publishing friend (Marshall McClintock), all the classics like Green Eggs and Ham or How The Grinch Stole Christmas might have also never have been published.
Featured image courtesy of